Electric car charging facilities at motorway services, on local roads and in rural areas will all need to be improved ahead of the 2030 ban on the sale of new petrol and diesel cars.
The Competition and Market Authority (CMA) claims difficulties with charging could deter motorists from switching to electric cars, with anxiety over the availability of charge points "reducing people's confidence and trust".
This comes despite the organisation's claims that switching to EV will "play a critical role" in reducing the UK's carbon emissions.
CMA Chief Executive, Andrea Coscelli, said: "Some areas of the rollout are going well and the UK's network is growing – but it's clear that other parts, like charging at motorway service stations and on-street, have much bigger hurdles to overcome.
"There needs to be action now to address the postcode lottery in electric vehicle charging as we approach the ban on sales of new petrol and diesel cars by 2030."
The CMA has called for the Government to set out an "ambitious national strategy" to expand the charging infrastructure by the end of the decade, with clear guidelines for local authorities to manage charging in their area.
They have called for an independent public body to be established to monitor the sector.
A CMA investigation into competition law has also been launched to look into exclusive long-term arrangements for charging at motorway services, ensuring drivers are offered competitive prices from multiple providers.
Currently, the Electric Highway provides 80% of all chargepoints at motorway service stations, excluding Tesla-only chargepoints.
The UK currently has around 25,000 chargepoints. However, forecasts suggest over 10 times more stations will be needed to meet demand by 2030.
The Government ban on sales of new petrol and diesel cars will come into play in 2030, followed by a ban on hybrid vehicle sales in 2035.
Public charging devices per 100,000 of population by UK country and region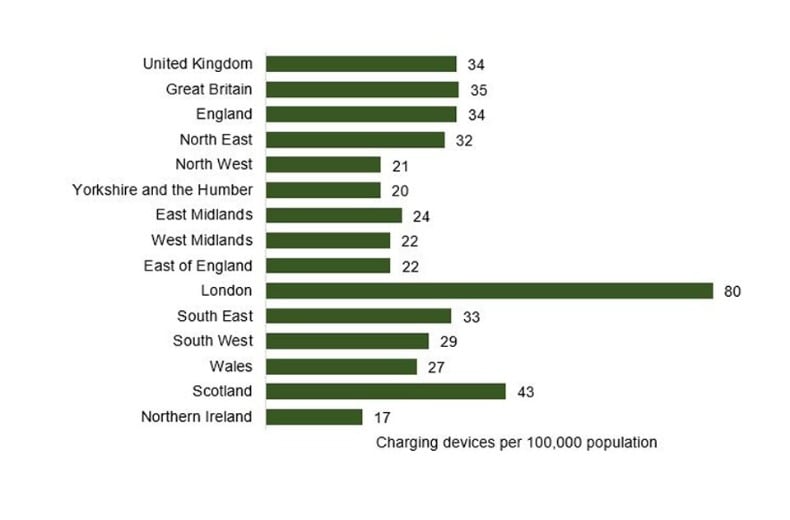 Find out more about the 2030 ban – is it worth buying an electric car now?
Visit the RAC Drive Electric Cars hub
Read our guides on choosing, charging and running an electric car.
Join the RAC and get breakdown cover. Our patrols fix 4 out of 5 vehicles on the spot, with repairs done in just 30 minutes on average.