Buying a used car could save you a fortune over the equivalent brand new model, but there are risks involved too.
A great amount of care needs to be taken to ensure you make the right purchase and aren't sold something that could come back to haunt you.
Our definitive guide offers all the help you need to help you buy with confidence and get the right deal too.
The following advice will cover every step of the car-buying journey from choosing where to buy from to what to check when you view the car to how to handle negotiations and your buyer's rights.
Guide contents
Viewing the car - what should I check?
---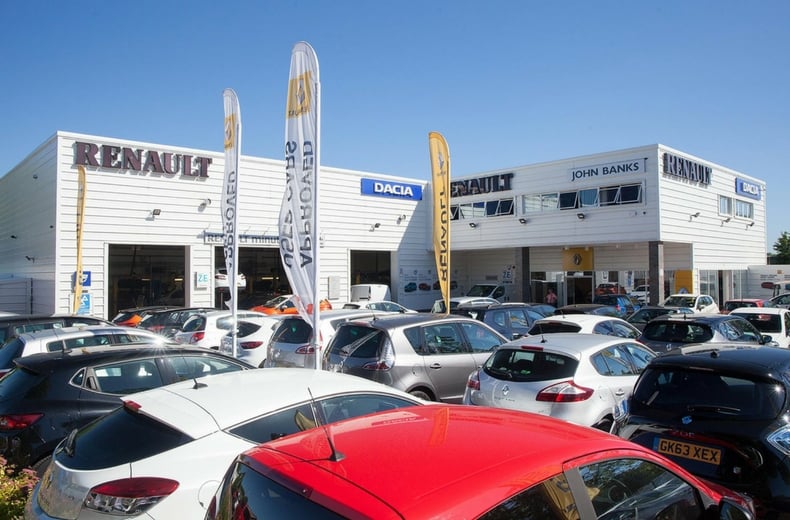 You've decided you want to buy a used car, but where should you buy it from?
We look through the advantages and disadvantages of different seller types, citing things to look out for and where to go to best suit your needs.
If you're nervous about buying a secondhand car, a dealer or trader is an easier place to start as buying privately often requires more car knowledge.
Firstly, lets understand what the concept of a trader means, as it can vary dramatically
A trader is defined as a person acting for purposes relating to that person's trade, business, craft or profession, meaning they can range from a single person buying and selling cars on their driveway, to a franchised dealer selling new and nearly-new cars.
The difference between these traders is the level of preparation and aftersales support you will get and also the cost you will have to pay for these premiums - the bigger the business, the more resource they have, but also the more overheads they have to pay too, which will bump up your costs.
Franchised dealers are at the largest end of the spectrum, with one-man-band driveway traders at the other and usually independent garages sitting somewhere in the middle.
Things to consider
A main dealer or garage is likely to have put a used car through a rigorous inspection and offer a good warranty (usually six or 12 months).
While this will come at a price - increasing the outright cost of buying the car - it can offer you priceless peace of mind in knowing the car has been thoroughly checked out and is covered by a warranty.
Buying from a driveway trader could save you these higher up front costs, but may prove to be a false economy as the car could end up costing you more in repairs - it's likely this person has done little more than give the car a quick wash after picking it up from auction, remember.
While all traders legally have to comply with the Consumer Rights Act - meaning you may be entitled to a repair, replacement or refund if the vehicle is deemed not 'fit for purpose' or 'of satisfactory quality' - acting on this could prove to be a headache if the seller is unscrupulous.
You may have to act fast as your right to reject the vehicle and claim a full refund because of a fault is usually restricted to the first 30 days and what you're entitled to varies following the expiration of this date.
It is also worth noting that under the provisions of the Road Traffic Act 1988, no person can sell a motor vehicle or trailer in an unroadworthy condition, you can read more about that in our buyer's rights section.
RAC Learner Driver Insurance cover from 2 hours to 5 months4
How to decide
Consider what you're looking for and what you need the car for. If the car is an investment - your family car, perhaps, for the next 10 years - it might make sense to pay for the security you get from a garage.
But if it is perhaps an in-between runabout for £500, and upfront cost is your biggest factor, it might make sense to sacrifice the guarantees for the cheapest possible price.
Independent garages can vary in size (and quality), but usually cater for the middleground of car sales - i.e. vehicles too old for main dealers, but not yet in the bargain bangers territory.
The advantage of independent garages is they often care about their reputation, and a search online can reveal how happy previous customers are.
Be cautious, though, some won't necessarily have done a great deal of work to prepare cars for sale, and be sure to read the terms and conditions of any warranty they offer - they're not always worth the paper they're written on.
If you decide to buy from a dealer our approved dealer network can help you buy with confidence.
If you're on a budget, buying a secondhand car privately can prove to be a much cheaper option than visiting a dealer, but is it the best thing to do?
Secondhand cars are usually priced much more cheaply when sold privately than at a dealership and there's often more room for negotiating as the seller isn't attempting to make a profit
Buying privately offers a great opportunity to meet the previous owner of the car and get a feel for how well it's been looked after. For instance If it's clean, with few minor bodywork faults, then it's probably been cared for over its life. As most dealers have a professional valeter clean all their cars, it's harder to tell how well they've been maintained
Meeting the previous owner also gives you the opportunity to find out their motives for selling it - do they have a genuine reason, or is it a problematic car they want rid of?

Some sellers overvalue their cars, and it's not unusual to find people asking for similar money for their pride and joy to what it might cost at a dealer, these sellers will usually bring their price down, but it could be a bit of a waiting game
Cars sold privately won't have been through a rigorous vehicle health check, like the ones sold at a dealership will have been, meaning you will have to be a lot more switched on with the checks you carry out when you inspect and test drive the car - don't worry though, we have everything you need to check covered in our viewing the car section, should you decide to buy privately.
You'll need to bear in mind buying privately entitles you to fewer buyer's rights than buying from a dealer too, meaning you could have no comeback if the car breaks down on the way home from buying it. You can find out your buyer's rights in this section here.
Many buyers are (sometimes rightly) cautious about buying a car from auction. Vehicles passing under the hammer are usually being sold for a quick sale, and come with little in the way of protection such as a warranty. Buy carefully, however, and you could grab a bargain.
Finding the right car for you at an auction that isn't overly competitive could result in a real bargain
You can snap up a car quickly and easily
It can offer a good environment to see what people are willing to pay for a particular vehicle
You usually have the chance to purchase before and after the auction, giving you more time to make your decision

It's getting more difficult to get a bargain at auction, as many dealers are now selling part-exchanges through eBay auctions and there's an increasing number of wannabe traders surfacing
The time to make your decision is less and you might have to do so in a more pressured situation, which could lead to poor decision making
Private buyers are cottoning on, too. Look out for cars that might be unpopular with dealers - those in unusual colours, for example, or with thirsty engines. They'll be hard to sell on so you might get one for a good price
You won't be able to give the car a thorough health check or a really thorough inspection and test drive
Things to consider for first-time auction buyers
Most auction houses allow a few hours of browsing before the sale, so get to the auction early and don't be afraid of poking around any prospective purchases. Do your research beforehand, too - how much would similar cars sell for privately or at a dealer, and how much have they sold for at previous auctions?
Once you've got a shortlist of cars, set a strict budget. Give it a good look over for the general condition - this can give you a good idea of how well it's been maintained and whether it's likely to be a dud. A cosmetically rough car is more likely to be hiding costly issues than a tidy example.
When the car passes through the auction hall, listen to the engine and look carefully for any signs that it might not be running right.
If you decide to bid, hold your nerve and don't get carried away with the moment.
Remember than auction houses usually add fees on top - find out what they are beforehand, to save any nasty surprises once you've bid.
If you are buying from an auction house as opposed to on an online auction,
MORE ADVICE: Petrol or diesel? Facts and quiz to help you decide
The online shopping craze is showing no sign of fading - and that includes big objects such as cars. Although car manufacturers are finally cottoning on to selling new cars online, people have been buying used motors on the internet for years.
Most of these online sales are through online auctions site eBay. You can buy a car over the internet by bidding on an auction or hitting 'buy it now'. We'd express caution about doing this without seeing it - it's a good idea to give it a good once over and meet the seller first, but being prepared to take a risk could bag a bargain.
If you do buy a car online, most buyers will expect a deposit paid via Paypal before collection. Although sellers won't take kindly to time wasters, if the car isn't as described when you arrive to complete the sale, you're free to walk away.
This takes away some of the risk - but you are contracted to buy it otherwise, even if you decide you don't like the colour or realise the seats aren't very comfortable.
If you buy a car online that's a long distance away and you can't collect it yourself, there are a number of transport companies which will deliver it to you for a reasonable cost. Services such as Shiply allow you to request quotes from a number of different companies.
Search RAC Cars, with more than 300,000 new and used cars on its database, now
---

We've all been there… turned up to look at a car you're thinking about buying, stood next to it with the seller, and realised you've no idea what you're looking for. To avoid the awkward (and pointless) situation where you walk around the vehicle kicking tyres and pretending to know what you're looking for, follow our advice...
For a start, taking along our car buyer's checklist. This provides a general overview for what to look out for, but a search online can give you a clearer idea of what to look for with specific make and models.
1. Tyres
We've already mentioned kicking the tyres, but it's worth getting down on your knees and inspecting them properly. How much tread have they got? They need 1.6mm as a legal minimum, so if they're below 3mm you'll have to factor in the cost of changing them soon.
While budget brand tyres might not be a major concern on a cheap car, if you're spending more money (especially on a performance car) you'll want four matching premium tyres.
Click here to find out how to check the legal tyre tread with a 20p.
2. Dents and scratches
How's the bodywork? Are there signs of kerbing on the wheels? It's important to inspect a car in clear daylight… rain or darkness can hide a lot.
Don't be too put off by small dents or scratches, these can be fixed fairly cheaply, but do use them to negotiate.
3. Panel gaps
While you're looking over the bodywork, check the gaps between panels - large panel gaps could be a sign that a car has been badly repaired after a crash, and make sure there aren't any colour differences between panels.
4. Fluid levels
Open the bonnet and check all the levels - including oil, brake and power steering fluid. If they're low, it could be a sign that the car hasn't been well maintained. While you're there, look out for signs of oil leaks under the bonnet. It's worth looking underneath where the car is normally kept, too.
5. Under the oil cap
As well as checking the oil level, it's worth looking under the oil cap for signs of a white mayonnaise-like substance. This could be caused by condensation, but is usually created by coolant mixing with oil - a sign that the head gasket could have failed. Also check the coolant expansion tank looks clean
6. Electrics
Try everything. Wind the windows up and down, turn the radio off, test the air conditioning. Faults could be a simple repair, but at the very least it's a negotiating point if something doesn't work as it should
7. Glass
Are there any chips in the windscreen? They could turn into cracks meaning you'll have to replace the windscreen. If they're in the driver's eyeline, they could be an MOT failure too. Also look at the front and rear lights, keeping an eye out for chips, cracks and any fogging or internal moisture.
How to deal with damaged windscreens
8. Upholstery
Don't overlook the car's interior. Are there any stains or tears in the seats? Does it smell OK? Bad smells can be very off-putting and hard to get rid of, especially if a car has been smoked in.
9. Spare wheel and accessories
Should the car come with a spare wheel? If so, is it there, and in good condition? Is there a jack for lifting the car if you get a puncture, and an adapter for any locking wheel nuts fitted to the vehicle?
10. Wear and tear
All secondhand cars will display a certain amount of wear and tear, but is it consistent with the age and mileage? A car showing low miles on the clock but showing heavy wear on the driver's seat, steering wheel and pedals should raise alarm bells.
Click on the below image to download the checklist and take it to your viewing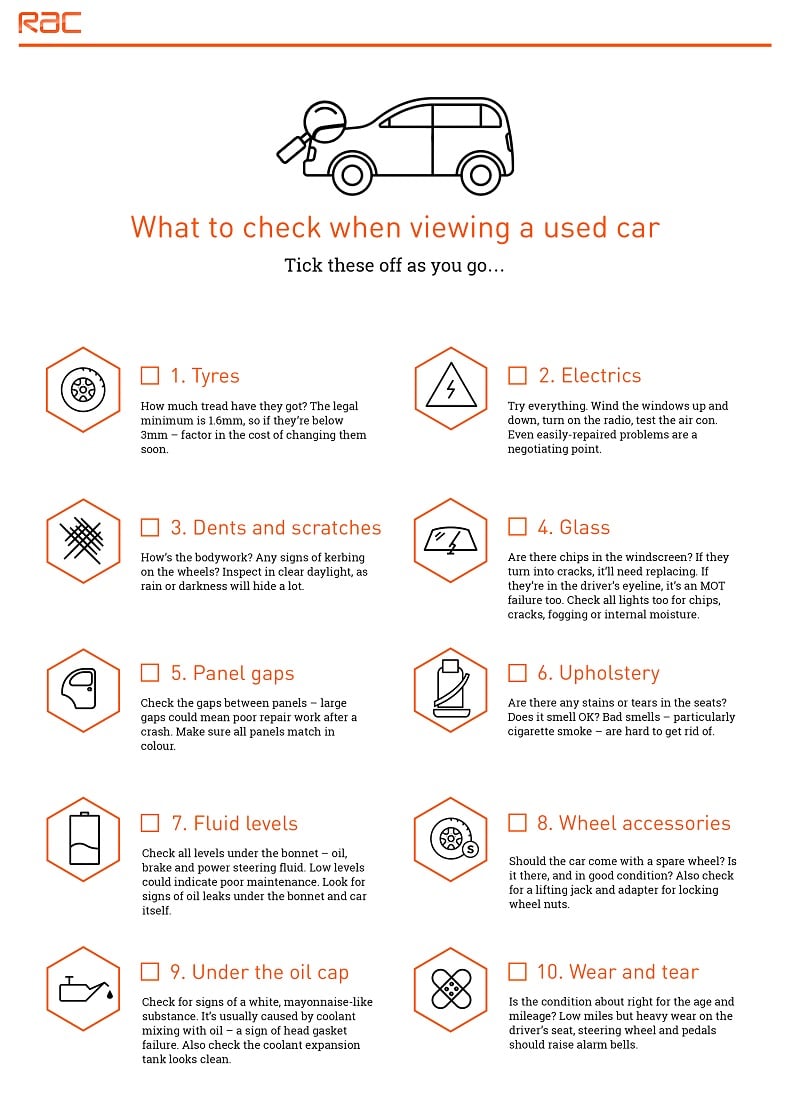 MORE ADVICE: How to spot a clocked car
This list of check will give you a good insight into what you need to look out for when inspecting a used car, however, it's always advisable to take someone with you who has a good knowledge of cars and mechanics, if you don't yourself - especially if you are spending any significant amount on the car.
If you don't know anyone to take along and need a second opinion, a vehicle inspection is a great idea. For a fee, trained mechanics will visit the car with you and check the running order and working condition of the vehicle, potentially saving you a significant amount down the road in repairs, should they spot a lurking issue.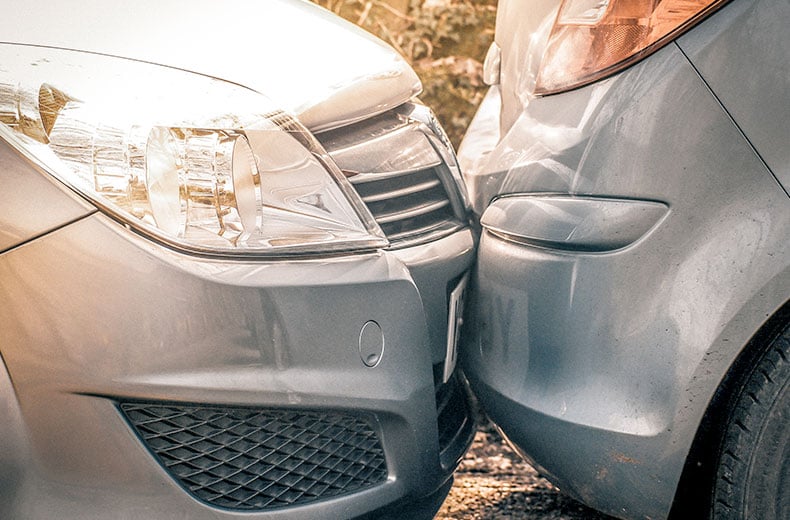 We'll come on to how you can check if a car has ever been written off in a moment, but there are signs you can pick up on that might suggest a vehicle has been crashed.
We've mentioned checking all the panel gaps - make sure panels line up tightly, with a small, even gap between panels, and the paint colour matches all over the car. Look closely and if there's something that doesn't look quite right, it might be because it's had some bodywork.
Look out for ripples in the bodywork which might suggest it's been damaged and poorly repaired using filler - a magnet should reveal whether this is the case, as filler isn't magnetic.
Be familiar with the specification of the car you're looking at: for example, if it's a high-spec model, it might have chrome trim, so ask questions if it's missing.
Number plates must legally have their supplier printed on them in small letters - if it's not a car dealer, ask why? There might be a genuine reason, such as the plate fading and needing replacing... or it might have been damaged in a crash.
READ MORE: What is an insurance write off and should I buy one?
The most important document you need to check when buying a secondhand car is the V5C, also known as the registration document or log book. Make sure the make and model of the car you're buying matches that on the V5, as well as the number plate.
You can also check that the Vehicle Identification Number known as the VIN, matches the VIN on the vehicle, which can be read from outside the vehicle in the lower part of the windscreen.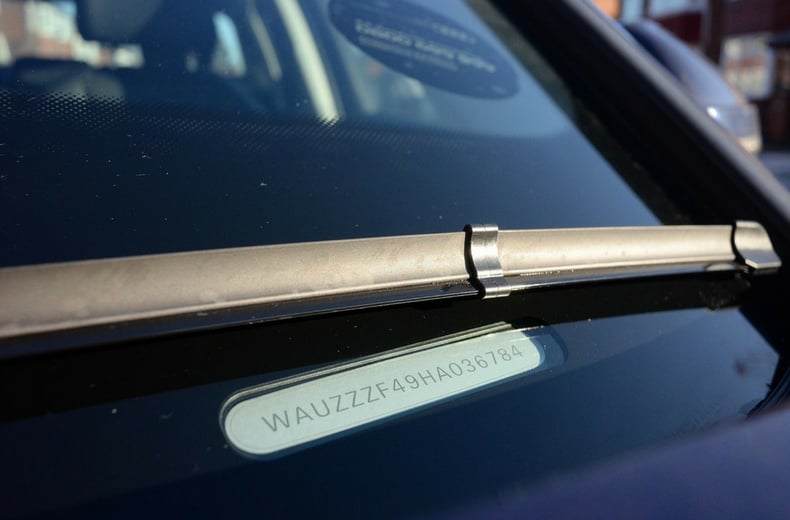 Read our full guide to VIN number checks
If you're buying privately, check that the name of the registered keeper is the same as the person you're dealing with, and the address is the property you're buying the car from. If it's not, ask questions - the seller might be a dealer masquerading as a private seller, or the car could even be stolen.
The V5 will also tell you how long the seller has owned the car, and how many previous owners it's had. Be concerned if the car has had lots of owners over a short period of time - it could be problematic, although there may also be a genuine reason.
An MOT certificate isn't as important as it used to be - as you can now check a car's MOT history online and find out if a car's got a current valid MOT.
The MOT test, if you're not familiar, is the yearly compulsory test of roadworthiness carried out on all vehicles over three years old. Check the expiry date on the MOT certificate (or online) and take a note of any advisories that the tester has suggested.
The seller may or may not have fixed these - some are easy to check (e.g. if a tyre is low on tread), but some aren't (e.g. underbody rust) and may hint that the seller is trying to shift a problem motor before big bills occur.
A comprehensive service history is a bonus when buying a secondhand car.
Depending on the price, age and type of car, it may or may not be important - on a £500 banger, for example, you'll be lucky to get much in the way of service history, but on a more expensive specialist car you'll want a fully-stamped service book to prove it's been looked after.
Read our complete guide to MOTs to find out hints and tips like: do council MOT centres really have a better pass rate?
When buying a secondhand car, it's important to find out as much as possible about its history. This helps you find what the seller potentially doesn't want you to know.
These checks primarily reveal if there are any hidden discrepancies in the car's history, such as being written off.
Research suggests as many as one in four cars have a hidden history - this could include it being stolen or written off or having outstanding finance (which could cost you dearly). The RAC provides a data check which will provide peace of mind for any secondhand car purchase.
As well as checking whether the car has been stolen, written off or has outstanding finance, car history checks can also provide the following:
Any mileage discrepancies which could reveal if the car has been clocked by having the mileage deliberately wound back as well as
Common breakdown reasons by make & model
Common MOT failures by make and model
An independent car review
A vehicle valuation
Average running costs by make and model
Car inspection and buying checklists
It is a good idea to be inquisitive about any car you are looking to buy, and bear in mind even a car history check won't tell you absolutely everything about a vehicle. Ask whoever you are buying a car from about its previous owners to build a picture - for instance, has it been used as a pool car by lots of different drivers? Has it just had a single company car driver before it went onto the market?
Rated 4 out of 5 stars on Trustpilot from over 25,000 reviews*.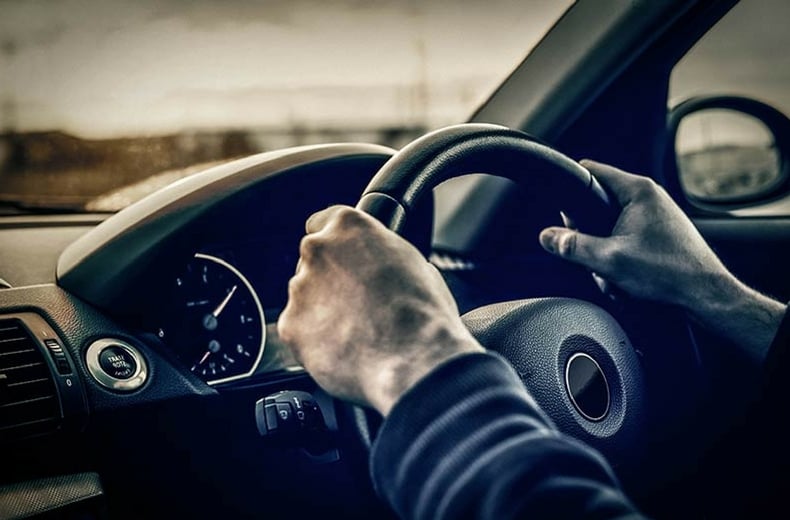 It's important to take a test drive when you're buying any car. These are the important things to consider:
1. Does it start OK?
A car which is problematic to start might need a new battery or alternator.
2. Check the temperature gauge when you start it
Has the seller been warming the car up beforehand? If so, why? Check that the engine starts OK from cold if possible to do so. Also try turning it off and on after it's been running for a while to make sure it starts when it's warm
3. Watch the temperature gauge
Does it get up to half way fairly quickly and stay there? it might need a new thermostat, while overheating could be a sign of more serious issues
4. Check the clutch
Is it easy to find point, or is it a long way up the pedal travel? Try accelerating up a hill at low revs (in a high gear) to check for slipping. Also try a quick getaway - does the car pull away cleanly, or does the clutch judder? Clutch replacement can be costly so it might be worth trying a few examples of the same model to help you understand what's right and what isn't.
5. Check the transmission
Do all gears select easily? They shouldn't be too notchy or sloppy, or make crunching noises every time you change gear. and the gear stick should self-centre when you take it out of gear. If the vehicle is an automatic, ensure gear changes are smooth and in line with road speed and engine load etc.
6. Check the steering
Does it operate smoothly, without any odd noises? Is the power steering doing its job, or does the wheel feel heavy? If you remove your hands from the wheel, does the car pull to one side or does it track straight? (a good level and flat road is best to test this).
7. Is the suspension working as it should?
Obviously some cars will have firmer suspension than others, but drive over bumpy roads and listen out for thunks and clunks, and feel for any unusual jolts being transferred into the cabin.
8. Listen to the engine
It's a common trick of used car salesmen to turn on the radio during a test drive - turn it off and listen to the engine. Is it running smoothly, or does it sound rough and noisy? If it's the latter, it might have been neglected.
9. Does it perform as you'd expect?
Accelerate through the gears… does it keep up with traffic OK? Is the performance as you'd expect for the car? If it's overly sluggish, there may be issues.
10. Test the brakes
If you get the chance without a car behind you, try going hard on the brakes. Does it stop cleanly, in a straight line without pulling to one side? Are there any unusual noises? Check the handbrake works effectively also, many vehicles are now fitted with electronic handbrakes – make sure it functions correctly.
11. Do you like it?
As well as being an opportunity to look for faults on a secondhand car, the test drive is a good opportunity to make sure you're buying the right car for you. Is the driving position comfortable? Would you be happy driving it for the journeys you do? Even used, a car is a big investment, so make sure you're entirely certain with your choice.
Click on the below image to download the checklist and take it to your viewing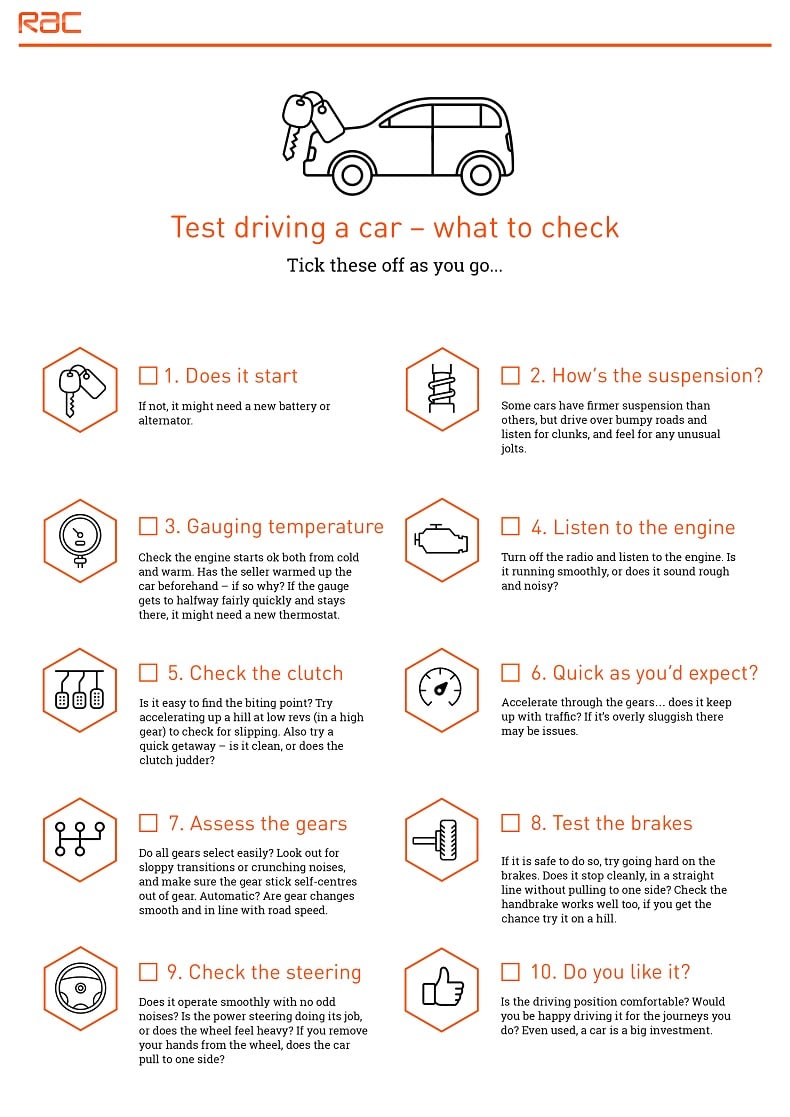 ---

You've found a secondhand car, checked the paperwork, done an RAC history check, been on a test drive and now you're ready to go ahead and do a deal. This is potentially the most challenging part of buying a car - how should you go about it?
No matter where or who you're buying a car from, our best advice is to be polite and fair.
It's human nature to want some money off and, while some sellers will be open to negotiating, others will be less keen. Take a positive approach and view it as a challenge - sellers rarely respond well to buyers making insulting offers and taking an over-the-top approach to haggling.
Walk around the car with the seller and highlight any issues you've found. They're likely to already know about these - and may have already taken them into account when pricing the car - but it'll help them see it from your point of view.
Before going to see the car, you should have looked into how it compares with others on the market (bearing in mind trade sales should be more expensive than private), so you'll know how much it's worth. With this in mind, set your budget in advance and stick to it.
If you feel the car is overpriced for the condition it's in, make an offer and be prepared to walk away if the seller isn't willing to move. You may find that the seller makes a counter offer - if not straight way, perhaps when you've driven home and showed you're not willing to pay more money.
If you're buying from a dealer, there may be scope to get some extras thrown in free rather than simply money off. Ask for a full tank of fuel, for example, or a service or MOT if the car needs it.
Avoid being pressurised into buying a used car. If you're not 100% sure on the car, walk away – there will always be more to see.
Don't buy a car from a private seller in a public place. View it at their home so you can see the address matches the V5 keeper's document.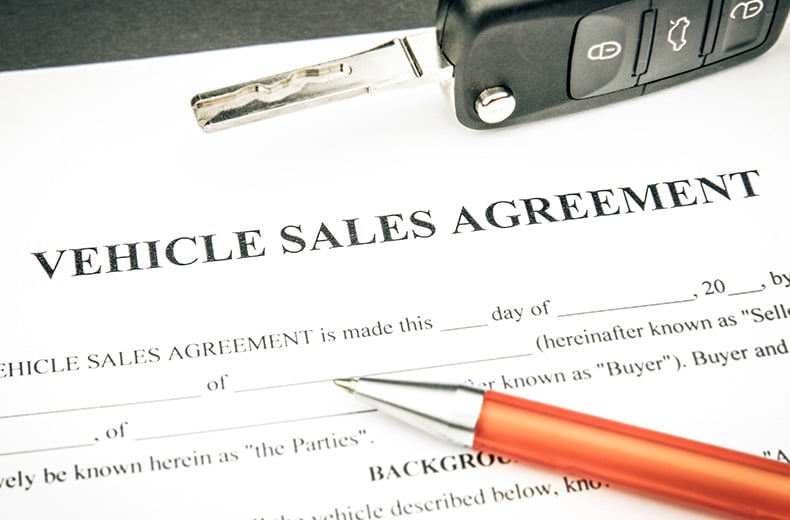 Once you've found the car and agreed a deal, the next step is paying for it. The best way of doing that depends a lot on the value of the car - while producing a wad of £20 notes might be the best way of paying for a £500 car, doing so for a £20,000 motor could get you into a lot of trouble.
You could pay using a cheque, but the seller will want funds to clear before you drive away. Alternatively, transfer the money using online or telephone banking - this should be quicker than a cheque, but won't be instant. A banker's draft is quicker, but you'll have to pay a fee for this.
If you're buying a car from a dealer and it's relatively cheap, you might be able to put the car on a credit card, although you might have to pay a small fee for this.
Many dealers offer finance, but the rates on secondhand cars often aren't as competitive as taking out a personal loan. You can get a quick personalised loan rate in just three minutes from the RAC for up to £25,000 without affecting your credit score.
Before transferring funds, please ensure that you are completely satisfied with what you are buying.
When transferring funds, ensure that you use a trackable method of payment such as a credit or debit card as paying by cash is far harder to trace.
Please note: It is important to be wary of online sellers and to ensure you research the seller thoroughly.
If you've followed all these steps, you should be in a good position when handing over the money.
Ask for a receipt for the money - including any agreement such as work to be carried out before collection as well as the date and the car's current mileage.
Under the Consumer Rights Act, all cars bought from dealers must be of satisfactory quality, fit for purpose and as described.
It is also true that, whether bought through a dealer, or privately, the vehicle you buy must be roadworthy which means it must be fit and safe to drive.
Section 75 of the Road Traffic Act 1988 states that it is illegal for anyone to sell a vehicle that is not roadworthy.
If you can demonstrate that there is a fault with the vehicle, you will be entitled to a number of remedies depending on when you bring the fault to the trader's attention:
Within the first 30 days from taking delivery of the vehicle: Should you reject the vehicle within the first 30 days because of a fault which you can demonstrate you will be entitled to a full refund when you return the vehicle. If you prefer a repair or a replacement, the trader must do this for you within a reasonable time and without causing your significant inconvenience
From the 31st day until the first six months: Should you have experience a fault with the vehicle, you are entitled to a repair or a replacement from the trader. Should the repair or replacement not address the problem you are complaining of, you will be entitled to reject the vehicle and then claim a refund (which can be reduced as a result of your fair use) or, if you prefer to, keep the vehicle and receive a fair price reduction. It is worth noting that as long as you can demonstrate that a fault exists, it is presumed that the fault was there when you took delivery of the vehicle. It would be for the trader to prove that you had caused the fault since you took delivery of the vehicle.
From six months and up to six years: Should you experience a fault with the vehicle after six months and you can prove that the fault was present at the time of delivery, you will be entitled to a repair or replacement. Should the repair or replacement not address the problem you are complaining of, you will be entitled to a choice of rejecting the vehicle and claim a refund (which can be reduced as a result of your fair use) or keep the vehicle and receive a fair price reduction. However, after the six-month period, the burden of proof is reversed and a consumer will have to show that the goods were defective at the time of delivery.
After six years: You are not entitled to any legal remedy under the laws of England and Wales (5 years in Scotland)
If you pay for all or part of the vehicle via credit card, you may be able to seek redress from your credit card provider. They can be jointly responsible for problems with your vehicle under The Consumer Credit Act 1974. If your vehicle is subject to a finance or lease agreement, your options may vary considerably.
Escalating an issue to court? What's the procedure
If you cannot come to an amicable resolution with the dealership, there is a process in place which can still provide a remedy.
If giving them an opportunity to remedy any breaches of contract do not come to fruition, the next stage is to send a 'letter before action'. A useful guide outlining what needs to be included and a step-by-step guide on the court process can be found here.
Another helpful website for the court process can be found here.
An MOT is not proof of roadworthiness
Please note that an MOT certificate from a test several months ago is no guarantee that the vehicle is roadworthy on the day you are looking to buy it.
The MOT certificate can also highlight any issues that the owner or registered keeper was advised to monitor with a view to putting right.
If you think you have been sold an unroadworthy vehicle, report it to your local Trading Standards and the Driver and Vehicle Standards Agency (DVSA).
A V5C doc is not proof of ownership
It is worth noting that a V5C is not proof of ownership of a vehicle, but does state the registered keeper at the time.
It's a good idea to request to see proof of ownership from the seller i.e. a receipt or invoice.
Buyer's rights summary
You'll have less protection if you've bought a car privately.
The key is to ask as many questions as possible - while sellers don't have to volunteer information, they're on rocky ground legally if they tell lies about the car's condition or history.
It must be described accurately, so if the car's advertised as having air conditioning and you find out on the way home that it doesn't, you could ask for a full refund.
Before you drive the car away, you legally have to take out insurance and pay for VED (vehicle excise duty - road tax). The easiest way of obtaining insurance before driving home in a new car is to get a quote beforehand, then all you need to do is go online or phone up to accept it when you're ready to take out the policy.
You can tax a car using the 'new keeper's slip' of the V5 on the DVLA's website. Alternatively, phone the DVLA's 24-hour automated service on 0300 123 4321 or visit a nearby Post Office.
The information in this article does not constitute legal advice and is provided for general information purposes only. We do not warrant that the information is complete, true, accurate, up-to-date, or non-misleading and shall not be liable for any technical, editorial, typographical or other errors or omissions contained within it. You must not rely on the information on this website as an alternative to legal advice from a solicitor.
Want more useful content like this sent straight to your inbox?