Introduction
When you fill up with petrol or diesel you know that, in most cases, your car will be refuelled and ready to go within a few minutes.
It's harder to say how long it will take to charge an electric car, but it needn't be the barrier to entry it was a decade ago.
The speed of public charging is increasing all the time. Eventually, we could reach a point where recharging scarcely takes longer than filling up with fuel.
Until then, charging time is an important consideration when it comes to running an electric car.
Charging speeds vary, from as little as 15 minutes using an ultra-rapid 350kW charger, to as much as 24 hours when relying on a domestic three-pin plug.
If you're considering the purchase of an electric car, or you're a new EV owner planning your first journeys, our guide to charging speeds will help.
Electric car charging speed calculator
The time it takes to charge an electric car depends on the size of the battery and the power output of the charger. You can use these values to calculate how long it will take to charge your EV.

Battery size (kWh) ÷ Charger power (kW) = Charging time (hours)
We can use this calculation to work out the length of time it takes to charge three popular EVs with varying battery sizes.
A Renault Zoe with a 52kWh battery will take just over an hour to charge using a typical 50kW rapid charger.
Moving up a size, a Kia e-Niro with a 64kWh battery will be charged in about an hour and a half.
Alternatively, the 70kWh battery in the Tesla Model 3 Long Range requires around an hour and three quarters. It's worth noting that many Model 3 owners will use Tesla's Supercharger network, with typically 172 miles of charge available in just 15 minutes.
Charging speed at home
Charging at home is the most convenient and cost-effective way to charge an electric car. Stick the EV on charge when you arrive home from work and you'll wake up to a fully charged car in the morning.
Get into a routine and you could find that you rarely require the public charging network. One thing's for sure: queuing at a petrol station will be a thing of the past.
You have two options when charging at home: using a domestic three-pin plug socket or a dedicated wall box.
While a domestic socket is fine for occasional use, a wall box will deliver faster and safer charging for EV owners. Without one, it could take longer than a day to charge an electric car with the biggest battery.
Pod Point is one of the UK's providers of home wall boxes. It offers three power outputs: 3.6kW, 7kW and 22kW. The company also provides an online calculation of the time it will take to charge various electric cars.
Using the Renault Zoe as an example, Pod Point quotes the following times:
3.6kW: less than 7 hours
7kW: less than 4 hours
22kW: less than 2 hours
Costs vary, but a 3.6kW wall box could cost as little as £450 after the government's Electric Vehicle Homecharge Scheme (EVHS) grant.
It's worth noting that 22kW wall boxes require three phase power, which is rare and expensive to install. A 3.6kW or 7kW charger will be suitable for most EV owners.
Public charging speed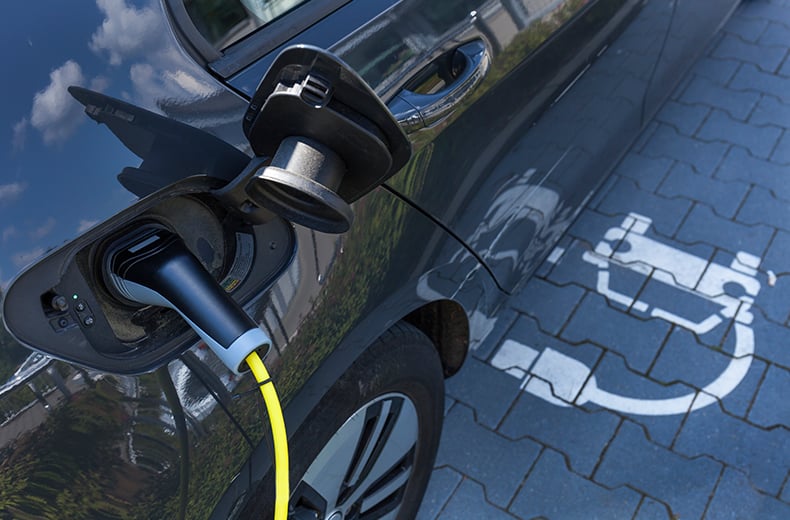 At the last count, there were around 15,000 electric car charging locations in the UK, amounting to around 23,500 devices. The number is growing all the time, as the country gears up for the 2030 ban on the sale of new petrol and diesel cars.
You'll find charging points in car parks, motorway service areas, outside restaurants and at dedicated charging hubs.
Other locations include high streets, supermarkets and hotels. Some are open to all, while others require a subscription. Tesla owners enjoy access to their own Supercharger network of rapid chargers.
Here are the charging speeds you'll find at these public electric car chargepoints.
Non-rapid charging speed
---
Typically 6-12 hours
Also known – confusingly – as 'slow' or 'fast' charging, the reality is that this isn't a particularly quick way to charge an electric car.
A slow charger could be rated as little as 3kW or 7kW, while up to 50kW is considered fast. Anything beyond that falls into the rapid category.
A 3.6kW output is commonly associated only with home charging, and 5.5kW is the typical rating of a lamppost charging unit.
A charge time of up to 12 hours makes slow charging unsuitable for anything other than home, workplace or hotel use.
Using a Nissan Leaf with a 40kWh battery as an example, you can expect to achieve a full charge in six hours when using a 7kW or 22kW charger.
You can use some slow and fast chargers for free. For example, the Tesco, Volkswagen and Pod Point partnership provides free access to 7kW chargers in superstore car parks throughout the UK.
Join the RAC and get breakdown cover. Our patrols fix 4 out of 5 vehicles on the spot, with repairs done in just 30 minutes on average.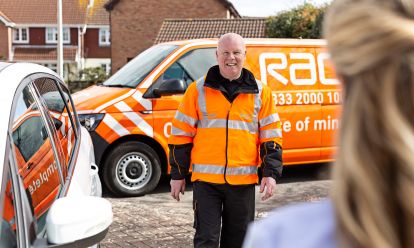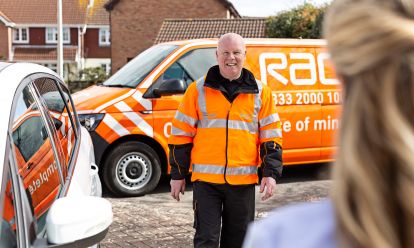 Rapid charging speed
---
Typically 20-60 minutes
A 43kW rapid AC charger will charge an electric car in 20 to 40 minutes, depending on the size of the battery and the state of charge upon arrival at the charging point.
Similarly, a 50kW rapid DC charger will replenish a battery to 80 percent in 20 minutes to an hour.
Ultra-rapid charging speed
---
Typically 20-25 minutes
Ultra-rapid chargers deliver power at 100kW or more, typically at 100kW, 250kW, 270kW or 350kW.
These represent the future of EVs, though the fastest technology is currently limited to the most expensive electric cars, such as the Porsche Taycan, Audi e-Tron GT and BMW iX.
Take the Audi e-Tron GT. A full charge can be achieved in as little as 23 minutes when using an ultra-rapid charger, but this increases to 9.5 hours when using a 11kW non-rapid device.
Even an EV able to accept a maximum of 50kW can use an ultra-rapid charger, albeit at a lower rate.
There are around 400 Ionity 350kW ultra-rapid charging stations across Europe, with a minimum six charging points per station. Users must download an app before paying 69p per kWh.
Tesla Supercharger speed
---
Typically under 40 minutes
The Tesla Supercharger network boasts 2,000 stations with 20,000 chargers across the world. A Tesla should be fully charged within 40 minutes when using a 150kW V2 Supercharger.
There are also approximately 130 V3 Superchargers with a capacity of 250kW. These are able to charge at a rate of 1,000 miles added per hour.
While owners of older Tesla models enjoy free access to the Supercharger network, new customers pay around 28p per kWh.
Tesla owners can also use standard Type 2 chargers, although it's worth noting that only Tesla drivers can use the Supercharger network.
What affects charging time for an electric car?
Aside from the battery size and charging unit, a number of external factors will influence the charging time for an electric car.
You may know that cold weather will reduce the range of an EV, but it can also slow the rate at which it charges.
Research shows that extreme heat can also have a negative impact on battery health, reducing its capacity over a long period of time.
This will result in shorter range estimates and the need for more frequent charging. Parking in the shade will help to the minimise the effects of extreme heat.
Electric cars generally charge to 80 percent at a faster pace, then slow down to protect the batteries. This, combined with the fact that you're unlikely to arrive at a charging station with zero range, means that you'll rarely fully recharge a battery.
Renault has developed a handy tool for calculating the charging time of the Zoe EV when using a range of different chargers.
Saving time by planning ahead
If you're travelling to an unfamiliar place or driving to a holiday destination, you might plan ahead by searching for petrol stations. You should do the same when driving an electric car.
The UK is well served by a network of public chargers, so you'll almost certainly find somewhere to charge on route. However, using a tool such as the Zap-Map live map will tell you if the chargers are working.
There's even a handy route planner tool, which allows you to select filters such as driving range, average speed and elevation.
Charging at home is always preferable to relying on the public network. You're guaranteed a full charge and can save energy on the move by preheating or cooling the car's cabin using the preconditioning function.
To get the most up-to-date charging prices, click here.
Conclusion
While charging an electric car will take longer than filling up with petrol or diesel, it needn't be too time-consuming.
There's even the big advantage of leaving the house each day with a 'full tank' thanks to home charging.
With some forward planning and home charging, you could find that running an EV is more convenient than driving a car with an internal combustion engine.
Need more information? Read our definitive guide and tips for EV buyers.
The RAC is leading the way when it comes to supporting drivers in the switch to electric vehicles.
An ever-increasing number of our patrol vans have built-in emergency mobile charging systems capable of giving an out-of-charge electric car enough power to be driven a short distance home or to a working chargepoint, while our All-Wheels-Up recovery system allows our patrols to safely rescue electric cars with no need for a flatbed.
Find out more about the RAC's electric car breakdown cover, car repairs, from mobile mechanics or the RAC Approved Garage network.
Return to the RAC Drive Electric cars hub
Read our guides on choosing, charging and running an electric car.