Electric cars have gained popularity over the past decade, but it's only in recent years that electric vans have started to catch up.
To help in the transition to electric motoring, a government subsidy called the Plug-In Van Grant (PIVG) offers businesses 35% off the purchase price of an electric van, up to a maximum of £6,000.
With potentially low running costs, yet all the practicality of their diesel and petrol counterparts, these are some of the best electric vans to consider.
Small electric vans
Citroen e-Berlingo
An electric van pioneer, the Citroen Berlingo first went battery-powered in 2010. The latest model was launched in early 2021.
Using the same 50kWh battery and 136PS electric motor as the Stellantis group of electric cars – including the Citroen e-C4 and Peugeot e-208 – the e-Berlingo can travel up to 174 miles on a single charge.
Fast-charging up to 100kW means the battery can be replenished to 80 percent in around 30 minutes, while a regenerative braking system helps charge the battery when slowing down.
'M' and long-wheelbase 'XL' models are available, alongside a panel van or crew van with a second row of seats. The e-Berlingo can carry 3.3 cubic metres of cargo, plus a maximum payload – depending on the model – of 803kg.
The Peugeot e-Partner and Vauxhall Combo-e are similar takes on the same theme, sharing the e-Berlingo's powertrain and some body panels.
Read our Citroen Berlingo van review.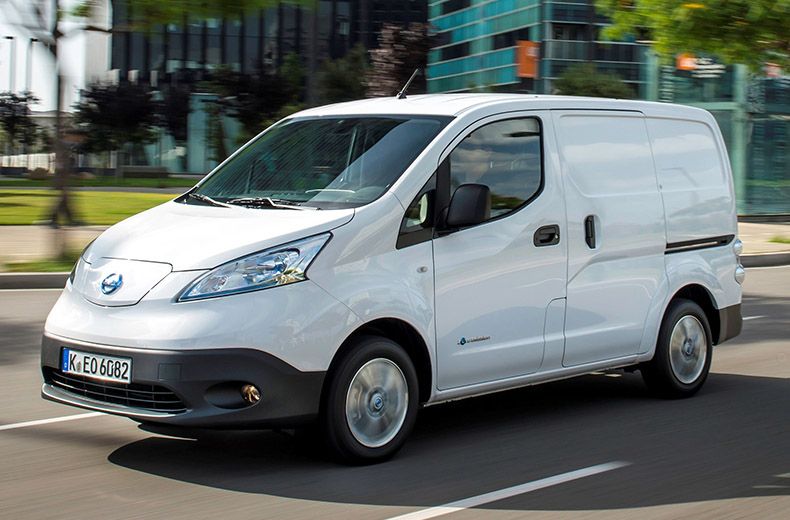 Nissan e-NV200
Using the same technology as the popular Leaf electric car, the Nissan e-NV200 was one of the very first electric vans on sale.
Its 40kWh battery and 109PS electric motor give an official range of 124 miles. Charging takes 7.5 hours via a 7.2kW wallbox, but it can be fast-charged in 40-60 minutes.
An Eco mode helps save energy to eke out available range, while an additional 'B' setting gives stronger regenerative braking to further boost the distance you can drive.
Nissan's electric van can carry 4.2 cubic metres of cargo, with a maximum payload of 705kg. As well as the traditional panel van, five and seven-seat Combi versions are available.
Read our Nissan e-NV200 van review.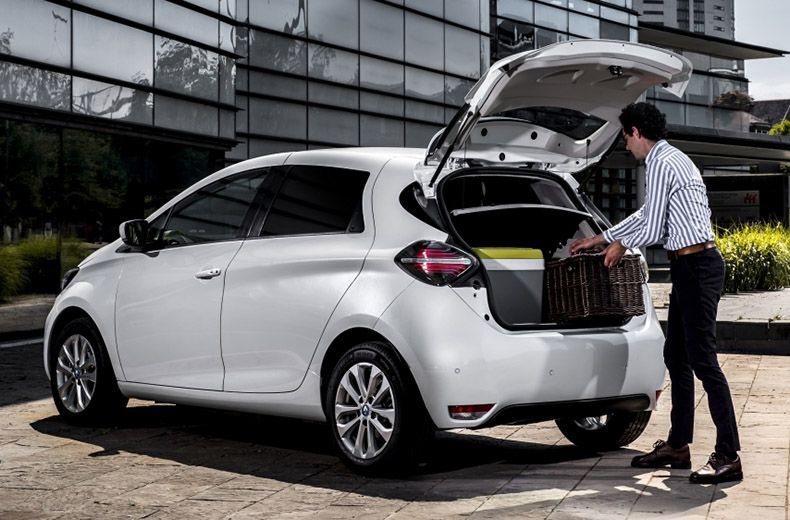 Renault Pro+ Zoe E-Tech Electric Van
In addition to the Kangoo E-Tech Electric van, Renault offers an electric light commercial version of its Zoe electric passenger car.
The Zoe Van's 52kWh battery and 110PS electric motor come from the car, so the 245-mile range is the same as the regular Zoe.
One of the bigger benefits of the Zoe Van is an interior that mirrors the car, so the materials and driving environment are better than some purpose-built vans. All that's really different is the lack of rear seats.
A payload of 387kg can't match that of larger models such as the Kangoo, but as a small electric van that is highly usable around city centres and fun to drive, the Zoe has much to offer.
Read our Renault Zoe review.
Medium-sized electric vans
Maxus e DELIVER 3
Maxus may be a name that few drivers know, but its former incarnation, LDV, has a lengthy light commercial history.
Now owned by Chinese company SAIC – which also produces modern MG cars – Maxus offers two electric vans. The e DELIVER 3 is the smaller of the pair.
Available with both 35kWh and 52.5kWh battery configurations, all e Deliver 3 models have a 122PS electric motor. That's good for a driving range of between 99 and 151 miles, depending on the model.
Use of lightweight aluminium and composite materials helps the e Deliver 3 to maximise its payload capacity. You can carry up to 865kg of cargo with the 35kWh version, rising to 945kg with the 52.5kWh van.
Read our Maxus e DELIVER 3 van review.
Mercedes-Benz eVito
German premium vehicle manufacturer Mercedes-Benz is releasing zero emissions cars at an electrifying pace. And it's forging ahead with electric vans, too.
Alongside the large eSprinter is the smaller eVito, which comes in two wheelbase versions. Payload ranges from 840-923kg, and cargo volume from 6.0-6.6 cubic metres. Drivers can only choose one trim, but two extra-cost option packs can be added for more practicality.
Fitted with a 41kWh battery, the eVito has an official range of around 93 miles and takes six hours to recharge from flat to full using a 7.2kW charger.
The eVito can also be pre-conditioned – pre-heated or pre-cooled when plugged in to save energy when driving – via an app.
Read our Mercedes-Benz eVito van review.
Toyota Proace Electric
A hybrid pioneer, Toyota has been slower to embrace all-electric vehicles, the new Proace Electric, however, is a zero emission version of its popular Proace van.
The Toyota shares the same chassis, batteries and motor as the Citroen e-Dispatch, Peugeot e-Expert and Vauxhall Vivaro-e.
There's a choice of two batteries: the 50kWh model has an official single-charge range of up to 142 miles, while the 75kWh version manages around 60 miles more.
Only available in one length, the Proace Electric 50kWh has a payload of 1,226kg, 226kg more than that of the 75kWh model.
Read our Toyota Proace van review.
Volkswagen ABT e-Transporter
The Volkswagen Transporter has a 70-year heritage, but it's only in recent years that an electric van has arrived.
However, rather than build a bespoke electric version of its celebrated do-it-all van, Volkswagen called in experts at tuning firm ABT, which is involved in the Formula E racing series.
An 110PS electric motor is connected to a version of Volkswagen's DSG automatic transmission, plus a 37.3kWh battery mounted beneath the floor.
A range of up to 82 miles means the e-Transporter is best-suited to inner-city routes, but a decent level of build quality and equipment means you'll be comfortable while you scythe through urban traffic.
Only available in long wheelbase form, the panel van's maximum payload is 996kg, with up to 6.7 cubic metres of cargo space. A passenger-carrying Kombi model is also available.
Read our Volkswagen Transporter 6.1 van review.
Return to the RAC Drive Electric cars hub
Read our guides on choosing, charging and running an electric car.
Vauxhall Movano-e
With fully electric versions of its whole commercial vehicle range, Vauxhall has fully embraced the electric van.
That's partly because its electric van model family is based on the same platforms and technology as those from Citroen and Peugeot. The Movano-e's close relatives are the Citroen e-Relay and Peugeot e-Boxer, as well as the Fiat e-Ducato.
The Movano-e's 70kWh battery and 122PS electric motor deliver 139 miles on a single charge. Using a 50kW fast charger, the battery can be charged to 80 percent in around an hour.
For ease of use, the Movano-e's battery charge level, driving modes and range are displayed within its rear-view mirror. In terms of practicality, the electric Vauxhall van has up to 17 cubic metres of cargo space.
Read our Vauxhall Movano van review.
Fiat Professional e-Ducato
Now part of the very large Stellantis group – which also includes Citroen, Peugeot and Vauxhall – Fiat's Professional arm has embraced zero-emissions technology for its e-Ducato electric van.
Drivers can choose panel van, chassis cab or passenger-carrying configurations, with either 47kWh or 79kWh batteries. Using a 122PS electric motor, range is 142 miles for the smaller battery version, rising to 223 miles for the 79kWh model.
As the batteries are mounted under the floor, the same 1,885kg payload as other Ducatos remains, as does the 10-17 cubic-metre load volume.
One unique feature of the e-Ducato is Recovery Mode. This allows the battery modules to work independently of each other when required. For example, if one of the battery modules should drop out, another will automatically work harder to maintain the correct power level.
Read our Fiat Ducato van review.
Renault Master E-Tech Electric
The Master was one of the first large electric vans launched, and Renault has developed it into a whole family of models.
As well as the panel van – with 8-13 cubic metres of carrying space – there are now two platform cabs and a single chassis cab option.
With a choice of three lengths, two heights, and a Gross Vehicle Weight (GVW) of 3.1 or 3.5 tonnes, it carries up to 1,700kg of payload (before conversion).
The Master E-Tech Electric's 76PS electric motor and 33kWh battery allows it to travel 75 miles on a single charge. A full recharge via a 7kW wallbox takes six hours.
Read our Renault Master van review.
The RAC is leading the way when it comes to supporting drivers in the switch to electric vehicles.
A growing number of our patrol vans have built-in emergency mobile charging systems that can give an out-of-charge electric car enough power to be driven a short distance home or to a working charge point. Our All-Wheels-Up recovery system also allows our patrols to rescue electric cars safely with no need for a flatbed.
Join the RAC and get breakdown cover. Our patrols fix 4 out of 5 vehicles on the spot, with repairs done in just 30 minutes on average.