From the glitzy resorts that line its Riviera to the rustic delights of its quaint countryside towns, France really does have something for every taste.
But if you're planning on exploring France by car, the first thing you'll have to decide is how to cross the English Channel – ferry or Eurotunnel?
To help you decide, we've put together a guide to everything you need to know about choosing between the two.
Jump to:
---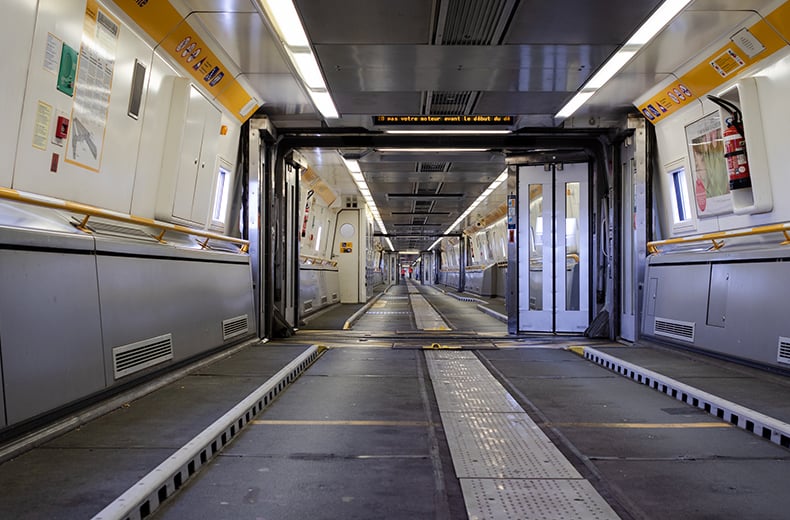 The quickest way to cross the channel is using Eurotunnel, which takes around 35 minutes compared to the 90-minute crossing of the quickest cross-Channel ferry from Dover to Calais.
However, be aware that regardless of which crossing method you choose, you will need to arrive ahead of your departure time to check-in, so factor that in when planning your route to the terminal.
Generally speaking the ferry is usually slightly cheaper, but whichever option you choose, make sure to shop around for deals and book well ahead of time to get the best-value fares.
Just remember that on ferries and Eurotunnel, the cost of Channel crossings can vary significantly depending on the size of your car, the time and season of your crossing, the type of ticket you buy and when you buy it.
For a limited time, get FREE car health check with European breakdown cover.
If you think your little ones will be okay sitting in the back seat while the car sits stationary in a darkened train under the Channel then more power to you – you'll be fine using Eurotunnel.
However, most parents will opt for the more adventurous ferry option as they're seen as more child-friendly. Not only can your kids burn off any excess energy they might have and use the toilets, you can also fill up on food and drink.
On longer routes (including those that go to Spain), there are also often dedicated children's activities, cinemas and even swimming pools so factor these features in when making your decision on Channel crossings.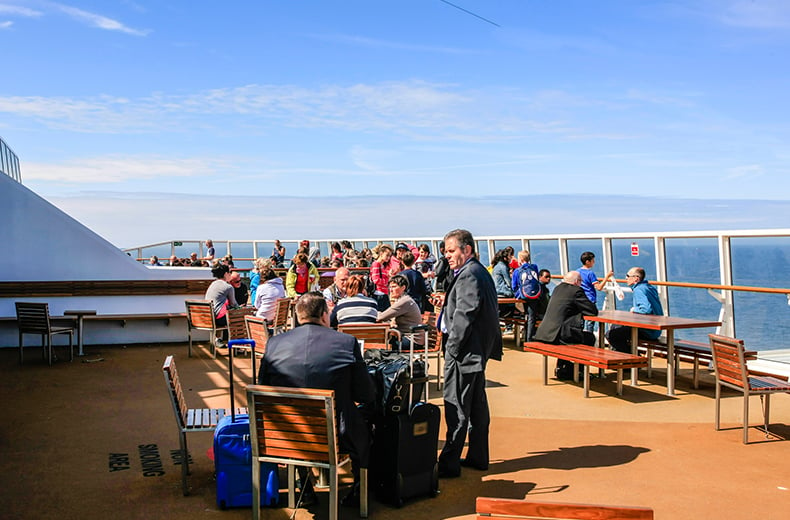 If adventure is what you're looking for, then what better way to spice up your drive to France than by taking to the high seas?
What could be better than relaxing on deck with a drink in your hand and sea air in your hair, watching other ships go by?
Taking the ferry can also be a better option if you're travelling as a larger group since you can all meet up in the ferry's bar or restaurant. However, if your idea of fun is getting to France as quickly as possible, you might favour the Tunnel.
For some of us, there's nothing more comfortable than sitting in our cars as we get whisked under the sea to France, staying away from the crowds of the ferry and not even having to step foot out of our vehicle.
For others, the thought of being cooped up in our vehicles in a darkened train carriage doesn't sound much like fun, which means the more comfortable option might be taking the ferry instead and having a more relaxed crossing.
If you're travelling to the Continent with your caravan or motorhome, you should be able to use either Eurotunnel or a cross-channel ferry to get to France, although always check ahead with the operator to be sure.
Don't forget that, even if you're travelling with a motorhome on a cross-channel ferry, you won't be able to stay with your vehicle and will have to access the passenger deck for the duration of the journey.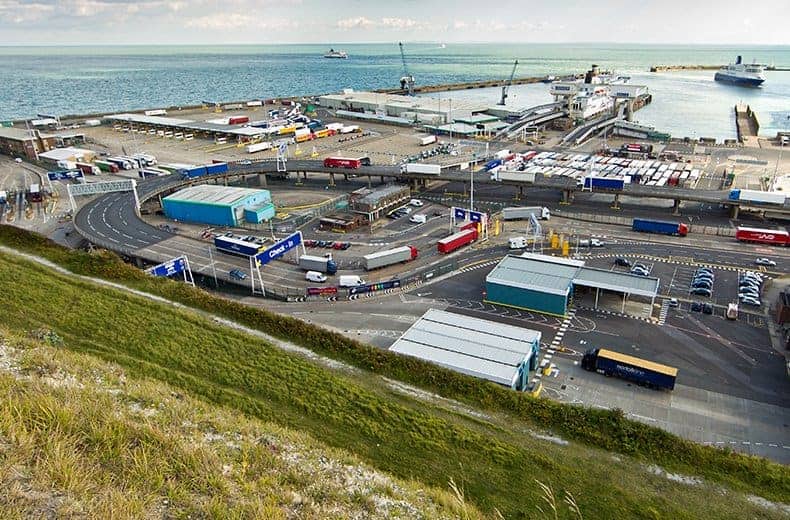 Disneyland Paris is one of Europe's top attractions for thrill-seekers of all ages, and getting there from the UK is easy, with the park just 3hrs from Calais meaning you could be meeting Mickey and friends sooner than you think.
If you're taking young children, the ferry will give you chance to refresh before the next leg of your journey while letting the little ones experience the excitement of the open seas, although it's not quite Pirates of the Caribbean.
Don't get stung with fines abroad for not having a European Driving Kit
Driving to the Netherlands and Germany is surprisingly quick from the UK, with both Amsterdam (5hrs) and Berlin (10hrs) within easy reach from Calais regardless of which crossing method you choose.
Alternatively, if you're traveling to this part of the world and beyond, you could consider taking a ferry directly to the Netherlands – they depart from Hull, Harwich and Newcastle – and drive on from there.
Direct ferries to Santander and Bilbao on Spain's northern coast depart from Plymouth and Portsmouth and take around 24hrs. They're usually the best option for travellers without time constraints.
Ferries on these routes have cabins (including family cabins) as well as other entertainment options for kids – including cinema, swimming pools and play areas – so there's plenty to keep them occupied on the high seas.
Alternatively, you can take the Channel Tunnel and drive down through France. The journey to Bilbao (for example) takes around 11h non-stop, but it could be a good option if you're looking to tick some amazing French destinations off your list.
If you're looking at driving to Spain, it's worth taking out European Breakdown Cover, in order to give you complete peace of mind during your trip.
There are no direct ferries to Italy from the UK, which means the best route by car is a ferry to France or the Channel Tunnel.
Driving to Italy will take between 15 and 20 hours to complete. Drivers can head south and reach Italy through Switzerland (if heading to Milan) or travel entierly in France and cross the French Alps via the Mont Blanc Tunnel to Turin.
| If you're looking for... | You should choose... |
| --- | --- |
| The best way to cross the Channel with young kids | Ferry |
| The most comfortable way to cross the Channel | Ferry if you want to stretch your legs, Eurotunnel if you like the quiet comfort of your car |
| The best way to get to Spain with young kids | Ferry (to Northern Spain) |
| The cheapest way to cross the Channel | Ferry |
| The quickest way across the Channel | Eurotunnel |
| The most fun way to cross the Channel | Ferry |
| The easiest way to get to Germany | Eurotunnel |
| The easiest way to get to the Netherlands | Ferry |
What's your favourite way to cross the Channel?
Driving on the other side of the Channel is different from in the UK, so before setting off make sure you prepare yourself (and your car) for the laws and requirements in every country you pass through.
These range from carrying Crit'Air clean air stickers in France to warning triangles when driving through Spain so make sure you do your research and stay on the right side of the law.
The RAC Driving in France kit will help you meet some of these laws in France, but you should always research the specific requirements for you and your car if driving in another country.
Before heading off on any long journey, it's always important to carry out some essential maintenance checks at home to ensure your car is in tip-top condition and you'll get to your destination and back safely.
The RAC encourages drivers to remember the acronym 'FORCES' when carrying out car checks: Fuel, Oil, Rubber, Coolant, Electrics, and Screenwash. Check our tips for avoiding a breakdown for more information on FORCES.
You should also remember to take along a few road trip essentials for the journey; including a first aid kit, additional engine oil and water, mobile phone charger, snacks and games, especially if you're travelling with children.
Wherever you're heading across Europe, RAC has great value European breakdown cover options that give you comprehensive cover if you break down on your way, offering roadside assistance and a 24/7 English-speaking helpline. This type of cover is available to you whether you travel to Europe on an annual basis or just as part of a single trip.
You can compare our European breakdown cover with providers such as the AA and Greenflag to ensure you get the best value for your money'.
Depending on the level of your European breakdown cover, the RAC will pay towards any garage labour costs, onward travel expenses and accommodation fees – something to consider if you've got a booking to make.
To find out everything you need to know about breaking down on the Continent, and to get the right quote that meets your needs, check out our complete guide to RAC European breakdown cover.
Get the answer and more useful driving content sent straight to your inbox.