There's a lot to consider when buying a caravan, so we've pulled it all together in our handy buyers' guide.
We'll cover the essentials, so you can spend more time planning your next road trip.
Weight
Probably the most important aspect of your new purchase. It's vital that you know the weight of your caravan for two reasons:
Your caravan should weigh 85% or less of your car's 'kerb weight'
If you passed your test after 1 January 1997, you're restricted to a combined towing weight of 3,500kg
Check your car's handbook or chassis plate for the 'gross combination weight' (maximum combined weight of the car and any trailers/caravans) of your vehicle.1
Remember, you'll need to pack your caravan properly too. Store heavy items on the floor of the caravan near the wheels and medium-weighted items further away. Your lightest cargo can be stored on the shelves at higher levels.
Size
By law your new caravan should measure no wider than 2.55 metres and no longer than 7 metres for a trailer weighing up to 3,500 kg. This length does not include the A-frame.2
Do you want something small and easy to tow? Or a caravan with maximum space for a comfortable holiday? Before handing over your cash, you should also be aware that ferry companies can charge more money to carry longer caravans.
Although legal requirements are quite generous, wider caravans can be tricky to drive through country lanes. Ask yourself how confident you'll be when navigating narrow rural roads.
And finally, how much space do you have to store the caravan? Although a larger vehicle may be more comfortable, you might struggle to safely store your purchase in a garage.
Berths
How many people do you want to sleep in your caravan?
Some berths, or beds, may be on the small side for taller adults, so take a tape measure when you inspect any potential purchases, or ask the seller if you can lie on beds to make a more hands-on assessment.
If things are getting tight, consider setting up beds in the awning of your caravan. The coverings are a simple solution for using the space on your pitch but outside your vehicle.
Layout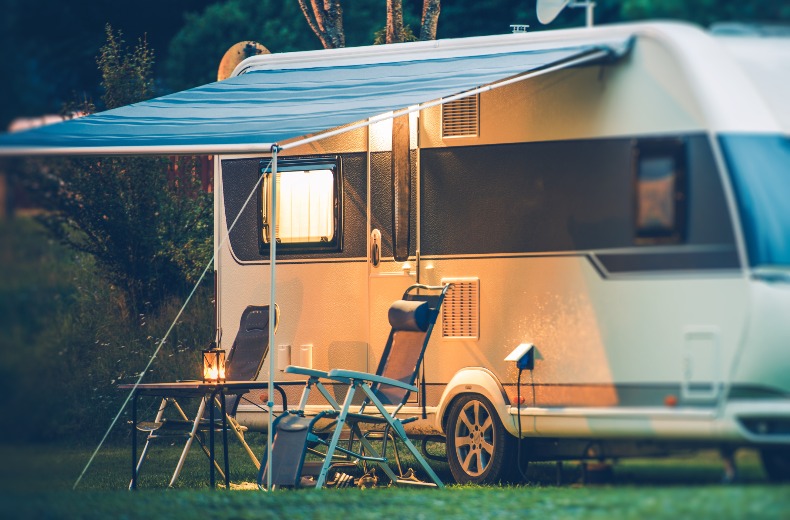 The key differences between caravan layouts usually concern beds and bathrooms.
Beds
Fixed beds are a great idea for anyone who doesn't want to convert a living area into a bed each night. However, many believe the permanent fixtures take up too much room.
You'll also need to decide on the type of bed or beds you'll need. Twin singles, doubles and bunk beds are widely available. Some bedding areas are placed at opposite ends of a caravan to offer added privacy. These layouts are particularly useful if you're travelling with young children with an early bedtime.
Washrooms
Some caravan owners consider a toilet and shower as optional extras. With bathroom services available at many caravan parks, the space used for plumbing could work better as part of a living area.
Axles
Most caravans are available in single or twin axle options, that is, one or two pairs of wheels. A single axle vehicle is more agile and perfect for beginners, whereas a double axle will be trickier to drive but better suited to support a larger caravan.
The Camping and Caravanning Club offers courses to build your confidence and develop the skills to reverse and pitch your caravan properly.
Storage
You'll need to leave your caravan somewhere safe when it's not being used.
A private garage will help keep the vehicle out of site and minimise catching the attention of potential thieves. Check the deeds of your home for any restrictions about storing caravans.
Alternatively, The Caravan Storage Site Owners' Association (CaSSOA) uses a Gold, Silver and Bronze award system to mark secure locations where you can keep your vehicle.
Security
Insuring your caravan will give you peace of mind that your new purchase is protected against theft. Your insurance provider will probably ask for some security features to be fitted for your policy to remain valid.
Door locks should stop would-be thieves from entering your caravan, while a hitch lock will prevent the handle on your hitch from being raised to stop a connection with another vehicle. Wheel clamps are another great way of deterring someone from taking your prized caravan away.
RAC Arrival offers best in market UK and European cover† for caravans, motorhomes and trailers.
Equipment
You'll need to invest in a few more items before your caravan inventory is complete.
A European Driving Kit will ensure you have everything you need for trips on the continent. Spirit levels and nose weight gauges will help you pack your caravan properly.
Our caravan and motorhome packing checklist covers everything you'll need to take with you for your next road trip.
Features
Modern caravans come with a host of features designed to make your trips more comfortable.
Mod cons include double glazing, Wi-Fi routers, even underfloor heating. Try to strike a balance between the need-to-haves and want-to-haves, as optional extras will add to the final cost of your caravan.
Price
Brand new touring caravans start from around the £15,000 mark. A higher-end model will probably come in at £35,000. Costs generally increase with the size of the caravan, its berth count and mod cons.
Used models become significantly cheaper at five-years-old, although younger models will also be more affordable than their fresh-out-of-the-showroom counterparts.

Other costs
Once you've bought your caravan there are running costs to consider too – fuel, insurance, not to mention annual servicing, for which you can expect to pay a minimum of between £150-£250 a year.
Then there are site fees, which generally cost £15-25 a night depending on the facilities available. Also don't forget the cost of utilities and security features like hitch locks and wheel clamps.
Documents
Before deciding on your new caravan you should check whether your driving licence allows you to drive your chosen vehicle.
If you passed your driving test before 1997 your licence permits you to drive a vehicle and trailer combination weighing up to 8,250kg maximum authorised mass (MAM).
Licences issued after 1 January 1997 permit holders to:
drive a car or van up to 3,500kg MAM towing a trailer of up to 750kg MAM
tow a trailer over 750kg MAM as long as the combined MAM of the trailer and towing vehicle is no more than 3,500kg
You can view your licence online to check what you can tow.
The government's Towing: licence and age requirements page, asks a set of questions to tell you if you're old enough or have the right kind of licence to tow a trailer from different kinds of vehicles.
Before you hit the road you'll also need insurance and a valid MOT.
It's a good idea to have breakdown cover arranged too. Our caravan and motorhome breakdown cover has been developed with The Camping and Caravanning Club and includes standard RAC Breakdown Cover alongside specialist benefits to cover your caravan.
Is my car suitable for towing a caravan?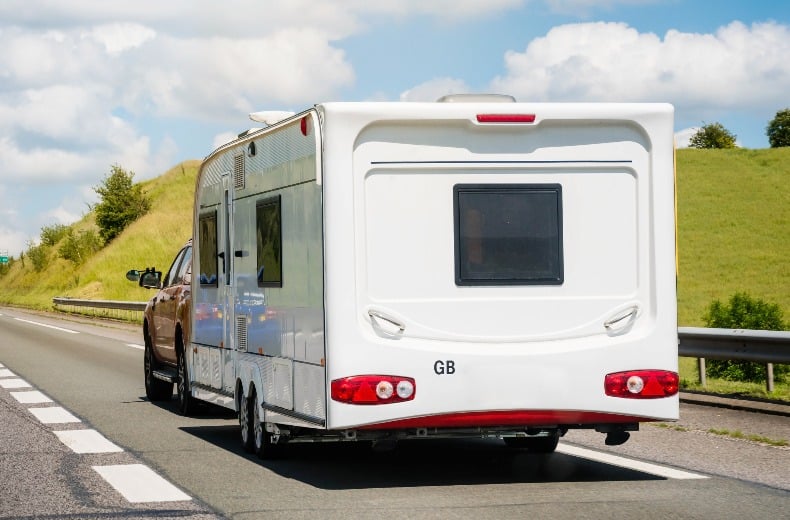 We already know that your caravan should weigh 85% or less of your car's kerb weight, but is your car powerful enough to safely tow your new trailer?
The power-to-weight ratio, or bhp per tonne (bhp/tonne), should help you find out.
After you attach a caravan, the power-to-weight ratio of a car is almost halved. A bhp per tonne calculator will give a useful indicator of your car's towing power.
Launch UK's is particularly easy to use.
You should aim for 40bhp/tonne of the GTW as a minimum.
Petrol or diesel
The best cars for towing offer high levels of torque at low speeds, and pulling power with minimal gear changing. Generally speaking, diesel engines offer better 'low-down torque' than petrol equivalents.
Manual or automatic
Automatics are the clear winner in the towing department. Their torque converters offer pulling power at a crawling pace, where manuals' clutches might slip and wear.
The two-pedalled cars offer easier hill starts and excellent low speed control when reversing to hitch up.
4x4s
Most front-wheel drive cars will do a good job when towing a caravan. However, 4x4s allow for a wider selection of caravans to be towed because of their added traction – which is especially useful when pulling away from wet pitches.
Some compact 4x4s weigh little more than a standard saloon.
Electric cars
In theory electric cars are better suited to towing than petrol and diesel motors. The instant torque is perfect for setting the wheels in motion on a heavy caravan.
However, many manufacturers of electric cars don't have the approval from the authorities to declare them fit for towing.
As cleaner, greener vehicles become more common on the roads we're sure more models will be added to the list of legal towing cars.
Our Can electric vehicles tow? page gives more information.
Caravan jargon buster
Awning – A covered area inside your pitch but outside your caravan, perfect for adding extra space
Berth – A two-berth caravan sleeps two, and a four berth caravan sleeps 4 etc.
Breakaway cable – Your safety net if the caravan manages to somehow detach itself
Drawbar – Compresses and extends when braking or accelerating, found at the tow bar hitch
GTW (gross train weight) – also known as the GCW (gross combination weight), the total weight of the towing car, trailer and load
Hitch – the part of the caravan that attaches to your car
Kerb weight – the weight of your car with all fluids including a full tank of fuel and a driver
MAM (maximum authorised mass) – the weight of a vehicle or trailer including the maximum load that can be safely carried
Noseweight – this is the weight at the point where your caravan connects to your car and it's usually measured with a nose weight gauge
Washrooms – Your caravan's bathroom, just without the bath. Here you'll find toilet and shower facilities
---
1 https://www.gov.uk/government/publications/towing-a-trailer-with-a-car-or-van/towing-a-trailer-with-a-car-or-van-the-basics
2 https://www.gov.uk/towing-with-car/weight-and-width-limits
RAC Arrival offers best in market UK and European cover† for caravans, motorhomes and trailers.