Summer is here and for many parents that means kicking off the holidays with a
family road trip
, whether in the UK or across Europe.
Despite the positives of a road trip, the thought of taking your little ones on a lengthy car ride probably sounds like a stressful nightmare – but it doesn't have to be.
To make your summer road trip as relaxed as possible, we've put together our top tips and best hacks for getting from A to B stress-free.
For a limited time, get FREE car health check with European breakdown cover.
How do I plan a road trip with kids?

Before you head off on a road trip with your children, take some time to plan ahead so you know exactly what to expect on the roads.
Road trip route
Plan your route ahead of time to ensure you know where you're going and avoid any in-car stresses about directions. Also remember the quickest route might not be the best one when you're travelling with children, so think imaginatively:
Motorway or scenic route?
Motorway driving is often quicker than using other routes, with fast moving traffic and regular service stations with restaurants – but remember that kids' needs don't necessarily match with the regularity of these services.
A more scenic route will likely take longer but you'll be able to pull over more frequently for those all-important toilet breaks, whether it's a local pub or a countryside hedge, which could mean a less stressful journey.
Stop-offs or direct route?
Start your holiday early by making your journey part of the trip. Across the UK there are plenty of great attractions (from historic houses to theme parks) to stop off at along the way and give you and the kids a little break from the car.
Alternatively, if you're more interested in getting to your destination as soon as possible, or there's nothing much to see en route, then consider the most direct route and minimise the amount of time you spend in the car.
Trip time
When it comes to road trips with kids, make sure you allow plenty of time to get to your destination. You never know when something unexpected will happen and you don't want to end up dangerously rushing your journey.
Don't know when to do your road trip? Night and day both have their benefits, just remember anyone driving should be well-rested before leaving and take regular breaks throughout the journey.
Drive at night
Some parents think driving through the night is the best option as roads are quieter and it encourages kids to sleep through the journey, waking up rested and refreshed at your destination. Don't forget to dress them in their pyjamas!
Drive in the daytime
Other parents prefer daytime travel, but avoid the busiest parts of the day (and any unwanted traffic jams) by leaving early in the morning and plan your route around any events on during the day that may cause congestion.
Road trip luggage
One of the best things about taking your own car on holiday is that you can take more home comforts with you – but don't go overboard when packing up your car.
Whatever luggage you take should be able to fit in your boot (or on your roof rack, if you have one) and not need storing in the back seats as this will clutter the kids' space and could cause anxiety or distraction on the road.
Road trip car checks
Before heading off on your holidays, you should always do some quick car checks to ensure your car is in a good condition, as you don't want to be breaking down with screaming kids in the back of your car.
You should also ensure your breakdown cover is up-to-date and covers your needs. The RAC can help provide roadside assistance whether you're traveling within the UK or across Europe with our range of cover options.
What should I pack on a road trip with kids?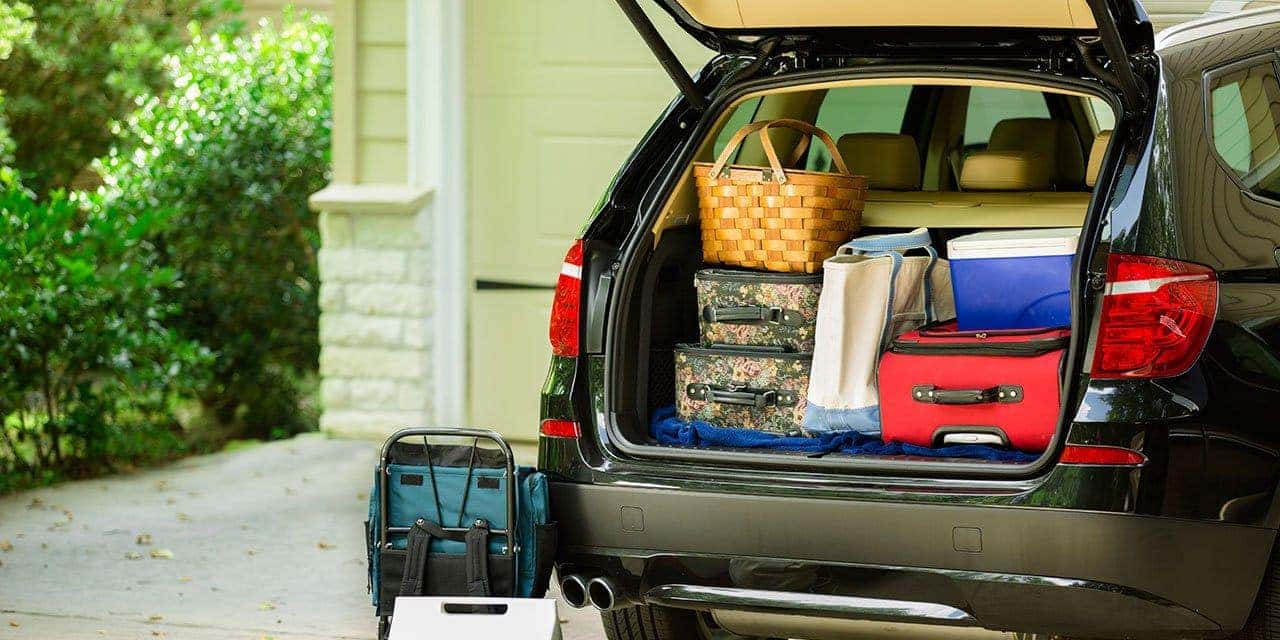 As well as all the necessary holiday and road-trip essentials, don't forget to take along these must-haves if you're travelling with the little ones.
Road trip food and snacks
Parents know that hunger can strike at any time, so prepare yourself:
Packed lunch
If you don't fancy the hassle or cost of eating at restaurants or motorway services en route, why not prepare a simple packed lunch (sandwiches, fruit, crisps) you can eat at a rest area or even a local park or beach on the way?
Snacks
Keep hunger at bay between rest stops by taking along plenty of snacks for the journey. Store dry snacks (popcorn, crackers, etc) in plastic containers and avoid anything that's likely to make a mess, such as ice-lollies or yogurts.
If you're driving abroad, it might be a better idea to pack some favourites from home rather than chance the foreign selection in the supermarché. We know how picky kids can be!
Drinks
Take plenty of drinks, although be careful about loading up the kids on sugary or fizzy beverages while in the confines of the backseat, particularly if you want them to sleep through the journey. Go for flavoured water or squash instead.
Road trip games/entertainment
Keep the kids occupied by taking along some entertainment:
Tablets
Whether they're used to play games, watch movies or catch up with their favourite TV shows, tablets can be a great way to keep the kids busy in the backseat – just remember the chargers and enough headphones for everyone.
Check out our guide to the best apps for kids before you set off. And if you don't fancy your latest tech getting ruined by sticky fingers, invest in a cover, case or even use a clear plastic food bag as a last resort.
Books
Although most kids love their books, encouraging them to read on a long trip can encourage car sickness. To combat this, it might be a good idea to read to them instead - that's if you're not a nausea sufferer yourself! Charity shops are great places to buy from if you don't want to risk losing their favourites while on tour.
Medicine/health items to pack on a road trip
Keep everyone happy and healthy by taking along these essentials:
Sick bags
Potty/Nappies
First aid kit - be prepared for every eventuality with a well-stocked first aid kit.
Anti-bacterial wipes
Sunscreen lotion
Other things to pack on a road trip
And here are some other things you should pack:
Rubbish bin
Microfibre towel – a quick-drying towel for any spills.
Ball/frisbee – perfect to tire out the kids during rest stops.
Don't get stung with fines abroad for not having a European Driving Kit
Things to do on a road trip with kids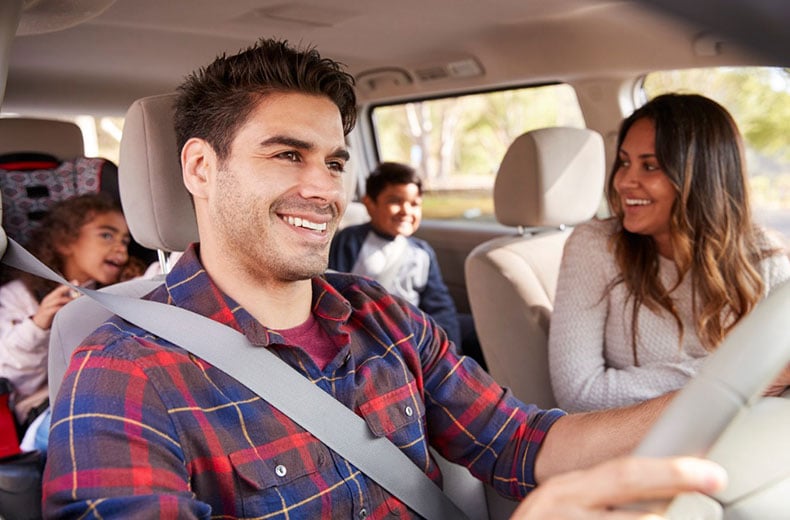 So, you've planned your journey and you've packed up your car, but what should you do when you're actually on the road? Here are some tips:
Dress kids appropriately for travel
One way to keep the kids happy in the backseat is to make sure they're comfortable, so dress them in old, comfy clothes for the journey – preferably items you don't mind being stained because there's most likely going to be some lap-snacking.
Comfort is especially important if you're setting off at night or in the early hours. Keeping them in pyjamas will maximise sleep time and let you get through more of your journey stress-free.
Include your kids
Kids love feeling involved, so why not hand control of the map over to them? We only suggest doing this when you know where you're going, but it can be a good way to teach them some important map skills and involve them in the holiday.
Children's road trip entertainment
Once you've decided on the entertainment you're taking with you, let your kids choose what they want, but try to mix things up through the journey. If they've just watched a movie, why not play a few in-car games for a while? Don't worry, there's more than just I Spy to do!
A great way to keep everyone entertained is an audiobook. There are plenty of options on the market for family-friendly listens, whether it's Harry Potter or something a bit more educational.
Road trip toilet breaks
Unfortunately, this is something that's almost impossible to plan for so you might want to take a more scenic route with plenty of stopping opportunities when travelling with kids.
If you travel via motorway, check if any of your kids need the toilet whenever you approach a service station - if they even so much as have to think about it, pull in for a pre-emptive toilet break.
Road trip rest breaks for kids
Try and schedule some rest breaks into your journey before you set off, whether they're at motorway service stations, towns on the way or even a tourist attraction that the kids will enjoy like a beach or a castle.
These rest stops can be a good time to have lunch, whether a picnic or a quick bite at a local café, as well as giving you chance to pick up anything you may have forgotten at a nearby supermarket.
If you stop off near a park or a large picnic area, a frisbee or football can come in handy as it's the perfect way for the kids to burn off some energy before getting back into the car.
Want some travel inspiration? Check out our travel guides here…
Join the RAC and get breakdown cover. Our patrols fix 4 out of 5 vehicles on the spot, with repairs done in just 30 minutes on average.