Driving advice for every country in Europe
Find up-to-date driving laws and advice for any country in Europe before you visit, including any accessories you may need to purchase. Don't forget the RAC provides European breakdown cover while you're driving in Europe.
Driving in The Netherlands

Population: 17.1m
Area: 33,939 square kilometres
Currency: Euro (EUR) € = 100 cents
Coronavirus update
Please be aware that driving in Europe may be restricted at the moment.
Check the Foreign travel advice section of the GOV.UK website for up to date advice on all European countries.
The land of tulips, canals and windmills is a delightfully compact country to explore by car. Despite its closeness to mainland Britain, however, the Netherlands offers a very different driving experience to that of the UK. If you're planning a trip, it's essential you're prepared for those differences ahead of time.
To make your trip to the Continent as safe and effortless as possible, we've put together a guide to everything you need to know before you go, from required documents to rules of the road.
Driving a rented vehicle? Jump to the advice for driving a hire car in the Netherlands section.
RAC European Breakdown Cover (Basic and Comprehensive) provides a wide range of benefits should you breakdown in the Netherlands to ensure you stay safe.
To supplement this, RAC also offers travel insurance. Cover will include medical expenses, baggage, personal money and belongings, among many other benefits.
Get covered from just £7 this winter. Plus, get a full refund if Covid-19 restrictions prevent travel.†
Advice for driving in the Netherlands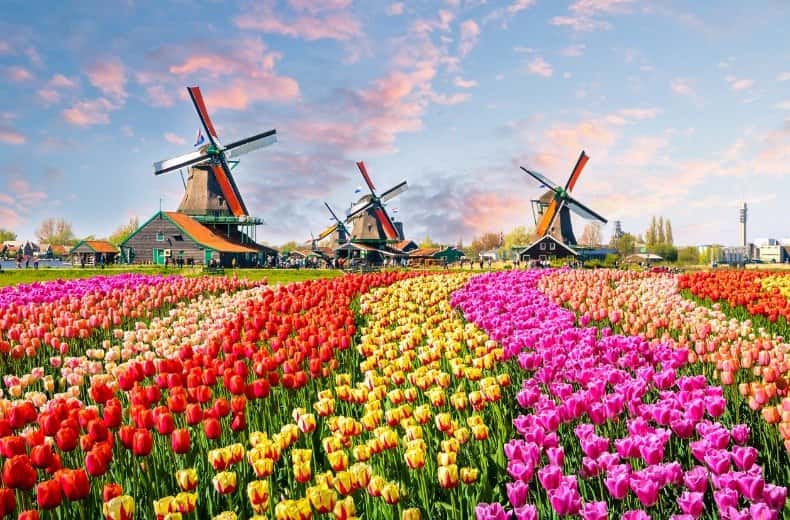 In an emergency
Yellow emergency telephones can be found every 2km along motorways.
112 - Here's a really important bit of knowledge; you can dial 112 from anywhere in Europe and an operator will connect you to an emergency service in the country you're visiting.
Operators can answer your call in their native language, English or French.
Driving licence laws in The Netherlands
Visitors must be aged 18 or over and hold a full, valid driving licence to legally drive in the Netherlands. Riders of motorcycles up to 125cc must be aged 18 or over.
Driving licences issued in EU and EEA countries are accepted. International driving permits are recognised, but not required.
Things to take when driving in the Netherlands
Documents for driving in the Netherlands
In order to stay on the right side of the law, the following documents should always be carried:
Full, valid UK driving licence
Proof of ID (passport)
Motor insurance certificate
V5 registration document
Do I need a GB sticker for driving in the Netherlands
Yes, you will need a GB sticker on your car to drive in the Netherlands unless it's equipped with EU number plates, which show the country code in a circle of 12 stars on a blue background.
Driving in the Netherlands packing checklist
In addition to required documents, drivers are also recommended to carry the following items when driving:
Headlamp converters (stickers you put on your headlights when you're driving on the right, so your lights don't dazzle motorists coming the other way)
Reflective warning triangle (it's not compulsory but a vehicle other than a motorcycle which is insufficiently lit either by its own lights or street lighting when parked at night must be indicated by a red reflective warning triangle)
Crash helmets are compulsory for motorcyclists and their passengers
A Camping Card International to give you additional proof of identity, third party liability insurance, plus discounts at a wide range of campsites and tourist attractions
Green Card (although it's not a requirement, it's a useful back-up to your car insurance documents and shows you've got the minimum legal level of cover. If you'd like to find out more, contact your insurance company)
RAC Arrival offers best in market UK and European cover† for caravans, motorhomes and trailers.
Rules of the road in the Netherlands
Overtaking and passing
In the Netherlands, motorists drive on the right and overtake on the left.
Trams on the move can usually be overtaken on the right, but you can overtake on the left if it is necessary and safe. Stationary trams should also be overtaken on the right, as long as that does not affect those boarding or leaving it.
Overtaking is forbidden at pedestrian crossings, while drivers can overtake on the right in traffic moving slowly in queues. However, they should only change lanes if it does not cause any inconvenience.
Who has priority?
Drivers must give way to all vehicles, including bicycles, on the priority road when the approach to an intersection is marked with:
A 'priority road ahead' sign
A 'STOP' sign
Or a line of white triangles painted across the road
If there isn't a sign, drivers must give way to vehicles approaching from the right, including slow-moving traffic, bicycles and mopeds.
At roundabouts, drivers joining must give right of way to vehicles already on them. Traffic moving straight also has priority over vehicles which are turning.
Vehicles on a paved road have priority over any approaching from a dirt road or track, while trams have priority at the intersection of roads.
Emergency vehicles also have priority over all traffic when their flashing blue lights and sirens are in operation. Buses have right of way when leaving stops in built-up areas.
Finally, yellow diamond signs tend to be used to highlight a priority road.
Warning of approach
If you're in a built-up area, you can only use your horn in cases of extreme danger. At night, flash your lights instead.
Towing in the Netherlands
No vehicle may tow more than one trailer. On a standard driving licence, motorists are allowed to tow a trailer with a maximum authorised mass of 750kg, including the trailer and its load.
Dutch seat belt law
If seat belts are fitted to your car, they must be worn by the driver and passengers in both the front and back seats.
The fine for failing to wear a seat belt is set at €140.
Traffic lights
The international three-colour traffic light system is used in the Netherlands.
A yellow flashing arrow indicates that you should exercise caution as a red light is about to appear. A flashing yellow light indicates that you should proceed with caution. A red arrow indicates that the driver proceeding in that direction must stop.
Speed limits in the Netherlands
The Netherlands uses the metric system for all road signs, meaning speed limits and other road signs including distance are indicated using kilometres and metres.
| | |
| --- | --- |
| In built-up areas | 50km/h |
| Outside built-up areas | 80km/h – 100km/h (according to local signs) |
| Motorways | 130km/h |
Other speed limits apply to certain classes of vehicles, including camper vans and vehicles with trailers, so check before travel.
Speeding fines in the Netherlands
Speeding fines in the Netherlands are based on the speed at which offenders are caught and the road on which they're driving. For exceeding the limit by 20km/h in a built-up area, for example, you would be fined €194, while on motorways it would be €174.
If you exceed the speed limit by 40 km/h on motorways or 30 km/h on other roads, you'll face a driving suspension as well as a fine.
Speed camera detectors
If you have a GPS navigation system that shows you where any fixed speed cameras are, you must deactivate this function. It's illegal to carry or use any radar detection equipment when driving through the Netherlands.
Travelling with children in the Netherlands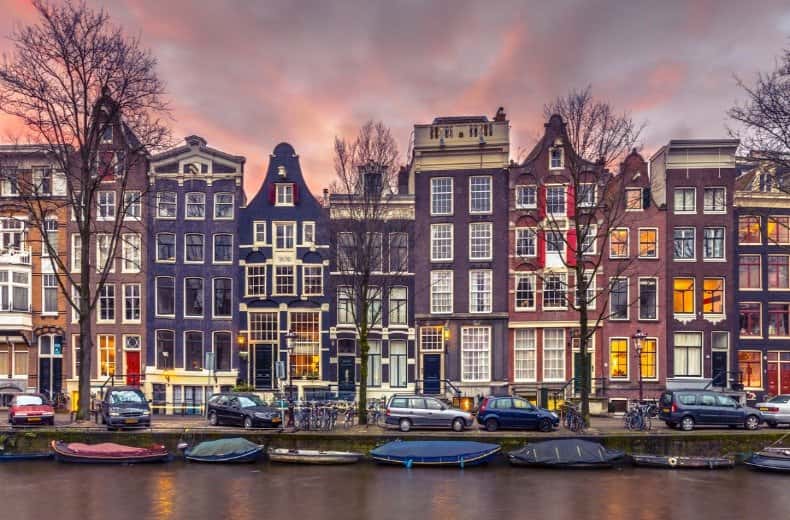 The driver of the vehicle is responsible for ensuring that all passengers under 18 are wearing a seat belt or appropriate restraint.
Car seats
Children measuring less than 135cm in height must be placed in an approved child restraint that meets the safety standard ECE 44/03 or later. This applies both in the front and back of the car.
Children under the age of three must not travel in a car without an appropriate child restraint.
Bike helmet law
It is not compulsory for cyclists to wear helmets in the Netherlands.
Driving a camper van and towing a caravan in the Netherlands
No vehicle may tow more than one trailer. Camper vans and cars with caravans are not allowed to exceed 12 metres in length, 4 metres in height and 2.55 metres in width.
Loads mustn't exceed 11.5 tonnes at the driving axle and 10 tonnes at a single axle.
Please note: The Department for Transport advises that A-frames are not legal for use by UK campers and caravanners abroad. In practice, this could mean towing your car while it's fixed to a trailer.*
Penalties and fines in the Netherlands
On-the-spot fines
The Dutch police are able to hand out on-the-spot fines to motorists who have violated traffic regulations.
Minimum and maximum fines
Fines range from €12 for a very minor speeding offence to €400 for driving without insurance.
For certain, more dangerous offences harsher penalties could apply.
Confiscation of vehicles
The police can do this if the speed limit has been exceeded by 100% or more, and if traffic is endangered or obstructed. A prosecutor will ultimately decide how long the vehicle can be confiscated for.
The Cross-Border Enforcement Directive
An EU cross-border directive came into effect in the UK in May 2017. This is aimed at tracking down people who commit traffic offences in cars that are registered in an EU member state different to where the offence was committed.
This means if you commit a driving offence abroad, the crime will effectively follow you back home to the UK where you can still be prosecuted.
Parking in the Netherlands
Regulations
As well as following any restrictions signposted locally, drivers in the Netherlands should also note that parking is prohibited:
Along a yellow line
In a tunnel
On roads featuring the international prohibition sign
On cycle paths or footpaths (this may not apply to cyclists, motorcyclists or disabled drivers)
Within 12 metres of a bus stop or along the black and white line painted on the road or kerb to indicate a bus stop. An exception would be if you intend to pick up or set down a passenger
Within 5 metres of an intersection
At least 5 metres in front of a pedestrian or cycle crossing and 5 metres after the crossing
Parking at night
Cars and motorcycles may be parked without lights in streets where public lighting enables the vehicle to be very clearly seen by other traffic. Alternatively, the vehicle can be parked without lights in a recognised parking site.
It is usually forbidden to spend the night in a vehicle in a parking site and you could be fined by the police. Camper vans may be excluded from this rule, but visitors should check before taking the step.
Paid parking
Parking meters and discs are widely used and the latter may be obtained from local stores. Meters tend to allow parking for between 30 minutes and 3 hours.
Enforcement of parking regulations
The police can impose fines or tow a vehicle if it is parked illegally.
Disabled parking access
Foreign disabled permits are recognised in the Netherlands.
Generally, disabled parking bays are indicated by road markings or the international parking sign with the symbol of a wheelchair.
Disabled drivers may park for an unlimited period in these special parking zones but, in areas where general parking restrictions apply, the maximum parking time allowed is 3 hours.
Disabled motorists must still pay to park and follow restrictions when parking in zones where payment is required.
Badge holders may also park in residential zones outside the marked spaces providing they do not obstruct traffic.
Drink-driving law in the Netherlands
Legal limit
The general limit for drivers is 0.05% of alcohol in the blood.
For those who've been driving less than five years, the limit is 0.02%. This is also the limit for moped riders up to the age of 24.
Drink-driving test
A driver suspected of being under the influence of alcohol will be asked to take a breath test. A blood test may also be necessary in some situations.
Tolls in the Netherlands
There are no motorway tolls to pay when driving through the Netherlands.
Dutch service areas
There are motorway service areas located across the Netherlands, most of which have a petrol station with a small shop. Only a few restaurants are available along the motorways.
Availability of fuel
Unleaded petrol and diesel are readily available throughout the Netherlands.
Petrol stations along motorways, main roads and in the main towns are open throughout the night, except in the north where they close at 23:00.
Some stations have automatic pumps only, which operate with bank notes or credit cards.
Get covered from just £7 this winter. Plus, get a full refund if Covid-19 restrictions prevent travel.†
Driving a hire car in the Netherlands
Not all of the information in the guide above will be relevant to those looking to rent a hire car in the Netherlands. Though it might be a good idea to read through everything anyway, here are the most important things to know for drivers of rental vehicles:
Rental information
The minimum age to hire a car is 21, although this may vary depending on the vehicle type
You need a full, valid UK driving licence and usually a second proof of ID (passport)
Car rental companies ask that you have held your licence between 1 to 2 years
Some companies may require you to use a credit card for deposit
You may not be able to drive outside of the Netherlands unless planned in advance - check with your hire company first
Make sure you get car hire excess insurance before your trip to protect yourself from unexpected costs. It's almost always cheaper to do this with a separate insurer and in advance
Hire car driving tips
The Dutch drive on the right - the opposite to the UK
The national speed limit on motorways in the Netherlands is 130km/h (80 mph). On a main road outside a built-up area it's 100 km/h. For built-up areas it's 50km/h.
Dial 112 in an emergency
If seat belts are fitted to your car, they must be worn by both drivers and passengers.
The blood alcohol content limit for drivers of private vehicles is 0.05%. That's lower than the 0.08% in England, Wales, and Northern Ireland, but the same as Scotland.
Driving in the Netherlands FAQs
Can I drive my car in the Netherlands?

Yes, so long as you've got a valid UK driving licence and V5 registration document, along with the right insurance and breakdown cover for your trip. You should always familiarise yourself with the laws around driving in Holland before you set off to keep yourself and others safe on the road.

Getting to the Netherlands by car is relatively straightforward for UK residents. Ferries sail several times a week from Newcastle to Amsterdam, Hull to Rotterdam and Harwich to the Hook of Holland. Or you can take the Eurotunnel from Folkestone to Calais and drive up through Belgium into the Netherlands.

What side of the road do they drive on in the Netherlands?

Unlike in the UK, motorists drive on the right-hand side of the road in the Netherlands and overtake on the left – which can take some adjustment if you're used to driving on the left.

Can you drive in the Netherlands with a UK licence?

Yes, you can legally drive in the Netherlands with your UK-issued driving licence without the need to apply for an International Driving Permit, regardless of the length of your stay.

Do I need extra insurance to drive in the Netherlands?

The Netherlands and the UK are both part of the Green Card System, a Europe-wide scheme allowing all countries to recognise foreign vehicle insurance policies of visiting motorists, so it's quite possible your existing insurance will cover you.

However, before setting off on your trip, you should contact your insurance provider to make sure that no additional cover is required, as you won't be able to buy short-term cover at the border entry points.

Do I need a Green Card to drive in the Netherlands?

While carrying a Green Card is no longer a legal requirement, many motorists choose to take one for extra proof of insurance. It's worth checking with your insurance provider before travel to ensure you will be covered.

Is driving in the Netherlands dangerous?

Holland benefits from an extensive and well-maintained road network. The road signs are very clear, which generally makes it safe for drivers.

Before driving in any foreign country like the Netherlands you should always familiarise yourself with the law to ensure you stay safe on the roads.

Do I need a GB sticker for the Netherlands?

You will need to display a GB sticker on the rear of your car unless it has EU number plates with the country code in a circle of stars on a blue background.

Do I need headlamp converters in the Netherlands?

Yes. Depending on your car, you will either need deflector stickers or have to adjust the beam manually. This is so you don't dazzle oncoming traffic when driving on the right side of the road at night.

What age can you start driving in the Netherlands?

To legally drive in the Netherlands, you must be 18 years or older and in possession of a full valid driving licence.

Does the Netherlands have toll roads?

Motorways in the Netherlands are currently toll-free. You will only have to pay to drive through the Westerschelde and Kil tunnels.

How hard is it to drive in Amsterdam?

Driving in Amsterdam is not really recommended as the city streets are narrow and parking is expensive. Most visitors can get around efficiently by bike or public transport. If you want to visit the city, your best option might be to leave your car on the outskirts and use the park and ride service.
UK Government travel advice
See up-to-date travel advice
---
Source: Information in this document is sourced from the AIT (Alliance Internationale de Tourisme) & the FIA (Federation Internationale de l'Automobile) and, to the best of the RAC's knowledge, is correct at the time of publication (November 2020).
*https://www.campingandcaravanningclub.co.uk/helpandadvice/travelplanning/eurotraveladvice/europeancampingguide/page5
British Embassy The Hague
Lange Voorhout 10
2514 ED The Hague
Netherlands
Email: [email protected]
Telephone: +31 (0)70 4270 427
† Comparison based on RAC Arrival against standard level of cover from other major providers as of 06.02.20