Caravanning is not only a Great British pastime, but the perfect way to enjoy a mini-break that doesn't break the bank.
Before you buy a caravan or plan a holiday, however, there are certain things you must know about actually towing a caravan. For instance can I tow a caravan with my licence? How do I work out the towing weight? What additional kit might I need to buy?
There is plenty to consider so find out all you need to know in our easy-to-read guide.
Guide contents:
Arrival is RAC's breakdown and recovery scheme developed exclusively for members of The Camping and Caravanning Club.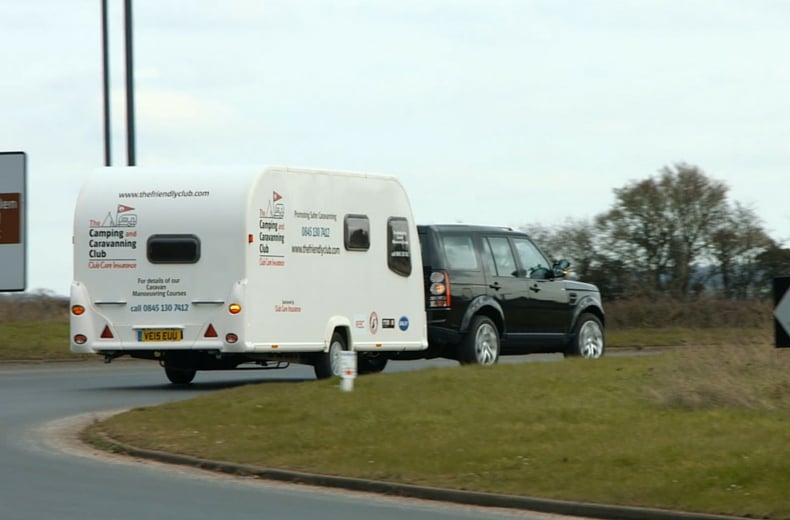 There is no such thing as a 'trailer licence' per se but dependent on the weight of the load you are towing you might need to take an additional category driving test.
From 19 January 2013 drivers passing a category B (car and small vehicle) test can tow:
Small trailers weighing no more than 750kg
A trailer over 750kg as long as the combined weight of the trailer and towing vehicle is no more than 3,500kg Maximum Authorised Mass (MAM)
If you want to tow a trailer weighing more than 750kg, when the combined weight of the towing vehicle and trailer is more than 3,500kg, you'll have to get B+E entitlement on your licence.
If you passed your driving test after 1 January 1997 and have an ordinary category B (car) licence, you can:
Drive a vehicle up to 3.5 tonnes or 3,500kg MAM towing a trailer of up to 750kg MAM
Tow a trailer over 750kg MAM as long as the combined weight of the trailer and towing vehicle is no more than 3,500kg
For anything heavier you need to take a category B+E driving test.
If you passed your driving test before 1 January 1997 you're generally allowed to drive a vehicle and trailer combination up to 8.25 tonnes MAM, but you should double check here what your licence allows you to tow.
Safety is also a priority and there are a few simple checks towers can complete to help avoid most common accidents according to the Highways Agency.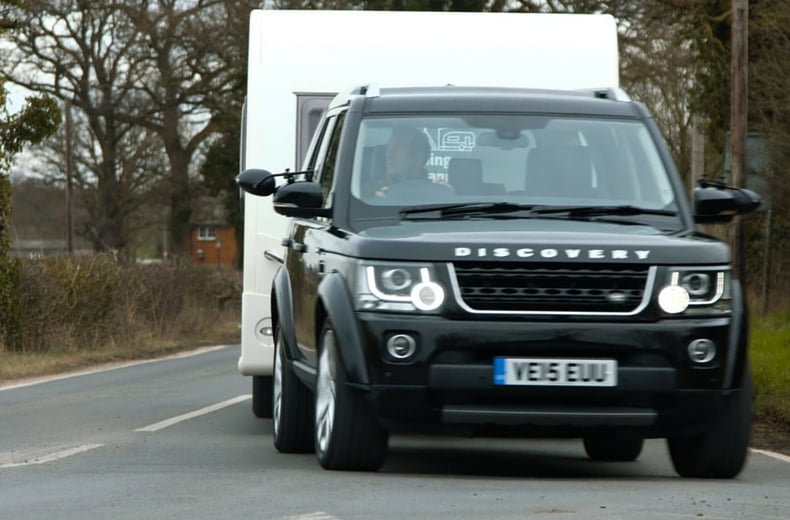 The maximum weight your car can tow (fully loaded car + fully loaded caravan/trailer) is usually listed in the handbook. However, it is not always clear. For a definitve guide, read our guide to working out towing capacity.
If you're unsure on the types of vehicles to use, you could always read our 'best cars for towing a caravan' guide for a better insight.
Want more useful content like this sent straight to your inbox?
The maximum trailer width for any towing vehicle is 2.55 metres. The maximum length is 7 metres for a trailer towed by a vehicle weighing up to 3,500 kilograms.
Here are a few top tips for towing a caravan to help keep you and your caravan safe. There is also a more detailed video on how to tow a caravan below:
Tow bars must be 'type approved'. This means it meets EU regulations and is designed for your car. This doesn't apply to cars first used before 1 August 1998.
Give yourself more time and space for everything, especially taking corners.
Road safety group TyreSafe encourages caravan owners to check their vehicle's tyres before setting out on a trip.
Never exceed 50mph on single carriageways or 60mph on dual carriageways.
Never carry passengers in the caravan when you're towing it.
Your number plate must show your car's registration number, conform to the relevant British Standard and be illuminated at night.
Your rear light panel must always be working and visible so check before driving off and keep an eye out for any changes during your journey.
Any trailer weighing over 750 kilograms, including its load, must have a working brake system.
If your trailer is unbraked, the maximum you may tow is 750 kg or half the kerbside weight of the towing vehicle – whichever is the lower.
Try to keep the caravan as light as possible with the heavier items low down and close to the axle.
To prevent snaking and pitching make sure you have a well-matched car and caravan and try using stabilisers.
For more information on how to tow a caravan, see our video below which was made in collaboration with The Camping and Caravanning club:
Forgetting to pack something for your holiday could range from a small annoyance to becoming majorlly detrimental to your trip.
Using our caravan trip checklist you can tick off all of the items you may need as you pack. The list includes many essentials like stabilisers and towing mirrors, and also has a few more luxury items like well-equipped picnic hampers that you might not have thought of taking on your tripto take on day trips out, you might want to check out our online shop.
Remember you will need to have good payload available (the difference between the caravan's empty weight and its quoted maximum permissible weight) to ensure you do not over-load the caravan.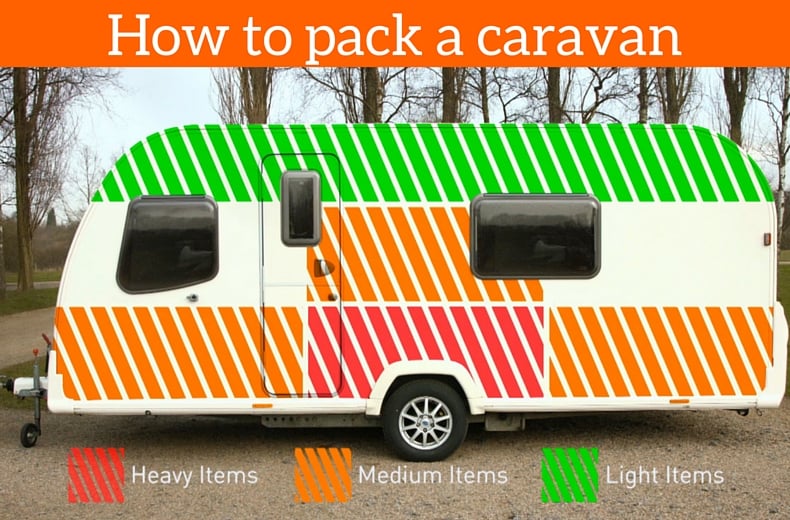 What to pack in the car
Check
What to pack in the caravan
Check
European car kit
Jack
Sat nav
Spare wheel/tyre
Stabiliser
Spare fuses/bulbs
Towing mirrors
Spare keys
Towball cover
Wheelclamp
Tow rope
Corner steady tool
Tyre pressure gauge
Corner steady pads
Tyre inflators
Levelling blocks
Warning triangle
Wheel chocks
Fuel can
Step
Jump leads
Spirit level
Reflective Jacket(s)/high visibility vest(s)
Nose weight gauge
Thermal jackets
Mains lead 230v
Jack
Mains adaptor lead
Spare wheel/tyre
Mains polarity tester
Spare fuses/bulbs
Battery 12v
Spare keys
Battery box
First aid kit
Battery charger
Torch/batteries
Gas cylinders
Tools
Gas regulators
Wheelclamp
Gas cylinder spanner
Pillows/cases
Gas hose - spare
Blankets
Hitch lock
Hot water bottles
Wheel lock
Insect screens
Awning/windbreak
Pegs
Mallet
Hooks
Groundsheet
Lamp(s)
Chemical toilet
Toilet fluids
Waste water container(s)
Fresh water container(s)
Waste water hoses
Fresh water hoses
Submersible pump
Fire extinguisher
Folding table and chairs
Sleeping bags/duvets
Sheets/liners
Want more useful content like this sent straight to your inbox?