When driving in Germany, it's a legal requirement for cars to feature emissions stickers (Umweltplakette) for entering the country's major cities which detail their emissions standard.
These stickers are being used to improve air quality in so-called environmental zones, which restrict access to certain areas of city centres depending on a vehicle's emissions standard.
If you're planning a holiday or business trip to Germany, you need to ensure your vehicle is fitted with the sticker before setting off. Required by law, they cost 6 euros for German cars, but it can vary significantly for foreign vehicles depending on where and how you buy them.
The RAC offers the BEST European breakdown cover on the market*.
What are German emissions stickers or 'Umweltplakette'?
Every vehicle is assigned a sticker or a 'badge' or 'Umweltplakette' according to its emissions standard.
These are part of a three category system, with cars given either a green, yellow or red sticker that denotes how heavily polluting the vehicle is according to its Euro emissions standard.
Green stickers can be given to diesel vehicles of Euro 4 and above, and petrol vehicles at Euro 1 or higher. Diesel vehicles that reach the Euro 3 standard qualify for a yellow sticker and diesels that are Euro 2 qualify for red stickers.
Euro 1 and pre-Euro diesels, pre-Euro Petrol vehicles and those without a catalytic converter do not qualify for a sticker.
READ MORE: Euro 1 to Euro 6 – find out your vehicle's emissions standard
Each environmental zone will accept or ban vehicles according to their sticker. Most German cities now only allow cars with a Euro 4 green sticker to enter.
The yellow and red stickers are only temporary and will eventually be phased out. After that, all vehicles will have to have a green sticker to enter a city's environmental zone.
Vehicles that have failed to qualify for any colour of sticker are not permitted to travel within any of Germany's environmental zones.
Each sticker is only valid for the car in the original application and has a lifetime validity.
Which areas do they affect?
Environmental zones are currently in operation across a growing number of cities and towns across Germany. These already include Berlin, Bonn, Düsseldorf, Hannover, Cologne, Munich and Stuttgart. You can find the full list here.
Each city has its own designated areas, emission standards and timings so make sure you check the specific area you're travelling to.
An 'Umweltzone' sign signals the start of a zone, with an additional sign to clearly indicate which vehicles are permitted to travel within it.
The sign will indicate which colour sticker a vehicle must have to enter the environmental zone. They feature either a green sticker on its own, a green and yellow sticker, or all three next to the word 'frei'.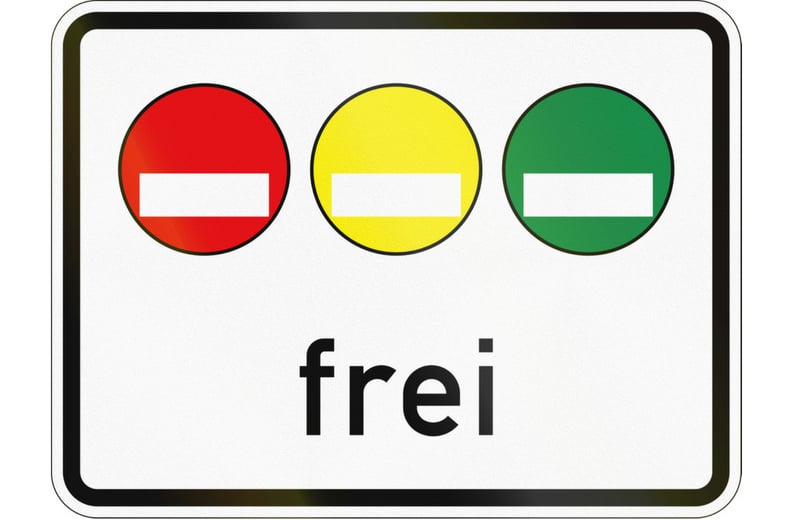 Most newer cars with a catalytic converter will qualify for a green sticker, but if you have a vehicle that's more than 12 years old, you might want to plan an alternative route that avoids German cities.
The Green-Zones app will tell you where the environmental zones are, what type of sticker you need and where you can order one.
READ MORE: Driving in Europe checklist
Why have the stickers been introduced?
The system has been introduced to limit emissions in major cities and towns. The stickers are part of the 'Kennzeichnungsverordnung' or 'Vehicle Registration Regulation' which was introduced in March 2007.
It's part of the larger European Directive to improve air quality across the continent and gives German municipalities the power to establish their own clean air zones – allowing them to limit the entry of high-polluting vehicles in areas prone to high volumes of traffic.
READ MORE: Driving abroad? Be prepared, take out European Breakdown cover
How much do they cost and where do I buy them?
The cost for foreign cars varies depending on where you buy the stickers, so watch out for unofficial commercial sites which tend to sell at inflated prices.
The best - and cheapest - places to apply for your stickers are the official state websites for the area you are travelling to, for example the Berline.de site for driving in Berlin. Stickers here start from 6 euros.
You will need part 1 of your vehicle registration certification to apply in either a PDF or JPG format.
Please be aware: The ordering process can, in some cases, take up to a few weeks to be delivered, so make sure you leave enough time to order one before you travel.
What happens if I don't buy one?
The law applies to all cars, trucks and busses but does not apply to motorcycles, tractors and some vintage models.
If you don't buy a sticker, you'll be liable to pay an 80 euro fine plus charges for entering into, stopping or parking in an environmental zone. An onward journey might also be prohibited.
If you are driving to Germany make sure you read our driving in Germany guide to brush up on other law changes and to find out exactly which documents you need to take with you.