This essential checklist will tell you everything you need to know for driving in Europe, from what to take with you to things to remember when you get there.
There are a number of requirements you might not be aware for when driving in Europe, so it's worth downloading our checklist, as well as reading this guide carefully to find out everyhting you need to drive in Europe.
We also recommend purchasing a European driving kit as they can prove essential in some countries where it is the law to carry additional items in your car, for example in France you must carry a portable breathalyser in your vehicle.
The RAC offers the BEST European breakdown cover on the market*.
Downloadable driving in Europe checklist
For a comprehensive list of what you need to take with you when driving in Europe with a UK car, our downloadable checklist will have you fully prepared.
In addition to the checklist above, the next best thing to do is to familiarise yourself with the driving laws, specific entry requirements and compulsory items to carry for the country/ies you will be driving in.
You can find everything you need to know on our detailed European countries advice pages below. If the country you are visiting is not on the list use the 'driving advice for every country in Europe' widget to your right (at the bottom of the article on mobile) to find the right country.
For those travelling to France we also have a further top ten tips for driving through France to keep your knowledge up to date at a glance.
---
20 tips for before you leave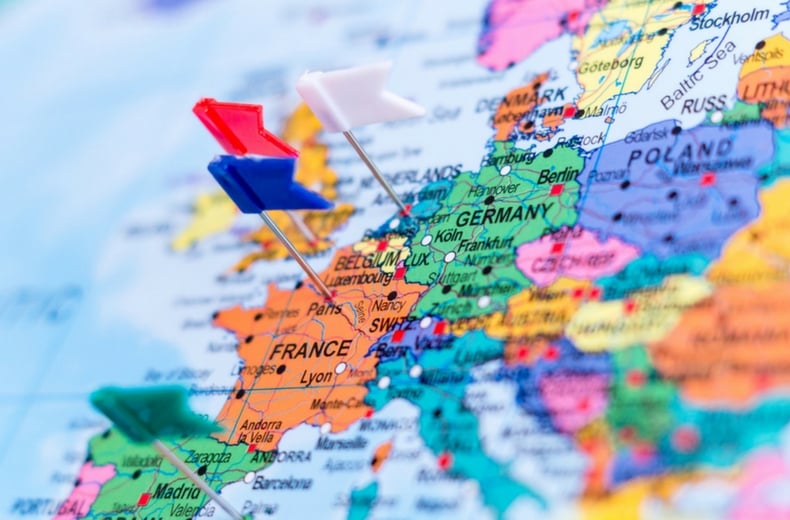 We've teamed up with the Foreign and Commonwealth Office (FCO) to give you some tips on preparing for a great trip, whether you're driving or travelling abroad.
1. Adjust your headlights
It is a legal requirement not to dazzle oncoming drivers. Make sure you adjust your headlamps ready for driving on the right-hand side of the road. Headlamp converters (stickers you put on your headlights) are widely available and you can buy them from the RAC Shop.
2. Buy a GB sticker
Don't forget that your vehicle must display the appropriate country identification letters (e.g. GB). Failure to do so may result in an on-the-spot fine, but if your number plates include the GB Euro symbol, you do not need a sticker within the EU
As an RAC member you get an exclusive discount off P&O Ferries standard fares and FREE Priority Boarding on either your outbound or return journey
3. Make a travel pack
Create a travel pack containing all the appropriate documentation you will need to comply with the legal requirements of the country you are visiting and to help if you get into difficulties.
In addition to your passport and driving licence this may include: vehicle registration document (V5), motor insurance certificate, International Driving Permit (if required or advised), breakdown policy and contact numbers; travel insurance documents and any emergency helpline numbers
4. Check your breakdown cover extends to Europe
You may need to increase your existing cover or take out standalone European breakdown policy to avoid unnecessary stress and significant additional expense if anything goes wrong.
5. Check your car insurance
Make sure car insurance covers you to drive abroad. Check with your insurance company that you're fully covered to drive abroad. If you don't have overseas cover, you will only have the minimum legal cover (usually third party only) in the EU and you may need to pay an extra premium to extend your insurance cover.
6. Need a visa?
Make sure you've got correct visas for the country you are visiting and that your passport is valid. STA Travel is a good resource to find out more about travel visas.
7. First time abroad?
All first-time adult passport applicants must now attend an interview to verify their identity. It now takes up to six weeks to get a first passport. For more information please visit DirectGov
8. Passport validity check
For certain countries your passport must be valid for six months after the date you travel – check the entry requirements before you go
9. Photocopy your passport
Take photocopies of your passport and other important documents and keep these separate from the originals when you travel and/or store them online using a secure data storage site
DRIVING TO GERMANY? Don't forget your German emissions sticker
10. Emergency contact
Make sure you fill in the emergency contact details in your passport. This will make it much easier for us to contact someone in case of an emergency
11. Share your trip details
Tell a friend or relative where you are going and for how long for - give them some idea of your itinerary if possible and an emergency contact number
12. Emergency funds
Take enough money for your trip and some back-up funds in a mix of cash and travellers cheques - make a note of the cheques' numbers before you go
13. Travel guide
Invest in a good travel guide to help you plan your trip. Yes, be spontaneous, but there's nothing more frustrating than walking round in the heat for hours looking for the nearest good restaurant or cashpoint and a guide can point out these with ease
14. Duty free allowances
​Check HM Revenue & Customs Travel website for information on duty-free allowances, banned goods, etc
15. Vaccine check
Visit a travel health centre or your GP to find out what vaccinations or medication you may need before your trip - do this early as some destinations require vaccinations months in advance of your trip
16. International Driving Permit
Check whether you need an International Driving Permit in the country you plan to visit.
17. Find the nearest embassy
Check the Foreign and Commonwealth Office's website to find out where the nearest embassy is, what services they offer and their opening times - you never know when you might need to contact them and it's better to be safe than sorry
If you become seriously ill or injured abroad, you will need full travel insurance to cover any medical bills, otherwise you could be left with a hefty bill after you get better - most countries will even charge you if an ambulance is called out.
Also make sure your insurance covers you for any activities you are likely to undertake such as water sports and you are covered should you decide to ride or be a passenger on a motorbike or moped.
A European health card isn't a substitute for travel insurance, but it does entitle you to free or reduced-cost emergency care in some instances. To find out more about what they cover, visit the NHS advice page. Also remember, you need to call 112 to contact the emergency services in any EU country
20. Make sure your car is in good running order
Prepare your car before your trip by making sure it is serviced. There are also simple things you can do yourself to make sure your car is in good, roadworthy condition including the under-the-bonnet check in our video below and checking your tyres are in good condition.
Want more useful content like this sent straight to your inbox?
---
11 tips for using the road in Europe
It can be a vastly different experience driving in a different country, so get to grips with these 11 tips to help you adjust as quickly and safely as possible.
1. Get on the right track
Remember most European countries drive on the right-hand side of the road (the exceptions are: the UK, Irish Republic, Cyprus and Malta).
This means that typically, you'll be negotiating roundabouts in an anti-clockwise direction rather than clockwise! If you find you have to overtake, exercise extra caution as it is not easy in a right-hand drive car and may be safer when you reach a stretch of dual carriageway.
3. Map out your travel plans
Sat-navs are invaluable, but it's worth double-checking your route with a detailed map of the area. Remember to bear in mind that sat-nav requirements may differ from country to country – for example, in France, it is illegal to use sat-nav equipment with radar detection indicating where fixed speed cameras are located.
4. Keep the loose change
Many European countries operate toll roads, so make sure you have plenty of loose change in the correct currency to cover the cost of tolls. It is also worthwhile keeping some spare money to cover any unexpected costs that crop up along the way.
5. Expect the unexpected
Drive carefully and cautiously, taking extra care to be really observant. Remember the local driving style may be very different to that of the UK. The advice from the Foreign Office is to drive defensively when abroad and to expect the unexpected at all times.
6. Stick to the rules
Make sure you obey the rules and regulations of the road. This means sticking to all the speed limits and observing what we as UK drivers may think are rather obscure rules – e.g. in Spain and Switzerland, if you wear prescription glasses, always carry a spare set; and in Spain, never wear flip flops while driving and in Italy only park in the direction of the flow of traffic.
Observing the local rules will make your holiday go much smoother - attempting to discuss a driving offence with a police officer in a foreign language or using broken English and sign language is never easy!
7. Take a break
Driving is tiring at the best of times but if you are driving overseas in unfamiliar areas, concentrating on driving on the right hand side of the road and reading different road signs it can be even more exhausting.
Ensure you take frequent breaks and stop in a safe place for a rest if you are feeling tired.
8. Watch out, thieves about
Protect your car from being broken into by exercising vigilance. Don't leave valuables in sight, check your vehicle is locked and park in safe, well-lit areas.
9. Beware 'wear and tear'
Any driving holiday when you are using your car for long periods of time may increase wear and tear on your vehicle. It's worth checking your tyres, windscreen, mirrors and lights throughout your holiday to be on the safe side.
10. Accidents happen
If you are unfortunate enough to be involved in an accident, contact your insurer immediately and call the police. Obtain the other driver's full details together with the names and contact details of any witnesses. Remember to take photographs of the damage to your vehicle.
11. Use your commonsense
Just because you're on holiday doesn't mean you throw all your commonsense out of the window! Wear your seatbelt at all times and make sure your passengers are wearing theirs, don't use your mobile phone while driving and make sure you don't get distracted by your satnav.
General travel tips
Find out about local customs and dress, behave accordingly and obey local laws - there may be serious penalties for breaking a law that might seem trivial at home
Be careful when taking photographs, videos or using binoculars. Such activities may be misunderstood, especially near military installations or airports
Check with your service provider to make sure your phone works abroad
Check whether it's safe to drink local tap water - if not, stick to bottled water and avoid salads, non-peeling fruit and ice in drinks
Check import regulations for food and plants before you attempt to bring them back to the UK - for more information visit www.gov.uk/defra