Country-specific travel advice
Select the country you will be travelling in to see motoring information and advice, including any accessories you may need to purchase. Don't forget the RAC provides European breakdown cover while you're driving in Europe.
Driving in France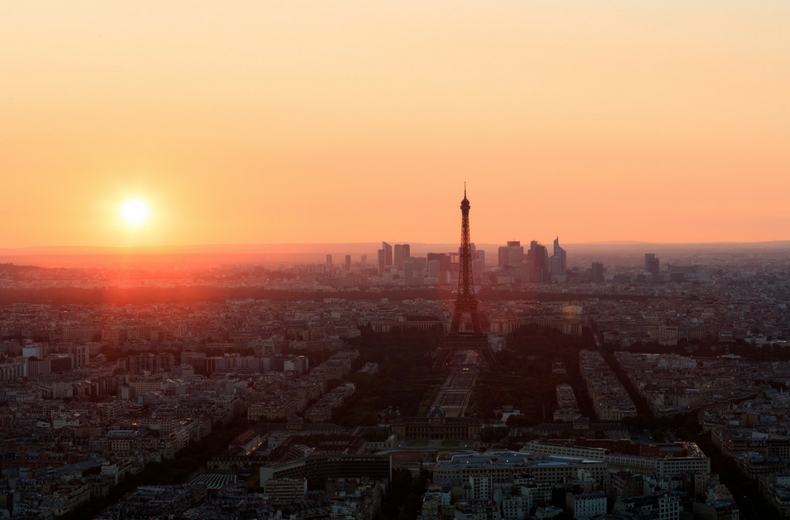 Population: 65.6m
Area: 543,965 square kilometres
Currency: Euro (EUR) € = 100 cents
| | Motorways | Urban motorway or dual carriageway with a central reservation | Other roads | Built up areas |
| --- | --- | --- | --- | --- |
| Normal traffic conditions | 130 km/h | 110 km/h | 90 km/h | 50 km/h |
| Rain or other precipitation | 110 km/h | 100 km/h | 80 km/h | 50 km/h |
| Visibility less than 50m | 50 km/h | 50 km/h | 50 km/h | 50 km/h |
| Weight | |
| --- | --- |
| Group 0: < 10 kg | Rear-facing child seat placed either at the front passenger seat or at the back seat (if placed at the front, the airbag must be switched off). Babies can also travel in a carry cot (this can be placed at the rear seat only). |
| Group 0+: < 13 kg | Child restraints in this category are slightly bigger versions of those in Group 0. They must be installed under the same conditions as those in Group 0. |
| Group 1: 9 - 18 kg | Child seat with a harness or a protection tray. |
| Group 2: 15 - 25 kg | Booster seat or cushion with an adult seatbelt. |
| Group 3: 22 - 36 kg | Booster seat or cushion with an adult seatbelt. |
Still current at:

29th Apr 2017

Updated at:

20th Mar 2017

Latest update:

Latest update: Summary – removal of information and advice on the incident at Orly airport, demonstrations in the Bastille and Place de la Republique areas in central Paris and reinforced security controls for the France v's Wales rugby match on 18 March
There is a high threat from terrorism. Due to ongoing threats to France by Islamist terrorist groups, and recent French military intervention against Daesh (formerly referred to as ISIL), the French government has warned the public to be especially vigilant and has reinforced its security measures.
The French government has extended the national state of emergency until 15 July 2017. Check the French government's advice about what to do if a terrorist attack occurs. See Terrorism
The French government has launched a free smartphone app to alert users about possible security incidents, including all major natural, technological and terrorist-related risks. Users will be able to view alerts for up to eight geographical areas. The app, called SAIP (Système d'alerte et d'information des populations), is available in English and French. You can download the app by entering the term 'SAIP' in the Apple App store or Google Play.
From 16 January 2017, all vehicles – including motorbikes – driving in central Paris from 8am to 8pm on Monday to Friday will need to display a special 'pollution sticker'. If you have a vehicle registered in France, you can apply for a sticker now on the French Ministry of Environment website.
Some older vehicles don't qualify for a sticker at all due to their high emissions; these vehicles can't be driven in central Paris at all from 8am to 8pm on Monday to Friday. See this table for more information. For vehicles registered outside France, a special website (in English) will be available to submit applications from early February 2017.
If you're crossing the Channel, check the website of your chosen operator before you set off. In the event of any disruption, information about alternative routes and operators is available via this interactive map.
Around 17 million British nationals visit France every year. Most visits are trouble-free. The most common problem reported is pick-pocketing. See Safety and security
You should apply for a free European Health Insurance Card (EHIC) before you travel. If you already have an EHIC, make sure it hasn't expired. Some medical costs aren't covered by the EHIC so you should also take out comprehensive travel and medical insurance before you travel. See Health
If you're abroad and you need emergency help from the UK government, contact the nearest British embassy, consulate or high commission.
The Overseas Business Risk service offers information and advice for British companies operating overseas on how to manage political, economic, and business security-related risks.
The Emergency phone number in France is 112.
British Embassy in Paris
British Embassy
35, rue du Faubourg St Honoré
75383 PARIS
Telephone: +33 (0) 1 44 51 31 00
Fax: +33 (0) 1 44 51 31 09
Website: http://www.amb-grandebretagne.fr/
British Consulate in Bordeaux
British Consulate
353, Boulevard du President Wilson
33073 BORDEAUX
Telephone: +33 (0)5 57 22 21 10
Fax: +33 (0)5 56 08 33 12
British Consulate in Marseille
British Consulate
24, Avenue du Prado
13006 MARSEILLE
Telephone: +33 (0) 4 91 15 72 10
Fax: +33 (0) 4 91 37 47 06