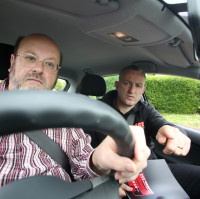 Changes being proposed to driving tests that could help the next generation of drivers deal with the demands of modern roads have been broadly welcomed by the RAC.
The proposals published by the Government include plans to reform tests and lessons in response to development of driverless cars, as well as to cut waiting times for the practical exams.
They were revealed in the Government's strategy for the Driver and Vehicle Licensing Agency (DVLA), the Driver and Vehicle Standards Agency (DVSA) and the Vehicle Certification Agency (VLC).
The Department for Transport's motoring services strategy stated: "DVSA will reform the driving test (and, thereby, pre-test learning) to encourage more real life driving experience and ensure that it takes account of local variations and increasing vehicle automation."
Research carried out by the RAC shows that 35% of drivers aged between 17 and 24 do not believe the current driving test equips them with the skills they need to cope on the modern road.
In addition, the motoring organisation has found that average waiting times for practical exams increased in 2015. It is hoped the new proposals will help to reduce the length of time learners have to wait before taking their test.
And they could see first-time drivers given the chance to get to grips with technology such as sat-navs,and, in time, driver assistance technology.
Commitments were also made in the government strategy to look at the law the law regarding motorway driving lessons, as well as to moving many of the DVLA's services online.
RAC head of external affairs Pete Williams said: "The nature of driving in the UK is changing at a tremendous pace so we are pleased to see the Government is finally responding by comprehensively reviewing the driving test, with the aim of ensuring the next generation of motorists are as well prepared as possible."
"The RAC welcomes efforts to modernise the practical driving test and improve the service offered to motorists who are starting their motoring careers.
"The intention to evolve the practical driving test to more closely reflect real world driving, including increasing vehicle automation, is also welcome.
"The changes could mean a new generation of drivers learn to use technology such as sat-navs, which are increasingly standard in modern vehicles, in a safe and appropriate way. With further driver assistance technology on the horizon as we move towards driverless cars, the RAC would like to see a commitment to more regular reviews of the driving test so that it keeps pace with future technology."
Copyright Press Association 2016. Motoring News articles do not reflect the RAC's views unless clearly stated.