Our unique free road signs test offers 20 questions to help new
learner drivers
understand the meaning of road signs and give experienced drivers the chance to brush up on their knowledge.
Knowing road signs is a crucial part of passing the theory test and this skillset and is important to helping you stay safe on the road - so if you don't get 20 out of 20 first time then take that test again until you do!
Below are 20 road signs with three multiple choice answers, make your choice as to the correct meaning of each sign then check against the answers at the bottom of the page to see how well you've done.
1.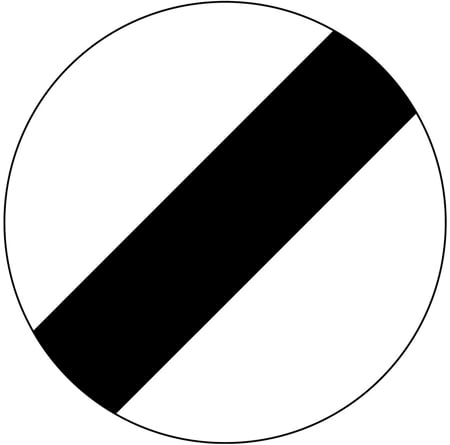 A) National speed limit applies
B) Waiting prohibited
C) Start of motorway regulations
2.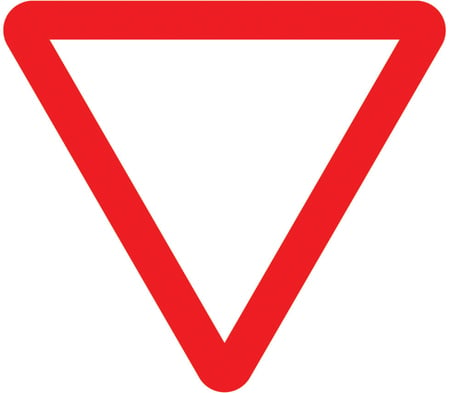 A) Overhead cable repairs ahead
B) Junction ahead controlled by a STOP or GIVE WAY sign
C) Traffic signals ahead
3.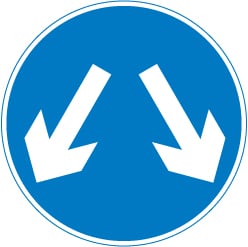 A) Vehicular traffic approaching from the left and right
B) Merge in turn
C) Vehicular traffic may reach the same destination by passing either side of the sign
4.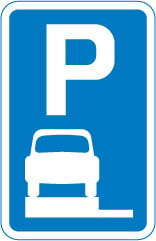 A) Parking on verge or footway strictly prohibited
B) Vehicles may be parked partially on the verge or footway
C) Vehicles may be parked wholly on the verge or footway
5.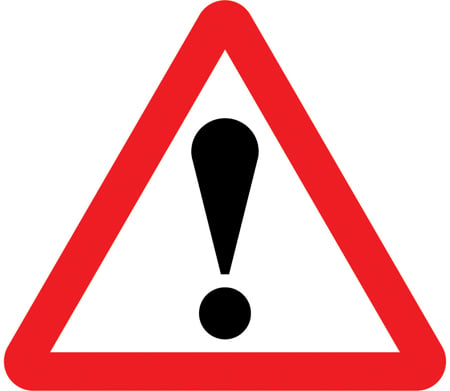 A) Other danger ahead. Plate beneath indicates the nature of the hazard
B) Vehicles carrying explosives prohibited
C) Dust cloud danger ahead
6.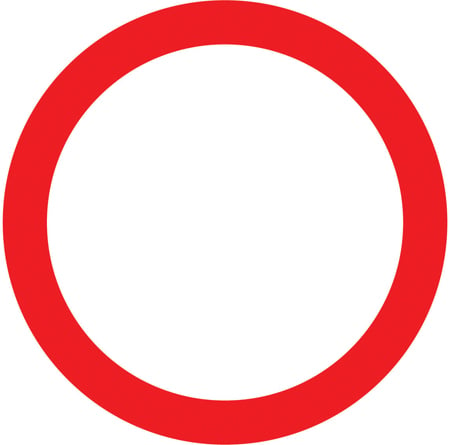 A) No entry for vehicular traffic
B) No overtaking
C) All vehicles prohibited except pedal cycles being pushed by pedestrians
7.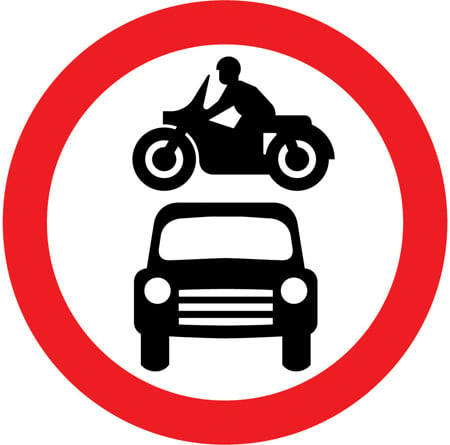 A) Motor vehicles except solo motor cycles prohibited
B) Motor vehicles prohibited
C) No entry for vehicular traffic
8.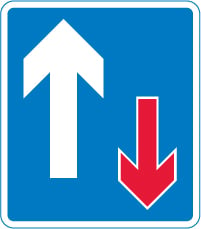 A) Traffic has priority over vehicles from the opposite direction
B) Traffic from the opposite direction has priority
C) Give way to traffic on the major road
9.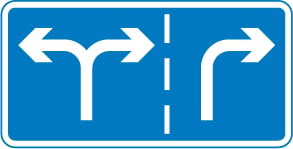 A) Appropriate traffic lanes for different manoeuvres at a junction ahead
B) Bus lane on road at junction ahead
C) Additional traffic joining from the right ahead
10.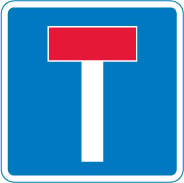 A) T-junction ahead
B) No through road for vehicular traffic
C) Two-way traffic on route crossing ahead
11.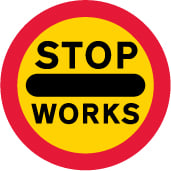 A) Vehicular traffic should not proceed beyond the sign when displayed during works on or near the road
B) Vehicular traffic should proceed slowly owing to workforce in the road
C) Temporary entrance to a construction or road works site
12.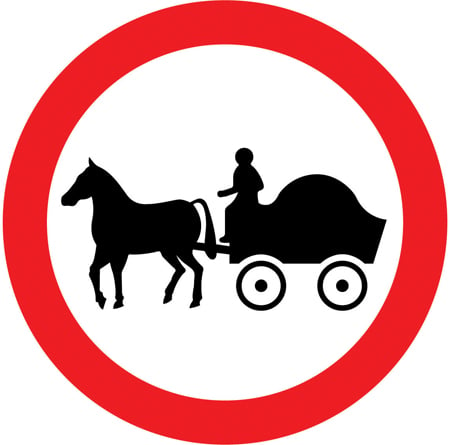 A) Horse drawn vehicles prohibited
B) Accompanied horses or ponies likely to be in or crossing road ahead
C) Horse drawn vehicles likely to be in road ahead
13.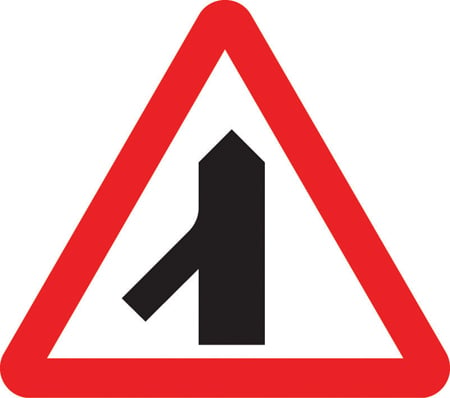 A) Traffic merges from the right
B) Traffic merges from the left
C) Side road ahead (left)
14.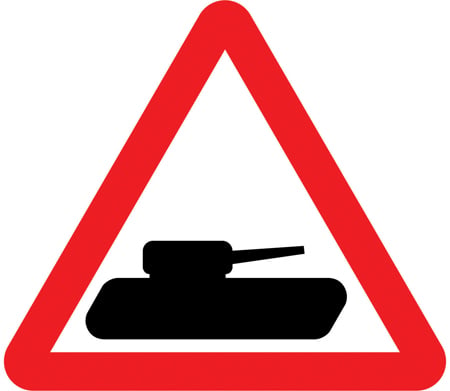 A) Slow moving military vehicles likely to be crossing or in the road
B) Tracked vehicles prohibited
C) Priority given to military vehicles
15.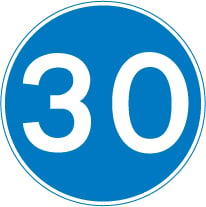 A) End of 30 miles per hour minimum speed limit
B) Maximum speed limit of 30 miles per hour
C) Minimum speed limit of 30 miles per hour
16.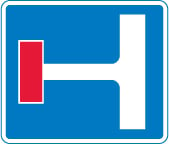 A) No through road for vehicular traffic in direction indicated from junction ahead
B) Side road ahead (left)
C) T-junction ahead (left)
17.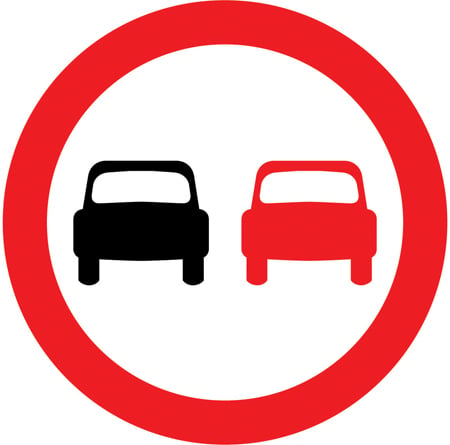 A) No overtaking
B) Two-way traffic
C) Dual carriageway ends ahead
18.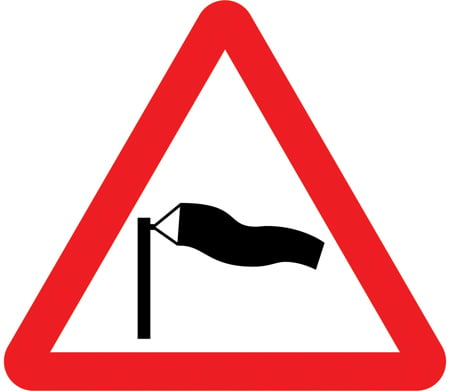 A) Low flying aircraft ahead
B) Side winds likely ahead
C) Airport entrance ahead
19.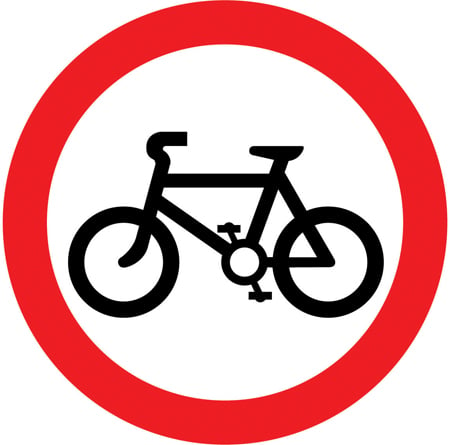 A) Riding of cycles prohibited
B) End of cycle lane, track or route
C) Cycle route ahead warning
20.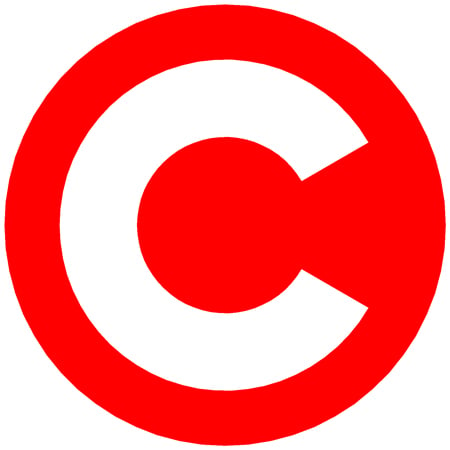 A) Road (congestion) charge zone reminder
B) Crossroads ahead
C) Contra-flow cycle lane
Answers
1a, 2b, 3c, 4c, 5a, 6c, 7b, 8a, 9a, 10b, 11a, 12a, 13b, 14a, 15c, 16a, 17a, 18b, 19a, 20a
Let us know your score in the comments below!
READ MORE:
For more helpful content on how to pass your driving test and improving your driving skill visit our learning to drive section.
All images Crown copyright