If you don't want to spend months or even years
learning to drive
, an intensive driving course could help you pass your test in under two weeks.
According to the DVSA, learner drivers need an average of 47 lessons before they pass their practical test. This can be expensive, which is why we've seen an increase in driving courses that allow you to learn in shorter, more intense periods.
Our essential guide tells you everything you need to know about these intensive driving courses.
What is an intensive driving course?
Also referred to as a 'crash course', an intensive driving course crams in all the training you need to pass your test in a shorter timeframe than normal.
You must hold a provisional UK driving licence to take the course and, if you're using your own car, you'll need learner driver insurance. While you can sometimes take both the theory and practical tests as part of the course, most driving schools will require you to have already passed your theory test and be able to demonstrate a basic level of skill.
You can do the training in your local area or take a residential course where you stay away from home. If you'd prefer something a little less extreme, semi-intensive courses are also available that allow you to take time out while you pass your theory test.
MORE ADVICE: How to pass your driving test – a full guide from novice to pro
What do you do on an intensive driving course?
Most courses will offer one-to-one tuition with a qualified driving instructor. You'll do the same training as you would with a longer series of conventional driving lessons, although an intensive course can often be tailored to focus on the areas that you're least comfortable with. You'll then get a fast-tracked practical test at the end of your learning.
With a residential course, you'll attend a training centre to be briefed on the rules of the road and introduced to your driving instructor who will work with you throughout the week.
How long is an intensive driving course?
There are no hard-and-fast rules on this, but intensive driving courses are typically offered in one or two-week periods. Because it's such a short timeframe, you should expect to spend at least five hours a day on the road.
If you've previously taken a few lessons and simply want a crash course ahead of a test, you could opt for a two-day course with just 10 hours of training.
If you're not sure how much training you need, your driving school should be able to offer you an assessment to see which course would be best suited to you.
Residential courses last up to a week and can be found in locations all over the UK.
How much does an intensive driving course cost?
Taking an intensive course could potentially work out cheaper. The expense of weekly driving lessons and taking a test is why many people choose to take an intensive course.
A one-day intensive driving course is likely to cost around £200, but this is only suitable for someone who requires a few hours' practice before a test. A week-long crash driving course can cost in the region of £1,000, while a two-week intensive driving course may be double that at over £2,000.
It might sound high, but when you consider that the average cost of an hourly driving lesson is £24, it could save you money in the long run. If the average person takes 47 lessons to learn to drive, most pay over £1,000. Then there's the cost of the theory and practical tests on top of that.
Where can I take an intensive driving course?
Driving schools throughout the UK offer intensive courses, so you should be able to find one local to you. Always do your research before choosing which company to go with – don't just settle for the cheapest option. Look at the pass rate and read reviews.
In many cases, the instructor will be able to pick you up from your house or workplace and you'll train on local roads.
If you're taking a residential course to concentrate solely on your driving without any distractions, you'll attend a training centre away from home and stay in a hotel or B&B overnight.
Am I guaranteed to pass an intensive driving course?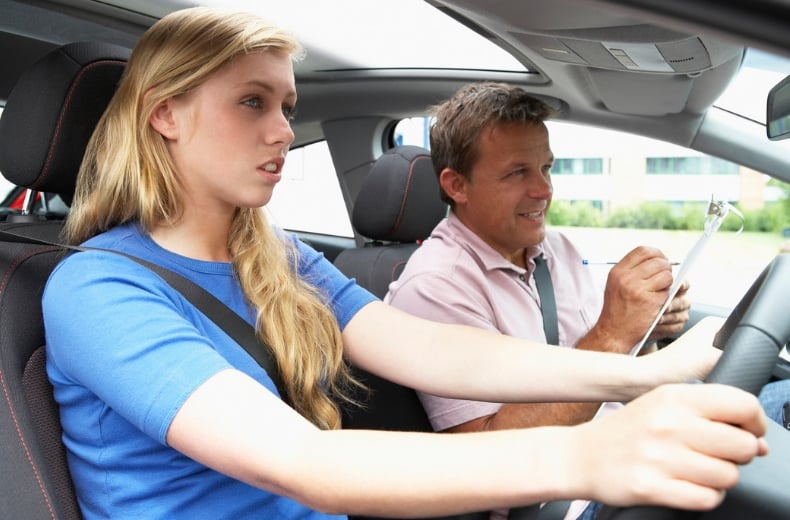 Your course instructor will teach you the skills and knowledge required to pass your practical driving test. However, the test itself will be carried out by an independent government examiner who will assess your performance on the day. So no driving instructor or school can ever guarantee a pass.
Be wary of websites that advertise a 'guaranteed pass'. This can be misleading – what they're actually saying is that if you keep training with them, eventually you will pass.
Choosing a course is as simple as searching the internet, but it's important to make sure it's run by an approved driving instructor (ADI) who is fully qualified to DVSA standards.
Is an intensive driving course right for me?
Intensive training isn't right for everyone. If you've never sat behind a steering wheel before, a five-day intensive course could be overwhelming. It helps if you've already mastered the basics of clutch, brake and steering control.
You're likely to be driving for at least five hours a day for five days a row, which can be very tiring. You may also feel under pressure to pass your test first time to get the best value for money.
But if you're good at handling stressful situations or just want to brush up your skills, intensive driving courses can work for you.
Are intensive driving courses worth it?
An intensive course will allow you to train at a very fast rate if you show a natural aptitude for driving, and everything you learn will be fresh in your mind. With weekly driving lessons, it's sometimes easy to forget things. An intensive course can save you time and money as you might need fewer hours' training.
However, it won't prepare you for driving in the real world as much as conventional lessons will. You might not experience different weather conditions or drive in the dark, for example.
And if you fail the intensive course, you may have to wait several weeks before another driving test slot becomes available – by which time you may have forgotten much of what you learnt in the first place.
READ NEXT: A complete guide to driving to university
Is Pass Plus an intensive driving course?
Not exactly. Once you've passed your test, there are plenty of courses available to further your driving abilities with aspects not covered in your test. This can be a great idea if you feel you need more training to give you confidence on the roads. The safer you are, the cheaper you can get black box insurance for new drivers.
Pass Plus is the most popular additional course – it's six hours of training designed to help newly qualified drivers improve their skills and safety. The course is split into six modules – town driving, all-weather driving, driving on rural roads, night driving, driving on dual carriageways and motorway driving.
Helps young and new drivers save money by rewarding safe driving.