RAC Learner Driver Insurance cover from 2 hours to 5 months*
Before you can even think about driving, some admin needs doing - you need to apply for your provisional driving licence.
You can do this at any time once you're over 15 years and nine months old but it only becomes valid when you turn 16.
With a provisional licence you can:
At 16 begin the process of learning to ride a moped or light quad bike
At 17 begin the process of learning to drive a car
You cannot:
The easiest way to apply is through the provisional driving licence page on the official GOV UK website.
To get a provisional licence you will need:
To be able to read a number plate from 20 metres away
Provide a legitimate form of ID (normally a passport)
Provide addresses for where you have lived over the last three years
Pay £34 by credit or debit card
Your provisional licence should arrive within a week.
At the same time, it's a good idea to start reading the Highway Code and begin familiarising yourself with it in preparation for step four, taking your theory test.
NEWS UPDATE: Driving licences set to go smartphone-friendly
Finding a good driving instructor is invaluable.
While it might be tempting to save money and ask a friend or relative to teach you, it could be a false economy.
An expert will have a much better idea of what's expected from you in the test, and the ability to improve your skills over time – and save heated arguments with your friends and family in the process.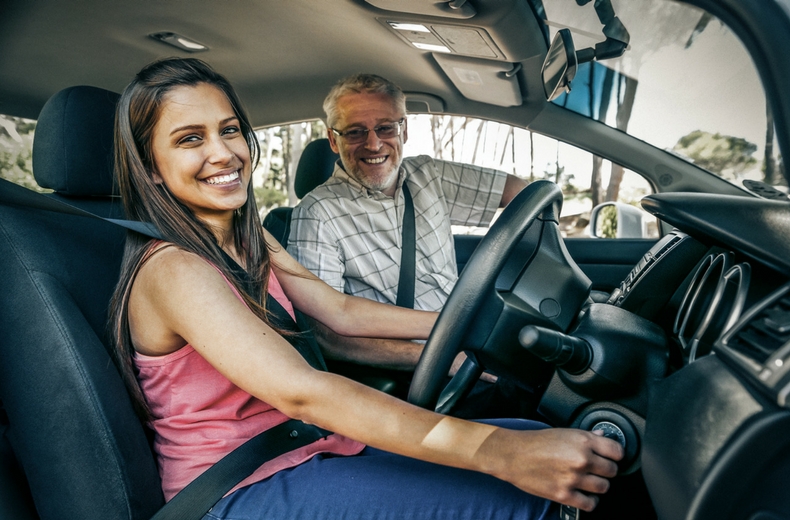 Also, a fully qualified teacher will have their own car to teach you in which will have dual controls.
Dual controls are where the instructor has their own clutch and brake pedals in the passenger footwell, and are able to take over or help out with the controls if they feel you need it at any point.
The most important thing when picking an instructor is choosing someone who makes you feel comfortable and happy in the driver's seat, remember you may be spending potentially 40 hours in a car together!
If you do choose a friend or family member they will have to be over the age of 21 and have held a licence for at least three years.
The best way of finding a good instructor is through recommendations.
If you're a young driver, you'll probably know lots of people who are learning to drive at the same time – ask them if they'd recommend their instructor.
If you cannot find anyone suitable on recommendation then you can use the Approved Driving Instructor page on the Driver and Vehicle Standards Agency's (DVSA) website.
This database locates all of the approved instructors local to your area, all you need to do is type in your post code.
Typically, driving instructors charge around £20 to £25 per hour for instruction.
The average learner driver requires around 45 hours of lessons before being test-ready, but everyone learns at different rates.
When looking for an instructor consider what car they use. Is it a manual or an automatic?
While automatics are easier to drive, you won't legally be able to drive a manual if you pass in an automatic.
Unless you've got disabilities preventing you from driving a manual, a manual licence will offer you more flexibility in the future and you can normally find much cheaper manual cars for your first car.
For more information to help you choose whether you want to go manual or automatic, read our pages advice pages:
The average learner requires 20 hours of additional practice outside of their driving lessons, so if you're practicing with family or friends to complement your lessons you may want to consider learner driver insurance.
Learner driver insurance offers flexible short-term cover and can often be purchased by the day, week or month, and in some cases by the hour for learners wishing to practice on a more ad-hoc basis.
This additional practice will normally be done in either yours, a friend's or a parent's car, meaning you will need to be insured as you are behind the wheel without an instructor. You will also need to be accompanied by a qualified driver who is appropriately insured on the vehicle you're learning in.
For most people, starting their driving lessons will be the first time they have been in the driver's seat of a car with other cars on the road too (no Legoland doesn't count), so it can feel a little daunting.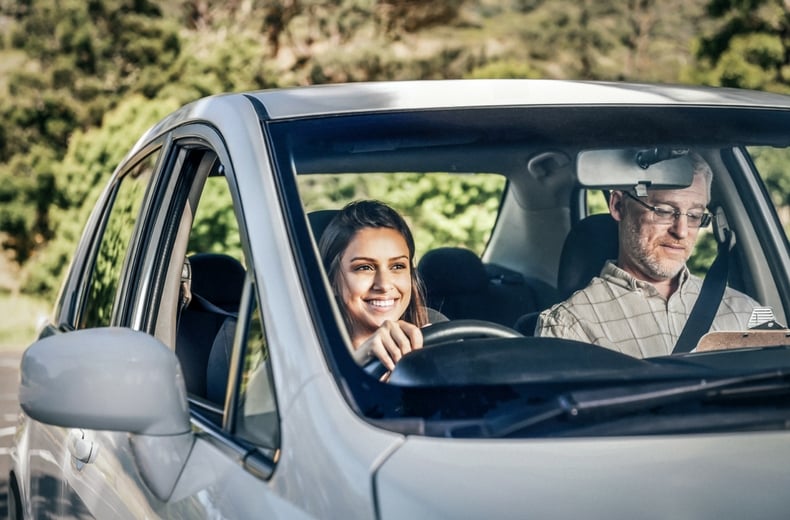 But the right instructor will easily guide you through it and will start you off on very quiet roads. For the first lesson they will most likely drive you somewhere where they know there won't be too much traffic.
The average learner needs 20 hours of practice to pass the driving test, in addition to 45 hours of driving lessons.
This is only an average though and shouldn't be something you feel you have to compare yourself to.
Some take fewer and some take longer to feel comfortable and ready to take their test - the important thing is to take the test when you are ready, not being the first one out of your friends to pass.
Your instructor will let you know when you are ready, but most of the time you will feel it too - when the time comes you can both come to the decision together and then discuss how best to prepare for your test.
Intensive courses (otherwise known as the poorly named 'crash course') will give you the best chance of passing your driving test in the shortest amount of time.
These are normally flexible courses of extended one-on-one tuition with the aim of passing you in as little time as possible. They typically work to your schedule with an instructor devising a lesson plan or offering you a range of pre-designed plans suited to your budget and availability.
| Pros | Cons |
| --- | --- |
| Can teach people to drive in as little as a week from complete novice | Some people may feel rushed and aren't comfortable learning in this type of environment |
| Within the package, most costs for intensive courses will cover everything, including your theory and practical tests | They do involve a high initial price outlay |
| They are perfect if you are in a rush or on a tight schedule, for instance when trying to pass before leaving for uni or starting a job | You need to ensure you have a free block of time to complete - most people have other commitments like work or college to consider |
| Many courses offer a free retest should you in fact fail the practical test | Some people feel pressured to pass under these constraints which affects their ability to perform to the best of their abilities |
| Are usually flexible and will work to your schedule | Do not offer as much flexibility as planning your weekly lessons yourself |
| Some offer residential intensive courses, to ensure there are no distractions to provide complete focus on learning to drive | They are hard work and require a great deal of focus, commitment and dedication |
For your first lesson you will need:
Your provisional licence
A positive, can-do attitude ☺
Starting your driving lessons is an exciting time, but to really make the most of them and maximise your value for money follow our six driving lesson tips.
Before your first driving lesson, become familiar with The Highway Code.

This will give you a good understanding of the rules of the road before you get behind the wheel.

And most importantly before your first lesson - get a good night's sleep and make sure you are fresh and ready to learn when your instructor arrives.

It's easier to control the pedals wearing comfortable shoes. Heavy boots can make it hard to perfect driving techniques and heels will get scuffed and give you less control. Choose thin, narrow shoes to give you the necessary 'feel' on the pedals.

The average learner needs 20 hours of practice to pass the driving test, in addition to 45 hours of driving lessons. Once you've started learning, ask your instructor for advice about when you are ready to start practising between lessons.

You can practice driving between lessons while accompanied by anyone who is over 21 years old and has held a full British driving licence for at least three years, but both of you must be insured to drive the vehicle you're in.

You can get short term learner driver insurance cover here.

Remember to keep things simple – if, for example, you haven't yet been taught how to tackle roundabouts by your instructor, try to avoid roundabouts during your practice drives.

Longer and more frequent lessons get you there faster

It is recommended that you book a minimum of one two-hour lesson per week when you start learning to drive.

As you progress you may find that two or more lessons a week suit you better. Your instructor will offer the best guidance on the right pace for you.

Your instructor will most likely suggest this, but if they don't, ask to use one of your lessons leading up to your test to do a mock/practice driving test.

This will get you used to the idea of taking a test and ready you for what to expect on the actual day.

Doing two or three mocks will not only make you vastly more prepared for the real test but will put you at ease when you get there too.

Study for the theory test while you learn to drive

Studying theory and practice at the same time makes learning both easier.

Theory gives lots of hints on the best way of driving and their importance can be underlined when on the road.

When you're not practising the practical side of driving, swot for your theory test.

Read the Highway Code and take mock tests online.
If you have a disability, learn with a driving school that that can cater to your needs. Specialist driving schools offer purposely adapted cars and trained instructors to aid disabled learner-drivers.
Once you've been learning to drive for a little while, your instructor will probably recommend you book your theory test.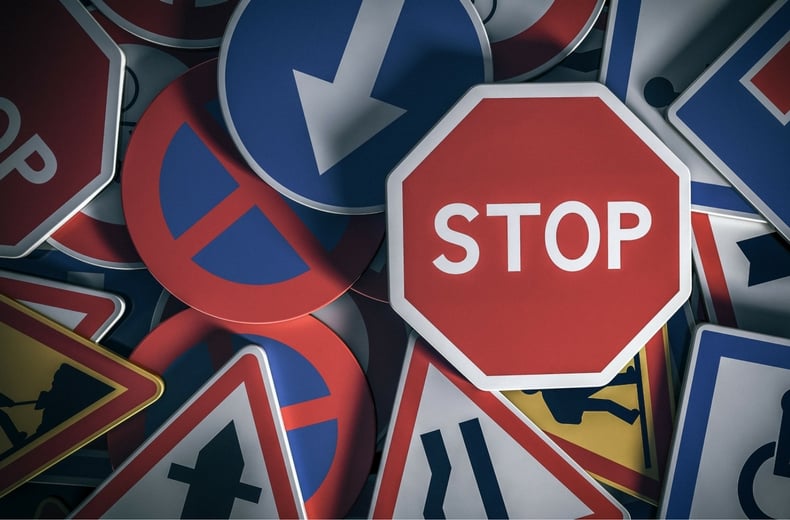 You will complete this alongside your practical lessons, so you will have to study in your own time between lessons.
Don't worry though, we will offer tips to help you practice for this test in the sections below.
You can book your theory test either:
It costs £23 and there is usually a waiting time of a week or two
You'll have to visit your local theory test centre to take your theory test
To find your local centre type your postcode into the GOV UK website – most medium-sized towns have a centre
A multiple choice test
The first part of the theory test is a computer-based multiple-choice test consisting of 50 questions on the Highway Code.
You'll have 57 minutes to complete it, and need to get 43 correct to pass.
Make sure you've prepared, as you would an exam, and you should stand a very good chance of passing.
A hazard perception test
Once you've completed the theory test, you'll have to take a hazard perception test.
This uses 14 video clips, and you'll have to click the mouse whenever you spot a hazard developing.
There are 15 hazards to spot, with at least one on each clip and two in one of the clips. The hazard clips are silent.
When you spot a hazard developing you can click either the left or right mouse button.
The earlier you spot it the more points you will get. You can score between zero and five with a maximum of 75 (i.e.. 15 hazards x 5) and to pass you need a score of 44.
You'll find out straight away whether you've passed – and once you have, you'll be able to take your practical test.
There are a number of different ways to practice for your driving theory test. From sites to apps we have outlined the best resources below so you can find the right tools to suit you.
Free services
You can take free driving theory mock tests here:
You can also brush up on your road signs knowledge on our very own road signs quiz page.
Paid for services
There is also an official DVSA learning zone you can use to tutor you through the test.
The learning zone offers tips, practice exams, hazard perception tests with an online simulator and the ability to chart your progress.
It is available over all mediums including smartphone, tablet or computer.
Prices are:
£7 for one week
£10 for one month
£14 for three months
£25 for one year
Apps
The Official DVSA Theory Test Kit for Car Drivers, 4.5 stars, £4.99
Driving Theory Test Genius UK, 5 stars, Free
Theory Test for UK Car Drivers "best seller", 4.3 stars, £1.99
You've had plenty of lessons, passed your theory test and your instructor thinks you're ready to take your practical test, let's start with the booking.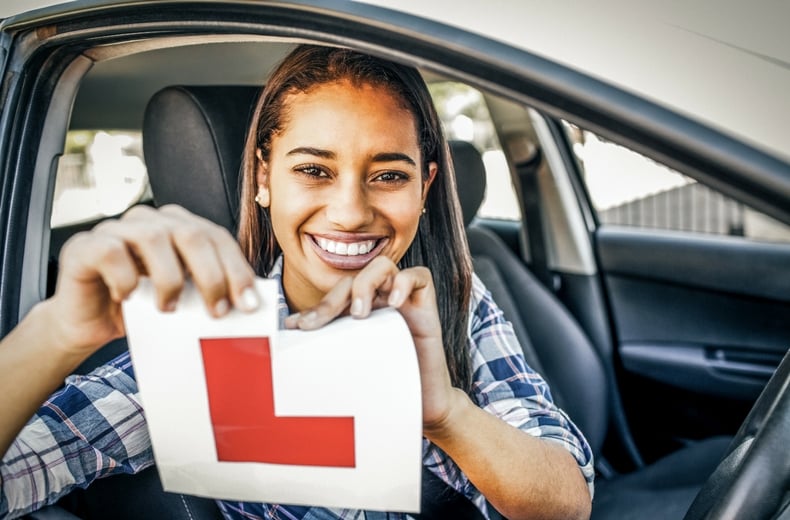 This is an eight-step online process which only takes five to ten minutes.
The steps you will be guided through ensure you will find your nearest local test centre and the earliest available time slot, there is normally up to a four week waiting list but this can increase depending on how busy the appointments system is.
Before clicking on the link below and starting your booking process you will need the following items:
Your UK driving licence number (found on your provisional licence)
A credit or debit card - it costs £62 on weekdays and £75 on weekends
Your driving instructor's personal reference number - this is to check if they're available should you wish them to attend the test with you - which is often recommended
You can book your practical test online here on the Government's portal, just click the 'start now' button.
There is also an option on the GOV page to look for driving test cancellations, this will allow you to potentially book an earlier appointment if someone else cancels their appointment before yours.
There is no alert system for this so if you are eagerly awaiting the chance to book one of these 'cancellation appointments' you will need to check their availability regularly, we suggest daily.
You'll need to bring your:
Theory test pass certificate
Provisional driving licence
The driving test lasts around 40 minutes.
There are five steps to your practical driving test.
Changes to the driving test were made in December 2017, these have been reflected below.
Five parts of the driving test
First, you'll be asked to read a number plate of a random car from 20 metres away to check your eyesight.

If you cannot do this you cannot take your test.

Show me tell me questions

Then your examiner will ask you two 'tell me' questions about vehicle checks you should carry out before driving, such as: 'tell me how you would check that the headlights and tail lights are working', before you get in the car

Later in the test, while you are driving, your examiner will ask you a 'show me' question, such as: 'show me how to demist your windscreen'.

Here is a full list of the possible show me tell me questions.

You'll drive in various road and traffic conditions, but not on motorways.

The examiner will give you directions that you should follow. Driving test routes aren't published, so you can't check them before your test.

You'll also be asked to safely pull over and safely pull away during this part of the test, this may include:

Normal stops at the side of the road
Pulling out from behind a parked vehicle
A hill start

You might also be asked to carry out an emergency stop.

The examiner will ask you to do one of the following exercises:

Parallel-park at the side of the road
Park in a bay – either driving in and reversing out or reversing and driving out (your examiner will tell you which to do)
Pull up on the right-hand side of the road, reverse for two car lengths and rejoin the traffic

For this section roughly a fifth of drivers taking their test will be asked to drive for about 20 minutes by following either:

Traffic signs
A series of verbal directions
A combination of both

You are not allowed to use a sat nav.

The majority will be asked to follow directions using a sat nav, however.

The driver will have to follow directions for around 20 minutes. Although, if you do get confused, you can ask the examiner for confirmation of where you're going.

If you make a mistake and drive in the wrong direction, you will not be penalised unless you make a fault while doing so.
You won't find out how you've done until you get back to the test centre, when the examiner will discuss his/her observations with you. You'll then be given a pass or fail certificate.
NEWS UPDATE: Learner drivers offered motorway driving lessons from 2018
You can make up to 15 minors faults and pass your driving test, however, one major fault will qualify for an instant fail.
You can drive immediately after you pass your test, as long as you are correctly insured for the car you want to drive.
Your learner driver insurance will cease as soon as you have passed, so you'll need to take out a full annual car insurance policy if you wish to drive away from the test centre.
As a first time driver your insurance will likely be quite expensive, Black Box car insurance can help you save money as it rewards safe driving, and can help to bring down your future premiums.
Normally your instructor will drive you home as you are likely to be a little excited and shaky immediately after you pass.
While your instructor will have given you a clear idea of what to expect in the test, these are some handy tips to remember that could make the difference between a pass or fail.
Listen to your instructor

After hours of driving lessons, your driving instructor will have a pretty good idea about whether you're up to the challenge of passing your test.

It's not in their interest to encourage you to take your test early - doing so will only waste their time, harm their pass rate and knock your confidence.

If they say you're up to the job, have faith in yourself.

They'll also have a clear idea of your weaknesses - ask to concentrate on them in lessons, and consider a last minute lesson before your test to calm your nerves.

Take your test in a rural location

It's natural that driving test centres located in congested areas with lots of complicated roundabouts have lower test rates than those in rural areas with nothing but a few tractors and stray livestock to worry about.

While taking your test on the Isle of Mull - where there's a pass rate of more than 90% - is unreasonable for most of us, compare the test pass rates of your local test centres.

It's not cheating to take your test somewhere with a higher pass rate - but do ask yourself whether doing so will properly prepare you for driving after taking the test.

On the day of the test, give yourself plenty of time to get to the test.

We advise having a lesson before your test to calm your nerves and practise anything you're worried about.

The last thing you want to do is be running late and panicking whether you'll make it on time or not.

Having used it in the build up to your test you should feel comfortable driving it, also it will be up to the standards examiners expect (such as having an extra mirror for them monitoring traffic behind you).

You'll be given the option to have your instructor sitting in with you during your test.

This is entirely your choice, but a lot of people find it reassuring having someone they know in the car with them.

Also if you do fail they will be able to see why and help you improve on any issues for your next test.

You're allowed to make up to 15 minor faults during your driving test. Think about it: that's one every couple of minutes or so.

If you make a minor fault, such as stalling the car or failing to cancel the indicator, it's not a big concern.

Letting it play on your mind can lead to more minor, or even more serious, faults being made. Shrug it off and carry on with the test.

Exaggerate those mirror checks

One of the biggest cause of minor faults for many learner drivers in their test is a lack of observation.

Check your mirrors regularly - especially when setting off, approaching hazards, changing road position and changing gears.

While examiners are trained to look out for you checking your mirrors (and will have an extra mirror to do so), sometimes being a bit over the top in your mirror-checking won't do any harm.

Move your head when checking your mirrors and your examiner is less likely to give you a minor fault than if you give the mirror a quick glance, you could even get into the practice of saying 'mirrors' quietly outloud every time you check to make sure your examiner knows you are doing it.

No - not about whether the examiner has been on holiday this year or what he's doing at the weekend, but don't be afraid to asking for clarification.

If an examiner gives you an instruction you don't hear or forget, keep calm and ask them to repeat it.

Don't try to second-guess the examiner

Following a route you're regularly taken by your instructor during lessons? That doesn't mean your examiner is sticking to the same route - continue to listen to instructions and don't become complacent.

At the same time, don't assume he'll penalise you for everything - you might notice slip-ups he doesn't.

At the end of the test, whether you've passed or failed, accept the result and…

Listen to what you're told at the end of the test

At the end of the test, you're likely to only care about whether you've passed or not.

But the examiner could give you some useful advice on where you could improve - great if you've failed, as this will tell you which areas you need practice in, but just as useful if you've passed. You could be given hints or tips that might improve your driving now you've got your full licence.