Pack your suitcase, check your tyres, and don't forget your passport.
We're running through everything you need to know for a trip to the south of France and its beautiful Mediterranean coast.
Why take a car to the south of France?
There's nothing like a road trip to get a true sense that you've travelled. Hitting the open road while sat in the driving seat gives you the freedom to decide your own route and enjoy a unique holiday that's perfect for you.
Taking a car abroad is often cheaper than paying for train or plane tickets, especially for larger families. You can even bring your pets and know that they're travelling in comfort too.
Luggage space is usually very limited while travelling by train or on board a plane. The option to use your boot and roof rack or perhaps tow a trailer or caravan means you can pack more of your home comforts for your big trip.
Before your trip
Getting ready for your trip is usually part of the fun. There are playlists to be made and snacks to pack, but it's important to make some essential maintenance checks too.
You'll need to check your oil, coolant, and washer fluid levels, measure your tyre pressure and tread depth and test your lights too.
Then there's insurance and breakdown cover to consider. You might need to arrange temporary car insurance to let a second driver share the driving and our European Breakdown Cover can provide peace of mind no matter where your car grinds to a halt after crossing The English Channel.
Most fun of all, is planning your route and stops along the way. Scroll down for our recommendations below.
French driving rules
Before you set off on a trip in France you should get to know the local rules of the road.
You must have a reflective jacket in your car at all times, ready to be worn in the event of an emergency and it's important to remember the rules on alcohol limits too.
For drivers and riders that have less than three years of experience, the alcohol limit is 0.2 grams per litre. If you have more than three years' experience the limit is 0.5 grams per litre. Both are lower than the English, Welsh and Northern Irish limit of 0.8 grams per litre (the Scottish limit is 0.5).
Police officers are known to give on-the-spot fines of up to €750 for drivers who violate traffic regulations and also have the power to confiscate vehicles.
Find out more information on Driving in France, including documents you'll need, speed limits and motorway tolls.
For a limited time, get FREE car health check with European breakdown cover.
Choose your crossing wisely
The Channel Tunnel to Calais isn't the only route into France. You might want to start your French road trip from:
Saint Malo
Cherbourg
Le Havre
Caen
The ports are better suited for trips along the west coast.
Route 1: The west of France via Bordeaux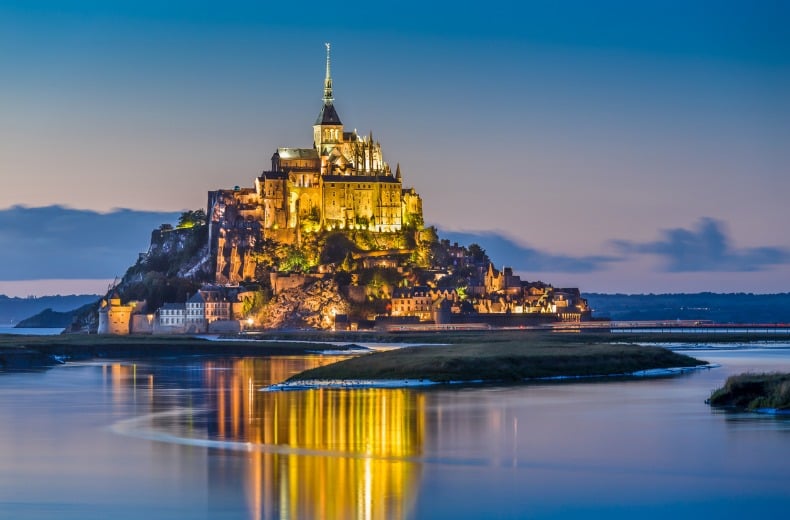 A trip down the west of France is filled with medieval architecture and picture-perfect villages scattered through the wine region of Bordeaux. It's also the quickest route from the north to the south of the country.
The ports at Le Havre, Cherbourg and Saint-Malo are all better suited to this trip than Calais, unless you're planning a longer drive. Saint Malo is considered the most scenic port on the French side of the Channel and well worth looking around.
After a 40-minute drive south of the pretty port on the D137 and N176 you'll reach Dinan, a walled town known for its half-timbered houses and cobbled streets, and the perfect spot to pick up lunch.
From here, you have the option of travelling east towards the fairytale-like Mont Saint-Michel (less than an hour's drive away) and on to petrolhead paradise Le Mans, another two hours or so east.
The next leg of your journey takes you south on the A83 and A10 to Bordeaux via the riverside town of Fontenay-le-Comte. Bordeaux, not to be confused with Bourdeaux, sits at the heart of the wine producing region and is filled with public gardens, art museums and it's fair share of wine bars.
Two hours south of Bordeaux, via the A63 and through the lush Landes Pine Forest, you'll find the elegant seaside resort of Biarritz and the Basque fishing port of St-Jean-de-Luz before the Spanish border.
Route 2: The backbone of France via La Méridienne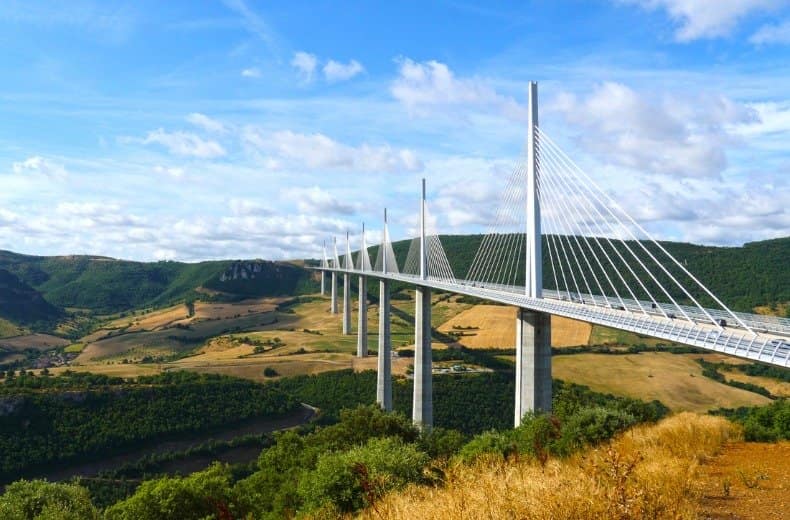 A journey through the backbone of France is the perfect opportunity to visit Paris, however a trip to the capital won't be your fastest route from north to south. Instead, you might want to take the A26, the so-called Autoroute des Anglais (English Autoroute) with breaks at Reims and Troyes.
From Troyes, a two hour or so drive takes you to Orleans, the city famously saved from English siege by Joan of Arc. Today, tourists from across the Channel are given a warmer welcome in the Val de Loire (Loire Valley) region.
It takes just under an hour on the A10 to reach Blois from Orleans. The picturesque city sits on the banks of the Loire and is filled with monuments to its rich history.
Moving on, Bourges is a must-see before you hit La Méridienne (A71). Set in the historic Province of Berry, the city is home to centuries-old architecture and an enchanting art deco garden (Jardin des Prés-Fichaux), that's free for anyone to enjoy.
Take the A71 south and make sure you stop at the stylish cabins at Le Bois Basalte. Views from the accommodation take in the Chaîne des Puys volcanoes and Auvergne countryside. Breakfast is even delivered to your door in a hamper each morning.
The last stretch of your trip takes you to the incredible Millau Viaduct. The world's tallest bridge is an amazing feat of engineering and stands 19 metres taller than the Eiffel Tower. The toll is a small price to pay for a unique driving experience and the panoramic views.
To finish your trip, take the A75 south for a little over an hour where you end up at Montpellier. The vibrant city is known for its world class markets and its proximity to the Mediterranean Sea.
Route 3: The east of France via Lyon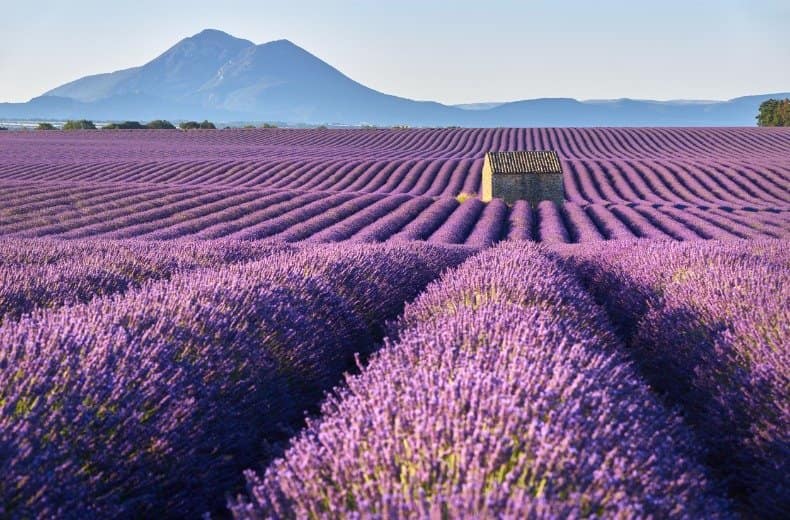 You'll need a few days and stopovers to make the most of your drive through the east of France. It's best to start from Calais where you join the A26 heading south.
You can make a stop at Arras (after 1hr 15 mins) to see the town's beautiful squares and baroque architecture, or push on to Reims (2hrs 30 minutes from Calais) to enjoy the capital of the Champagne region and its impressive gothic cathedral.
From Reims, take the A26 and A5 route for just over two hours to reach Langres. Stroll the old town and take in the views of the Liez Lake and the Marne Valley. Nearby Vosges provides an idyllic escape and is filled with thermal springs, waterfalls, mountain lakes and framed by the Vosges mountains.
It takes just under two hours to reach Lyon from Vosges via the A6. France's third largest city is famed for its gourmet restaurants and fine dining but there are plenty of street food vendors to choose from to refuel on a budget. The HEAT open market in the trendy La Confluence neighbourhood is a must see.
The final stretch of your journey starts on the A7 or Autoroute du Soleil, the Motorway of the Sun. France's very own route 66 is lined with lavender fields and sunflowers, where a postcard-ready scene awaits at every turn.
The journey from Lyon to Marseille on the Mediterranean Coast takes just over three hours without breaks but we'd advise stopping at the Nationale 7 Memorial Museum in Piolenc. The collection of vintage cars and items dedicated to the much-loved motorway is a fascinating attraction for car lovers.
The museum is just over an hour away from Marseille and its golden beaches, and restaurant-lined harbours.
Other highlights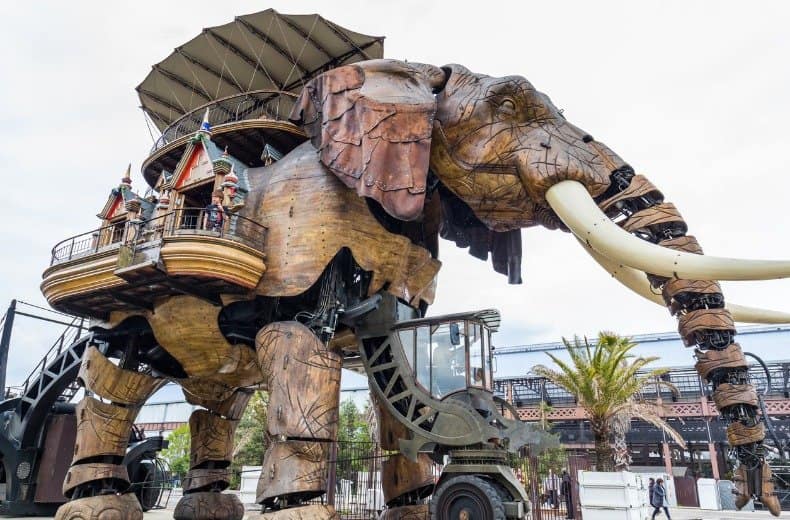 Le Grand Éléphant
No prizes for guessing the English translation of this bizarre attraction. The 12-metre high, 21-metre-long mechanical elephant carries up to 50 passengers for an unforgettable amble through Nantes.
Complete with an indoor lounge, and a spacious terrace, this eco-friendly elephant even has a hybrid engine. 'Like architecture in motion leaving a steel cathedral', well, according to the website.
Plateau des Mille Étangs
If you're taking the eastern route through France, why not stop at what locals call 'Little Finland'? The labyrinth of over 800 ponds formed from glaciers over 12,000 years ago, looks like nowhere else in the country and is the perfect pit stop for fishing and water sport fans.
Bourges Cathedral
The gothic-style cathedral in the Loire Valley, sits slap bang in the middle of France and is famed for its ornate architecture and 13th century stained glass windows.
When you're done surveying the buttresses, bell towers and brilliance of the building, Bourges itself is a charming city filled with surprises. Try heading to the old town or the Marais de Bourges, an unusual space filled with marshes and close to the city centre.
For a limited time, get FREE car health check with European breakdown cover.