Every year approximately 4.2m holiday-makers choose to travel to Europe by car, and it's easy to see why.
Driving holidays are a great way to take control of your holiday, offering both freedom and flexibility.
Often the most stressful part of preparing for your holiday, however, is packing your car.
Did you know that packing the car is most likely to be completed by men (37%) with women 10% less likely to do so, and only 23% of families complete the task together?
To start the holiday without a glitch, RAC European Breakdown Cover has asked RAC patrol Andy Wistance to make a 'packing a car guide' to ensure all your essentials are packed safely and securely ensuring an even weight distribution.
You can read our guide below or simplyw atch the short video at the bottom of the page.
MORE TRAVEL: Where do I need an International Driving Permit and how do I get one?
We have also made a downloadable travel abroad-checklist of all the essential items you may need when driving in Europe - so you can tick as you go and guarantee you don't leave anything behind.
Best way to pack the boot
For a safe and easy drive, it is important to maintain an even weight distribution throughout the vehicle.
Place the heavier items towards the centre of the vehicle and the larger items towards the back.
Do not pack items above the headrest level.

Items above the head restrict rear visibility and under braking can fly forward and hit the passengers.
Best way to pack the roof box
Once you have placed the heavier items in the car, lighter items can be placed in the roof box.
Items such as duvets, blankets and sleeping bags should be placed in the box and locked securely.
When you have finished using the roof box, always remove it from the vehicle as it can add to fuel consumption.
READ MORE: Top ten tips for driving through France
ALSO: Temporary car insurance - cover from one hour to 30 days
Don't get stung with fines abroad for not having a European Driving Kit.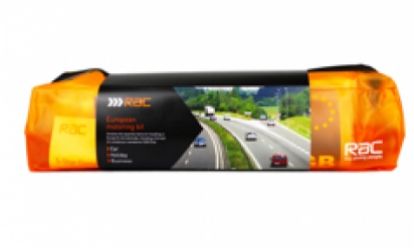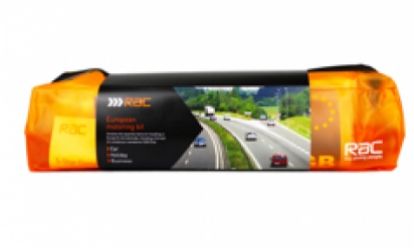 Adjusting the tyres after the car has been loaded
Due to the additional weight, in most cases you'll then need to adjust your car's tyre pressures according to the manufacturer's specifications.
The easiest way to do this is with a mobile tyre inflation device.
Plug the device into the car's power source, set the tyre pressure, press 'go' and your tyres will be adjusted to the correct specification.
A bottle of tyre glue can also prove to be handy just in case you get caught with a puncture and do not have a spare tyre.
There are many different legal requirements for driving abroad (if you want to read up on what you need to carry to drive on the other side of the channel then read our Top 10 tips for driving in France), but what are the essential items that aren't necessary by law that should find their way into your suitcase?
Here are our top 10 items to pack when travelling abroad:
1. Travel money

Unfamiliar driving conditions mean accident risks are inflated, so don't forget to pack some foreign currency in case you get stranded. Credit cards are widely accepted, but a small amount of cash could buy you a hotel room for the night or some food when you need it most. It's handy for road tolls, too.
2. Travel plug

Even if you're going camping don't forget your travel plug, if only to keep your mobile phone charged in case of an emergency.
Electricity on the continent is produced at under half the voltage in the UK, so remember, with a European-to-UK adapter it might take a little while for your mobile to charge.
3. Legal requirements

It's important to check out what you're required to carry by law for the different countries you'll be driving through.
With an English registration plate, your car is potentially more open to a spot check by foreign authorities, so make sure you've got everything you need – consult our Top 10 tips for driving in France for more information.
4. Appropriate clothes

Correct clothing is important – you wouldn't pack a bikini on a skiing holiday or a waterproof for a beach break (hopefully), so make sure your attire will be suited to the weather.
It's especially important if you're going to be driving in remote areas, as help may take a while to arrive should anything go wrong.
That means plenty of sun cream if needed, too.
5. Games and activities

If you're travelling abroad by car then you'll likely have a long journey to take in.
Bring plenty of games, activities and pastimes if you've got young children – it'll keep them quiet for a while and the whole family more relaxed.
Check out our Top 10 car games and Top 10 car apps for children for some ideas.
6. Insurance and breakdown cover

Make sure you take any foreign travel or insurance documents – for your family and your car – with you.
If you haven't got overseas breakdown cover for your vehicle, maybe its time to think about investing in one of the RAC's comprehensive packages for driving in France to give you peace of mind on your travels.
7. Camera

A camera is always a great way to capture the memories of that fantastic family holiday, but if you should have a small bump or worse while you're away, a digital camera (it can even be a mobile phone) will help document damage and provide evidence in an insurance claim if it's not your fault.
8. Double up

If your sat-nav breaks, will you know where to go?
No?
Then pack a road atlas as a back up.
Double up on other essential items that could break or be disastrous if lost, too – if your car has two keys, bring both sets and keep the spare safe in case they get misplaced.
9. Leave information at home

What you leave at home is as important as what you pack – leave your travel details, where you are staying, how long you're away for and a contact number with a friend or relative at home so they can raise you if they need to.
10. Knowledge

Finally, make sure you're equipped for your journey by researching the route and being prepared – acquiring valuable knowledge to take with you can help if you get lost or stranded and gives you an advantage in most situations. It could help you save money, too.
Learn rules of the road for the country you're visiting
For many holiday makers, the focus is on their destination and the route they are going to take. However, many drivers forget to check the rules of the road of the country they are visiting.
In fact, 43% of drivers spend less than two hours researching driving regulations, while 14% spend just half an hour doing the necessary research and a further 6% admit to committing no time at all to it.
MORE ADVICE: The RAC's guide to towing and packing a caravan
It is important to remember that different European countries have different driving laws and requirements.
From speed limits and alcohol levels to road signs, it is essential you familiarise yourself with them before you set off on your journey.
Find further information here on RAC European Breakdown Cover.
UPDATE: you may need a Crit'air sticker for driving in France