If you and the family are looking at taking a holiday in Germany, would you consider driving there from the UK? This guide looks at the best possible routes, what documents you will need, and some helpful tips for having an unforgettable adventure.
With the ongoing disruption facing millions of holidaymakers this summer due to the issues all airports are facing, many have looked at alternative ways they can enjoy their breaks abroad.
Once you have decided to drive to your mainland European destination – there are several factors you need to consider.
First of all, you will need to decide the best route into France – Ferry or Eurotunnel. Once decided, your European road trip to Germany can begin.
Preparing for your German road trip
However, before you leave home, there are some essential checks you need to make on your vehicle.
Everyone wants their holiday to be stress free – so be prepared. So, when it comes to preventing a breakdown, remember the acronym FORCES, which stands for Fuel, Oil, Rubber, Coolant, Electrics, Screen wash.
Here at the RAC, we have profiled 12 essential car maintenance checks you should make on your vehicle before leaving on your holiday.
Once completed, you are ready to go! However, should any of these issues be unresolved, or maybe you are unsure your car can cope with the journey, take your car for a service at your local RAC Approved Garage.
With your car now in its best condition for a road trip, it's time to get ready. Packing for a European road trip involves a lot of planning.
For the safety of you, your passengers and other road users, it is important to maintain even weight distribution and not block any windows. Follow the guide for the best practices for packing and being prepared for the road ahead.
Finally, there are a number of requirements for drivers traveling across Europe.
There are a number of requirements you might not be aware for when driving in Europe, so it's worth downloading our checklist, as well as reading this guide carefully to find out everything you need to drive in Europe.
What documents will you need?
Now that you are packed and your car is in perfect road condition for your next holiday, you will need to bring along a series of important documents.
You'll need your full, valid UK driving license, your UK passport, a copy of your car insurance document, your V5 registration form, and a 'UK' sticker attached to your car.
All vehicles that feature the letters 'GB' or have the European Union flag are no longer valid when travelling in Europe after Brexit.
Finally, you will also need European Breakdown Cover, which provides a wide range of benefits should you breakdown in Germany to ensure you stay safe.
The RAC also offers travel insurance, which will cover you for medical expenses, baggage, personal money, and belongings, among many other benefits.
For a limited time, get FREE car health check with European breakdown cover.
Route from the UK to Germany
Now that you and the family are ready to set off, you have a decision to make – what is the best route from the UK to Germany?
Once you have decided if you will take the Ferry or Eurotunnel into France, there are several ways to get to Germany. In the map below, there are three examples of how you can travel from northern France to the German capital, Berlin.
The first one is a direct route, and is around 985 km and will take around 10 and a half hours. You will travel along the northern coast of France into Belgium, past Bruges, Ghent, and Antwerp, and then into Holland.
Heading through Eindhoven, you will continue east until you reach Germany.
From there, you will pass through major cities as Dusseldorf, Dortmund, Hannover, and then into Berlin. This should cost up to £800 for a round trip, with stop offs in and around these destinations.
The second route takes you on a pit stop to the French capital of Paris, up through Luxembourg and then into Germany. If you choose this route, then read up on Crit'Air stickers and the French toll roads that you may have to pass through.
German roads are free of charge for vehicles up to 3.5 tonnes, except for two roads that go through tunnels in the north of the country.
The final route takes you along the northern parts of France, Belgium, and Holland, through Amsterdam towards Hamburg and onto Berlin.
Of course, there are many different ways to get to your German destination. The RAC Route Planner can help take the stress out of planning your journey.
Benefits of driving to Germany
If you have been looking at taking a holiday to Germany, there are many advantages to driving over other modes of transport.
Once you're packed and ready to go on your next holiday in your car, you can set off towards the south coast whenever you like.
By choosing to drive, you're not at the mercy of the strict timings and possible delays often encountered at the airport – especially at the moment!
If you choose to take your car, you can have your own choice of entertainment, food, and passengers on the journey – and stop whenever and wherever you want. Perhaps you pass something interesting, or have planned a few stops on the way – you control where you go and how you spend your time (traffic permitting).
Also, from a practical point of view, if you've chosen to drive across Europe, you'll be able to take more items with you – and bring more back from your adventure in Germany (and all the stops along the way)!
For those tourist who are interested, you can also take advantage of towing a caravan and installing a bike rack to see more of the country.
Other than the above advantages of driving to Germany, current airport crisis but also same as previous articles
Driving in Germany
Once you have gone through border control and entered the country, there are some important factors to consider on the way to your final destination.
In addition to essential documents and a UK sticker on your car, motorists are also required by law to carry the following items to avoid hefty on-the-spot fines: reflective jackets, warning triangle, headlamp beam deflectors, first-aid kit, winter tyres (during the winter months), and a crash helmet if you're riding a moped, motorcycle or cycling on a road.
Our European driving kit has all the essentials you need for driving in Germany.
If you get into any trouble on your holiday, you can dial 112 from anywhere in Europe and an operator will connect you to an emergency service in the country you're visiting.
You should familiarise yourself with the speed limits in Germany before you leave, as the punishment for breaking the law can be severe.
For more of an understanding of the rules of the road, check out our guide to driving in Germany.
Finally, another key piece of preparation ahead of your next road trip in Germany is to know the road signs you will see across the country.
Driving on the Autobahn
One of the most unique aspects of driving in Germany is to be behind the wheel on its iconic stretch of motorway – known as the Autobahn.
According to the German government, there are 8,080 miles of Autobahn throughout Germany, with the distinctive roads being easily identified by a unique set of blue and white signs. Another set of highways in Germany, the Gelbe Autobahn (yellow Autobahn), features yellow signs.
Below are the signs you should look out for and what it means in terms of speed limits.
You'll know you're entering the Autobahn when you see this sign: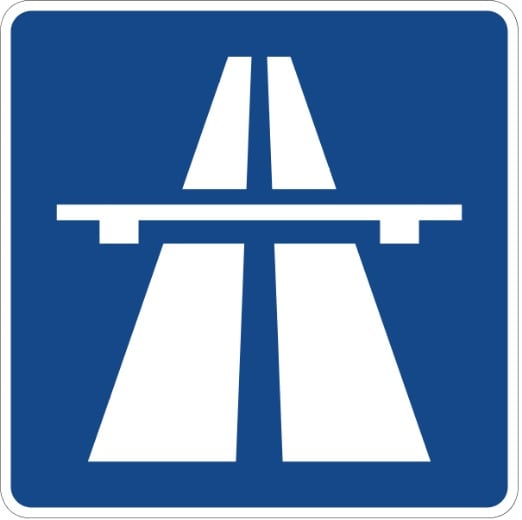 If speed limits apply, you'll see a black number on a round white sign outlined in red.
The sign below indicates the end of speed limits looks like our 'national speed limit applies' sign: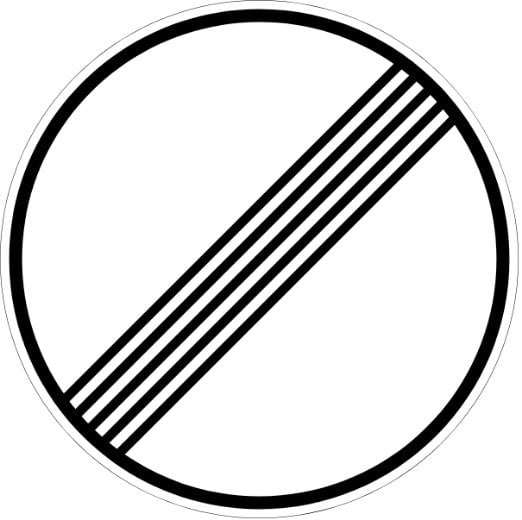 From here, previous restrictions on overtaking and speed limits no longer apply. An advisory speed limit of 130kph or 81 mph is recommended for all vehicles under 3.5 tonnes including passenger cars above 3.5 tonnes. Remember, on roads without speed limits, it's likely that someone is travelling faster than you, so you should move out of the left lane as soon as it's safe to do so.
For more, visit our Autobahn guide.
Best road trips in Germany
With your route planned, car packed and important documents with you – your German adventure can begin.
The country has some amazing sites and incredible cities to visit!
Germany is home to some of the best road trip adventures in Europe, so don't delay and pick the best one for you and your family.
For all other advice on driving in Germany, visit the RAC's Germany hub for more.
Are you interested in driving to Germany? What route will you be taking? Maybe you've driven to the country before – what advice would you give to them looking at making the journey for the first time? Leave your comments below.
For a limited time, get FREE car health check with European breakdown cover.
German Autobahn FAQ
What is the fastest speed ever recorded on the autobahn?

The fastest speed ever officially recorded on the German autobahn is 432.7 km/h (268 mph). It was set by German racing driver Rudolf Caracciola in 1938 in a Mercedes-Benz W125 Rekordwagen.

Why does Germany have no speed limit?

The German government passed the Road Traffic Act in 1934, where speeds in urban areas were limited to 60 km/h (37 mph). No speed limit was stated for autobahns and this hasn't changed much. In recent years, the German government has recommended a maximum speed of 130 km/h (80 mph), however, there are no restrictions in the de-restricted sections of the autobahns.

What is a German motorway called?

A German motorway with certain areas where there are no speed limits is called an Autobahn.

How fast can you go on the autobahn?

The German government recommends a maximum speed of 130 km/h (80 mph) on its motorways, however, there are no restrictions in the de-restricted sections of the autobahns - meaning drivers can reach very high speeds.