On 24th December 2020, the EU and UK came to an agreement on a post-Brexit trade deal.
To help our members, we have provided an overview of what will be needed if you are driving in the EU/EEA countries from the 1st January 2021 following the end of the transition period.
Please note that this advice is correct as of 29th December 2020
European Breakdown Cover
The RAC will continue to provide breakdown cover through our partners operating within the European Union, either on an annual basis or just for a single trip.
With our comprehensive plus European breakdown cover, there is no limit to the costs to get your vehicle home. If repairs cost more than £500 you can choose to have your car brought home instead of having it repaired in Europe, providing the vehicle is not beyond economical repair.
It is vital that you also have the correct documentation with you after the UK leaves the EU. Whilst these requirements are yet to be decided, they may include an International Driving Permit and Green Card insurance documents.
Get covered when driving in Europe from just £7. Plus, get a full refund if Covid-19 restrictions prevent travel.†
Passport validity
For travel to Europe, UK passports should:
have at least 6 months validity left
and, be less than 10 years old
UK passport holders should check its validity using the Government's online passport checker.
If required, apply for a new passport in good time – it may take up to 10 weeks to renew online. It may take longer for a first adult passport.
Burgundy passports, whether with "European Union" on the cover or not, remain valid alongside the new blue passport.
International Driving Permits
If you have a photocard driving licence, an International Driving Permit (IDP) will not be required for short visits. However, there are some exceptions.
For example, people who only have a paper licence, not a photocard one should purchase an IDP. Those that have licences issued in Gibraltar, Guernsey, Jersey or the Isle of Man may also need an IDP.
All types of IDP are available over the counter at most Post Office branches. The RAC no longer issues IDPs. It is important to ensure you have the right IDP for the EU country you are travelling in - the GOV.UK website has the most-up-to-date information.
An IDP will cost £5.50, however if you are travelling to multiple countries where different IDP versions are required, you would need to purchase both the 1949 and the 1968 versions of IDPs, costing £11.
Read our guide to IDPs in other non-EU states for more information.
Green Card insurance
You will need to obtain a green card from your insurer for the vehicle you are driving if you're driving in the EU, EEA, Switzerland, Serbia or Andorra, from 1 January 2021.
Green Cards are an international certificate of insurance issued by insurance providers in the UK, guaranteeing that the motorist has the necessary third-party motor insurance cover for travel in the country being travelled to. The UK Government advises that you can now print green cards yourself. They no longer need to be printed on green paper.
Motorists should contact their vehicle insurers to obtain a green card both for their car and, if they are towing, for their trailer or caravan as well. There may be an administrative cost involved.
As of December 2020, the UK Government advises that if you need a physical copy of a green card, you will need to contact your vehicle insurance provider at least 6 weeks before you travel.
You will need to show green cards if you are involved in a road traffic collision. You may need to show green cards at police checks and at the border when entering the EU/EEA or moving between EU/EEA countries. This is likely to depend on the authorities at the border of each country.
Keep up to date here.
GB stickers post-Brexit
UK-registered cars will need to display a GB sticker when driving in any of the 27 EU countries – though you do not need to display a GB sticker to drive in Ireland.
In January 2021, the UK Government announced a makeover for newly registered number plates and licences. UK drivers with these new style number plates won't need to display a GB sticker in most EU countries.
Stay on the right side of the law by buying a European Driving Kit from RAC Shop which contains the GB sticker you need as well as other legally required items for driving abroad.
Taking your pets abroad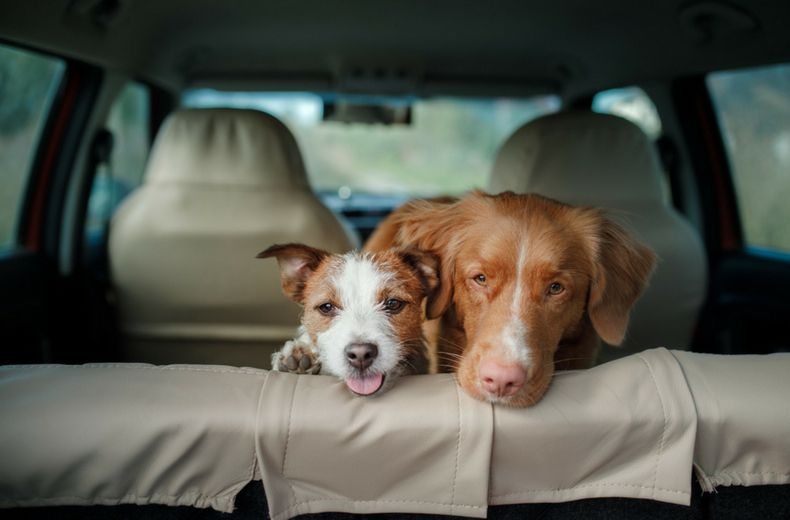 The Government has updated its guidance on taking pets abroad from 1st January 2021. A current pet passport issued in Great Britain will not be valid for travel in the EU or Northern Ireland from 1 January 2021.
Great Britain (England, Scotland and Wales), including the Channel Islands and Isle of Man, will become a Part 2 listed third country under the EU Pet Travel Scheme from 1 January 2021.
Before your dog, cat or ferret can travel to the EU or Northern Ireland, you'll need an animal health certificate (AHC) instead of a pet passport. Government guidance states:
You must have your dog, cat or ferret microchipped.
Vaccinate your dog, cat or ferret against rabies – your pet must be at least 12 weeks old before it can be vaccinated.
Wait 21 days after the primary vaccination before travel.
Visit your vet to get an AHC for your pet around a month before your travels and no more than 10 days before travel to the EU.
Further guidance on the process can be found here.
UK nationals living in Europe
If you live and drive in the EU or in an EEA country, Government guidance says you will need to exchange your UK driving licence for a local one.
The deadline for this depends on which country you live in. The Government's advice lays out the situation depending on which country you live in.
Road traffic accidents in Europe
In the event of a road traffic accident in an EU country you should in the first instance contact your insurer.
The Government has indicated that after Brexit, UK residents involved in a road traffic accident in an EU or EEA country 'should not expect to be able to make a claim in respect of that accident via a UK-based Claims Representative or the UK Motor Insurers' Bureau (MIB)'.
Instead, UK residents may need to bring a claim against either the driver or the insurer of the vehicle country where the accident happened.
In the event of an accident in an EU or EEA country caused by an uninsured or an untraced driver, UK residents may not receive compensation. Contact your insurer for more information.
This scenario could differ depending on the country.
Vehicle registration documents
If you are taking your vehicle to the EU for less than 12 months, you should carry one of the following documents with you:
your vehicle log book (V5C), if you have one
a VE103 to show you're allowed to use your hired or leased vehicle abroad
Vehicle on Hire Certificate
UK motorists travelling abroad in a UK registered vehicle must carry its original Vehicle Registration Document (VRD). If your vehicle is hired or leased, the hire/lease company will not usually release the original VRD. The Vehicle on Hire Certificate is the normal alternative, which can be carried by the driver in lieu of the original VRD.
To find out more information including how to get a Vehicle on Hire Certificate, read our guide.
Did you know you could be fined up to €530 for not carrying the right kit with you in France?