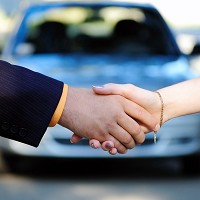 Motorists are taking needless risks by not checking a car's history before they buy, according to a new RAC study.
The research shows that almost nine in 10 drivers buying a car privately - or 2.5 million out of 2.8 million - do not check its history.
The motoring organisation says that many motorists are paying the price, sometimes running into thousands, for not doing their homework beforehand.
The RAC estimates that private car buyers are shelling out more than £6.1 billion every year on motors which may have potentially costly secrets lurking in their history. It bases this calculation on the average private car sale costing £2,465.
More than 21,000 online checks from the Car Passport service, which takes only a minute to carry out, were examined.
Of these, nearly one in four revealed serious car history issues. One out of eight of these still had finance owing, one in 10 had been written off by insurers and one in 100 had had their colour changed.
A further 0.1% were documented as being scrapped, while 0.05% were registered as stolen or imports.
Separate Car Passport research shows that a third of drivers using the RAC service decided not to buy after looking at their intended motor's history.
Two in three motorists went on to complete their purchase, nearly half of them (48%) within two days.
The RAC urged used-car buyers to prove that sellers have totally settled any finance deals by running it through its Car Passport examination.
It also says a professional check is needed on possible colour changes as re-sprays may conceal accident damage.
Checking if a car has been imported is also vital, as is seeing whether a car has been written off, says the RAC. Categories B and A write-offs mean it is unlawful to drive them. Meanwhile, D and C write-offs denote that insurance firms think damaged cars are not financially viable to get repaired.
Robert Diamond, managing director for RAC Car Passport, says: "These figures reveal the risks used-car buyers are taking by not obtaining a simple car data check to uncover any suspect history their intended purchase may be hiding.
"Buying a car can be a stressful experience because of the sums of money involved so it makes sense to find out as much as you can about a car's history as it may just save you thousands of pounds.
"The RAC Car Passport is a wise investment because it gives buyers greater insight into a car's past, enabling them to either proceed with their purchase with confidence or back out without getting their fingers burned.
"Our analysis shows very clearly that a significant number of people have done the latter by using the information in the RAC Car Passport report to avoid buying a 'lemon' - saving them a great deal of money and stress in the process."
Copyright Press Association 2015
https://www.rac.co.uk/buying-a-car/car-passport/ (Car Passport)