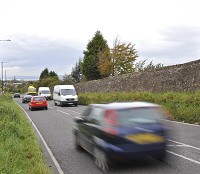 More than 1.7 million motorists broke the law by driving uninsured vehicles last year, a study estimates.
London is thought to have the highest proportion of vehicles without car insurance cover in England with 13% identified as uninsured, according to the Motor Insurers' Bureau (MIB).
Merseyside was the second worst area with 12% of vehicles flagged as being driven without car insurance, followed by Greater Manchester at 10%, and West Yorkshire and the West Midlands in joint fourth place at 7%.
The research also found that the worst postcode for uninsured drivers is BD3 - Barkerend in Bradford - where nearly half of all registered vehicles do not have motor cover. Six of the 10 worst postcodes were found to be in the West Midlands.
Ashton West, chief executive of the Motor Insurers' Bureau, said: "The fact that 1.7 million motorists still take to the roads without insurance is staggering; but there is no doubt that the number of drivers caught each year is increasing significantly, so drivers simply cannot afford to be complacent.
"Indeed, the number of drivers across the UK who were caught without insurance last year would fill Wembley Stadium more than twice. The message to motorists is clear: driving uninsured is simply not worth the risk."
Copyright © Press Association 2009