When was the last time you brushed up on the rules around UK speed limits?
Most of us think they're fairly obvious, but do you know how fast you're allowed to go if you have to tow a trailer? Or drive a van? And how fast can you really go on motorways?
If you don't know the ins and outs of the law, you could face an on-the-spot fine and penalty points for straying over the limit – or go to court, where you could be disqualified from driving. Remember, ignorance isn't a defence.
Speed limits: the law
Speed limits were first introduced in the UK in 1861 as part of the Locomotives on Highways Act. This limited vehicles to 10mph, before the 1865 Locomotive Act reduced this to 4mph in the country and 2mph in the city.
Thankfully, things have moved on a bit since then and today UK car speed limits are generally 30mph in urban areas, 60mph on main single-carriageway roads and 70mph on dual carriageways and motorways.
There are exceptions, however, and many speed limits depend on the type of vehicle.
For example, most vans are only allowed to travel at 60mph on dual carriageways and 50mph on national-speed-limit single carriageway roads.
If you break the speeding laws you could face a fine and points, or potentially be summonsed to court where you could even lose your licence.
Find out the penalties of speeding in our guide to speeding fines.
What are the UK speed limits for different roads
| Type of vehicle | Built-up areas mph | Single carriageways mph | Dual carriageways mph | Motorways mph |
| --- | --- | --- | --- | --- |
| Cars, motorcycles, *car-derived vans and dual-purpose vehicles | 30 | 60 | 70 | 70 |
| Cars, motorcycles, car-derived vans and dual-purpose vehicles when towing caravans or trailers | 30 | 50 | 60 | 60 |
| Motorhomes or motor caravans (not more than 3.05 tonnes maximum unladen weight) | 30 | 60 | 70 | 70 |
| Motorhomes or motor caravans (more than 3.05 tonnes maximum unladen weight) | 30 | 50 | 60 | 70 |
| Buses, coaches and minibuses (not more than 12 metres overall length) | 30 | 50 | 60 | 70 |
| Buses, coaches and minibuses (more than 12 metres overall length) | 30 | 50 | 60 | 60 |
| Goods vehicles (not more than 7.5 tonnes maximum laden weight) | 30 | 50 | 60 | 70 (60 if articulated or towing a trailer) |
| Goods vehicles (more than 7.5 tonnes maximum laden weight) in England and Wales | 30 | 50 | 60 | 60 |
| Goods vehicles (more than 7.5 tonnes maximum laden weight) in Scotland | 30 | 40 | 50 | 60 |
*What is a car-derived van?
Car-derived vans are vans which are based on the same platform as cars, and are typically designed to weigh no more than two tonnes when fully loaded.
They usually look exactly the same as cars, but without rear windows or seats. Popular examples include Vauxhall Corsa and Ford Fiesta vans.
Because these generally drive the same way as cars on which they're based, they are allowed to follow the same speed limits as standard cars.
Be careful: if you're not sure whether a van you're driving is car-derived, check the log book (V5). The 'body type' section will tell you whether it's a car-derived van.
Most vans are not car-derived, and thus subject to lower speed limits than cars. This includes Ford Transits, including the smaller Transit Connect.
READ MORE: speed cameras- where they are and how to spot them
Variable speed limits
Variable speed limits are increasingly being used on so-called 'smart motorways' across the UK. These monitor traffic flow and can make adjustments to reduce congestion when required – for example, by operating the hard shoulder as a live traffic lane, or introducing a temporary speed limit when there's congestion ahead.
This variable speed limit is displayed on the gantries across motorways, and usually enforced by average speed cameras behind the signs.
They can be introduced for safety reasons, such as during roadworks or if there's a stranded vehicle ahead, or to slow down traffic and ease congestion further up the motorway.
Variable speed limits are popular on the UK's busiest motorways, including the M25, M1 and M6. The penalty for breaking a variable speed limit is the same as for breaking a fixed one.
Want more useful content like this sent straight to your inbox?
Fixed speed limits
Fixed speed limits are the most common kind of speed limit. These are usually identified by a number within a red circle on road signs entering the speed limited area – such as a '30' when entering an urban area.
Outside 20, 30, 40 or 50mph zones, the majority of UK roads are classed as 'national speed limit', denoted by a grey, circular sign with a single, black, diagonal stripe through it.
For cars, 'national speed limit' means a limit of 60mph on single carriageway roads and 70mph on dual carriageways and motorways.
Fixed speed limits are often enforced by fixed 'Gatso' speed cameras or temporary camera vans positioned in speeding hotspots.
The most serious speeding offences end up in court and could result in a hefty fine or even a driving ban. For more information on this, read our speeding fines page.
Minimum speed limits
Minimum speed limits are rare in the UK, but they do exist in places where going too slowly can cause increased congestion or high risk of a crash, such as in tunnels.
They're marked by a blue, circular sign containing the minimum speed limit, while the end of a minimum speed limit is signalled by the same sign with a red line through it.
Although there isn't an official minimum speed limit on most motorways, travelling too slowly can be considered dangerous and you might attract the attention of the police.
In this case, you'd usually be let off after a verbal warning, but you could be prosecuted for careless driving.
20mph speed limits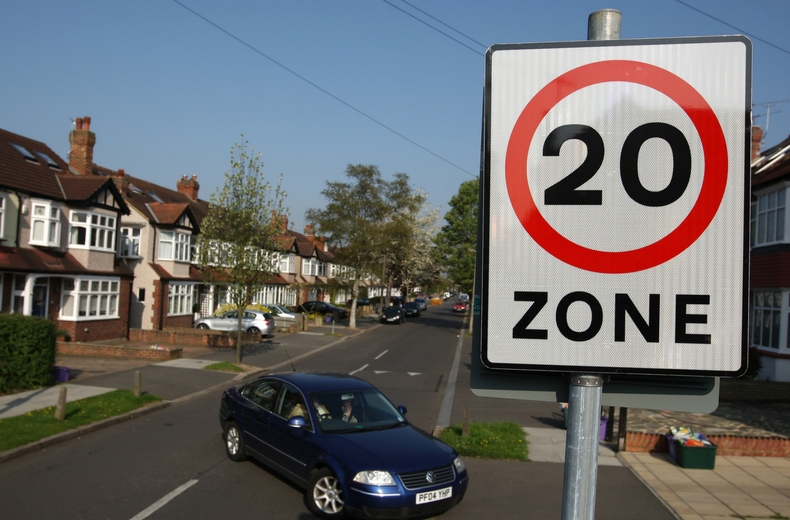 Local councils are introducing 20mph speed limits in areas where traffic regularly interacts with other vulnerable road users, such as children and cyclists.
These could be on small residential roads or near schools, and are often enforced by traffic calming measures such as speed bumps and chicanes to physically slow cars down.
There is a lot of discussion around the effectiveness of 20mph zones. Manchester City Council recently admitted that it noticed an average drop in speed of just 0.7% since introducing 20mph limits across more than 1,000 30mph roads over the last few years.
Are speed limiters a legal requirement?
It's a legal requirement for speed limiters to be fitted to vehicles with more than eight passenger seats, such as buses, coaches and limousines, as well as goods vehicles with a maximum laden weight of more than 3.5 tonnes.
They usually work by restricting the fuel supply to the engine when the vehicle reaches its maximum speed, and mean some vehicles aren't capable of reaching or breaking speed limits.
Many fleet operators also fit them in a bid to reduce CO2 emissions and improve fuel economy.
Ford offers speed limiter technology on cars, through the Ford MyKey system. Parents can program a key for their children that, when used, will restrict the car to a pre-defined speed limit.
Most manufacturers are also now offering manual speed limiters, which drivers can set themselves. They're a useful way to ensure you don't unintentionally break the limit in, for example, average speed zones.
READ NEXT: The faster you drive the more fuel you use - the RAC's top fuel saving tips