Due to growing media attention and increased lobbying from the RAC the Government took action and strengthened the penalties for those caught using a handheld mobile phone while behind the wheel.
Rated 4 out of 5 stars on Trustpilot from over 20,000 reviews*.
Image credit: iStock.com/Artist's Member Name
Using a hand-held mobile phone while driving is illegal. It is also illegal if you are a passneger supervising a learner driver.
Mobile phone driving laws were first enacted in December 2003, and since 2007 the penalty was three points on your licence and a fine (£60 at first, but £100 from 2013).
But from 1 March 2017, the penalty doubled – so being caught using a mobile phone while driving carries a penalty of six points and a £200 fine.
The RAC has campaigned to toughen the penalties because we know growing numbers of our members are frustrated at seeing other road users flout the law.
Interestingly, further RAC research has uncovered that up to now, police forces have had the power to offer awareness courses instead of penalties for hand-held mobile phone use. And that almost two in three drivers caught under the law chose an awareness course instead of points and a fine.
The Government has suggested that the use of educational courses should not be an option for those caught using a hand-held mobile phone behind the wheel, however, senior police officers have suggested that they wish to retain that option as an appropriate course of action in some cases.
Want more useful content like this sent straight to your inbox?
You are allowed to use a phone if it is fully hands-free – you're not allowed to pick it up and operate it even momentarily.
Any hands-free devices should be fully set up before you drive, so you can take calls without handling the device.
The police still have the power to stop you if they believe you have been distracted by using a mobile phone while driving, even if it's fully hands-free. Some road safety groups believe mobile phones should be completely switched off while driving, to avoid any distractions.
It is no excuse to say you're simply following the mapping on your hand-held device and that's why you've picked it up. The mobile phone law specifically refers to this, stating it is illegal to use a hand-held mobile to follow a map.
If you wish to use smartphone navigation or a mapping app, fix the phone to the windscreen or dashboard, so it's in clear view for use while driving (but not obstructing your view), without requiring you to hold or interact with it.
DID YOU KNOW: It is illegal to smoke in a car in certain circumstances - 13 driving myths uncovered
The law is clear on when you can use a hand-held device behind the wheel. It is only legal if you are safely parked – and this does not include waiting in traffic or when sat at the traffic lights.
The law also includes a proviso for emergencies: you are allowed to make 999 or 112 calls on a hand-held device while driving, but only if it's not otherwise safe to stop.
Contrary to what many drivers seem to think, the law still applies when your vehicle is stopped at lights or in a traffic queue. If your engine is running, your phone should be nowhere near your hands. This is still the case if the engine stops automatically to save fuel (called 'start-stop technology).
In the RAC Report on Motoring 2016, a staggering 47% of drivers said they think it's OK to check social media or text messages while stopped in traffic.
Using hands-free phone kits is currently legal in the UK, although police still have the right to penalise any hands-free user they think is being distracted and isn't in control of their vehicle.
Transport Secretary Chris Grayling says increasing fixed penalties will be a "strong deterrent". And that's what is needed.
Figures for 2016 - the most recent available - show there were 32 fatal crashes on UK roads where mobile phone use was a factor.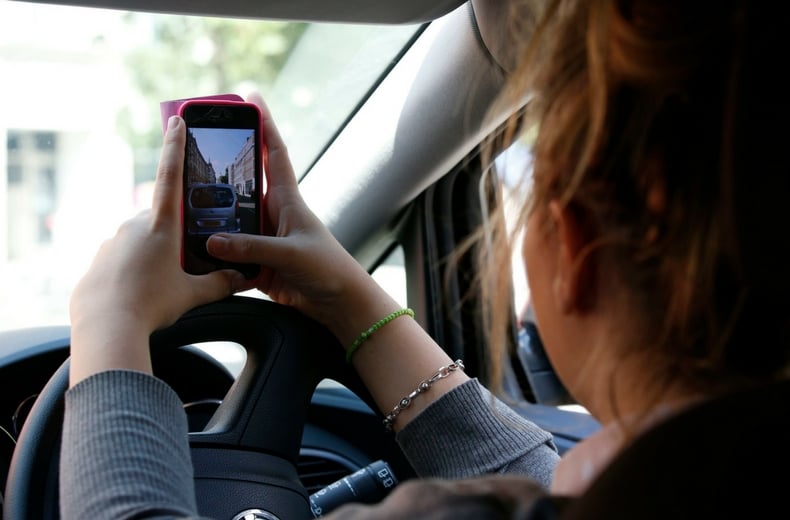 The penalty for being caught using a hand-held device while driving has been increased since the law was introduced in 2003. It was originally just £30. Today, it is a Fixed Penalty Notice of £200, and six penalty points on your licence.
Absolutely. The changes effectively mean that if a new driver (someone who has held a licence for less than two years) is caught using a hand-held device behind the wheel, they will lose their licence. Drivers are only allowed to clock up six penalty points in their first two years of driving, rather than the normal 12.
More experienced motorists can lose their licence if they receive 12 points in a three-year period – so just two mobile phone incidents under the new law.
Also if the police feel it is a particularly extreme example of using a mobile phone behind the wheel, the driver could be taken to court. Here, the maximum fine is £2,000, and guilty drivers could face disqualification.
Motorists involved in an accident caused by using a hand-held device behind the wheel face stiff penalties as well. For example, the government is considering increasing the penalty for causing death by dangerous or careless driving from 14 years to life imprisonment. A two-year driving ban is also obligatory.
Despite mobile phone laws becoming stricter, British motorists are, worryingly, becoming more willing to use hand-held devices behind the wheel.
Despite it being illegal, one in five motorists admit they check social media in traffic, according to the 2016 RAC Report on Motoring. This is a 15% increase on 2015 figures. Indeed, almost one in two drivers will use their phone for calls while stuck in traffic.
Worryingly, 14% say they take images or video while driving, 20% have written emails, texts or social media updates behind the wheel, and a stout 6% admit they use their hand-held phone "most or all of the time" while driving.
The RAC Report on Motoring says "it is difficult to say to what extent the distractions from hand-held mobile phone use cause accidents, or whether this problem has become more acute, but it is likely that official statistics understate the problem". In other words, however alarming the stats are here, the reality is probably even worse still.
The easiest way to not be distracted by using your mobile phone in the car is to switch it off. Treat the cabin of your car like you do an aircraft, and put your phone into flight-safe mode before you drive. The liberation you feel when driving without worrying about the phone is really satisfying.
If you have to stay in touch, make sure your phone is paired up to Bluetooth, so you can still take calls. Bluetooth devices cost little and, increasingly, modern cars have Bluetooth connectivity as standard.
But place the phone in the glovebox or keep it in your pocket, case or handbag, out of sight, with the sound turned off, so you won't be distracted by the screen lighting up or message alert sounds.
Some drivers use their smartphone's 'do not disturb' mode while driving, which will only allow calls from favoured numbers, silencing all other calls and alerts.
There are apps to help you beat any addiction to using a hand-held phone behind the wheel. One of the most popular is called LifeSaver, available for iOS and Android devices. This cleverly uses a combination of GPS monitoring and a rewards system to help overcome distracted driving. It blocks the phone while driving (including text messages), and can automatically alert others that you've arrived safely at your destination, if you wish. There's an online 'Driver Portal' Lifesaver dashboard that can be accessed by parents or commercial fleet managers, to reward drivers using the app and building up points. This will also, however, display transgressions.
There are lots more tips on the RAC's Be Phone Smart campaign website.
Members of the public can report repeat offenders anonymously by calling Crimestoppers on 0800 555111.
We have created a campaign, Be Phone Smart, that encourages drivers to take a positive step by committing to not using a handheld phone – quite simply, to make an online promise to keep within the law, to keep their focus on the road ahead, and to share the message on to other people that they know.
The campaign website include tips and advice on staying safe and legal, answers common questions (such as 'can I touch my phone if I am using it hands-free'), and features videos that discuss the whole issue of phone use by drivers in the UK.
Make your promise to not use a handheld phone at the wheel today.
Read next: A complete guide to speed camera fines
Want to protect yourself against any losses after an accident? Get legal expenses insurance for just £15 a year with RAC Legal Care Plus.
Want more useful content like this sent straight to your inbox?