Using a handheld mobile phone while behind the wheel is a controversial and incredibly dangerous issue.
Back in 2016, Theresa May pledged to make it as socially unacceptable as drink-driving. But, despite the then Prime Minister's plans, little seems to have changed.
Our 2020 Report on Motoring found that almost a third of Britain's 40 million drivers – roughly 13 million people – say that handheld mobile phone use by other drivers is one of their top concerns.
However, due to growing media attention and increased lobbying from the RAC, dangerous loopholes involving using phones behind the wheel have recently been closed.
Our Be Phone Smart campaign and the guide below provide advice on how to use your phone safely and within the rules of the law
What are the mobile phone driving laws?
Source: iStock.com
It's illegal to hold a mobile phone while driving (correct as of April 2021)1 regardless of the reason for doing so. It is also illegal if you are a passenger supervising a learner driver.
Previously, mobile phone laws banned drivers from using their phones for communication purposes. Rules have since been updated to ban drivers from holding their phones for any reason.
The change follows a landmark case in 2019 when a driver overturned a charge for using his mobile phone when driving as he wasn't using the device for communication reasons but filming a crash instead.
Although the updated law appears to allow drivers to tap the screen of their phone while it's fixed on a suitable mount, the police can charge motorists with driving without due care and attention, if they consider their phone to be a distraction.
Mobile phone driving laws were first introduced in December 2003, and from 2007 drivers incurred three penalty points on their licence and a fine (£60 at first, then £100 from 2013).
But from 1 March 2017, the penalty doubled – so being caught using a mobile phone while driving now carries a penalty of six points and a £200 fine.
The RAC has campaigned to toughen the penalties, because we know that growing numbers of our members are frustrated at seeing other road users flouting the law.
Hands-free phone use: the law
There are two things to remember here:
You cannot hold your phone when behind the wheel, even momentarily (this includes when supervising a learner driver).
To use your phone for communication you must have hands-free access.
Any hands-free devices should be fully set up before you drive, so you can take calls without handling the device.
In an August 2019 report, the Commons Transport Committee put forward their case for banning the use of hands-free kits. They suggested that using the technology carries the same risk of collision as a hand-held phone.
The government said there are no plans to introduce a ban.
The police still have the power to stop you if they believe you have been distracted by using a mobile phone while driving, even if it's fully hands-free.
Some road safety groups believe mobile phones should be completely switched off while driving, to avoid any distractions.
Using a phone as a sat-nav: the law
It is no excuse to say you're simply following a map on your phone and that's why you've picked it up.
If you wish to use an app for directions you should fix the phone to the windscreen or dashboard, so it's in clear view while driving (but not obstructing your view), without requiring you to hold or interact with it.
When can you use a phone in your vehicle?
The law is clear on when you can use a hand-held device behind the wheel.
It is only legal if you are safely parked – and this does not include waiting in traffic or stationary at the traffic lights.
The law also includes a proviso for emergencies: you are allowed to make 999 or 112 calls on a hand-held device while driving, but only if it's not otherwise safe to stop.
What if I need to use my phone to track my mileage?
If you have something like Pay by Mile car insurance or Black Box Car Insurance, you may well have an app that tracks your journeys and mileage.
It is illegal to use you phone while you're driving, and these apps shouldn't need you to interact with them while you're on the road. They simply need to be running in the background.
Can I use my phone while driving if I'm not moving?
What are the penalties for using your phone while driving?
Could I lose my licence for using a phone?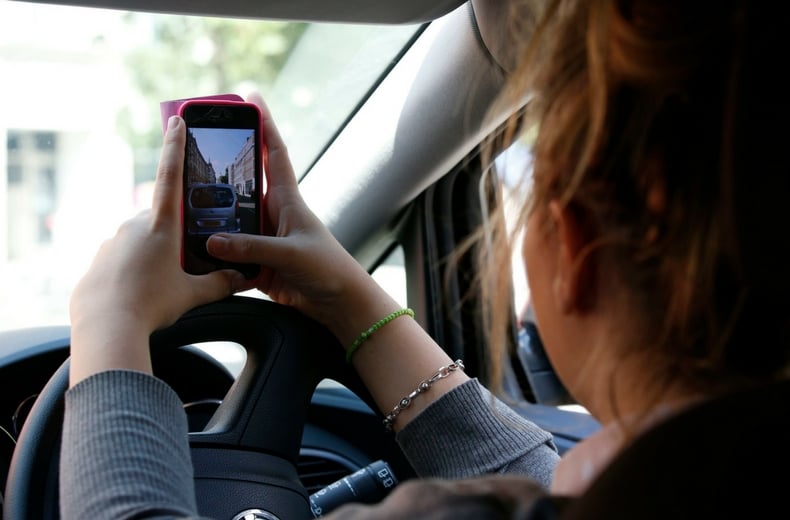 Absolutely.
If a new driver (someone who has held a licence for less than two years) is caught using a hand-held device behind the wheel, they will lose their licence.
Drivers are only allowed to clock up six penalty points in their first two years of driving, rather than the normal 12.
More experienced motorists can lose their licence if they receive 12 points in a three-year period – so just two mobile phone incidents under the current law.
Also, if the police feel it is a particularly extreme example of using a mobile phone behind the wheel, the driver could be taken to court.
Here, the maximum fine is £2,000, and guilty drivers could face disqualification.
Motorists involved in an accident caused by using a hand-held device behind the wheel face stiff penalties too.
For example, the government is considering increasing the penalty for causing death by dangerous or careless driving from 14 years to life imprisonment.2
A two-year driving ban is also obligatory.3
Mobile phone use while driving: the stats
Despite mobile phone laws becoming stricter, British motorists are, worryingly, becoming more willing to use hand-held devices behind the wheel.
The RAC Report on Motoring 2020 found that 29% of all drivers – the equivalent to over 11 million motorists – confess to making or receiving calls on a handheld phone while they are driving, at least occasionally. Up from 24% in 2019.
Dangerous phone use is particularly prominent among young people. A shocking 18% of drivers aged 17-24 admit to making video calls while behind the wheel. Drivers in this age group are twice as likely to do this than average road-users.
23% of all drivers confess that they make or receive calls on a handheld phone while they are driving
Advice and apps to help you stop using your phone
The easiest way to stop your mobile phone from distracting you when driving is to switch it off. Alternatively, your phone might have a driving mode putting a temporary block on sounds, vibrations and notifications.
If you absolutely have to stay in touch, make sure you have hands-free access to your phone so you can still take calls. Bluetooth devices cost little and most modern cars have Bluetooth connectivity as standard.
Try placing your phone in the glovebox, a pocket, or handbag with the sound and vibration turned off. This will prevent you from getting distracted by the screen lighting up or any alert sounds.
There are also apps to help you resist the urge to reach for your phone while driving. One of the most popular is called LifeSaver – Distracted Driving, available for iOS and Android devices.
This uses a clever combination of GPS monitoring and a rewards system to help overcome distracted driving.
It blocks the phone while driving (including text messages), and can automatically alert others that you've arrived safely at your destination, if you wish.
There's an online 'Driver Portal' Lifesaver dashboard that can be accessed by parents or commercial fleet managers, to reward drivers using the app and building up points. This will also, however, display transgressions.
There are lots more tips on the RAC's Be Phone Smart website.
How can I report mobile phone driving offenders?
Members of the public can report repeat offenders anonymously by calling Crimestoppers on 0800 555 111.
Learn more about reporting dangerous driving.
What the RAC says
Our campaign, Be Phone Smart, encourages drivers to take a positive step by committing to not using a handheld phone. Make an online promise to keep within the law, keep your focus on the road ahead, and share the message with others.
The campaign website includes tips and advice on staying safe and legal, answers common questions (such as 'can I touch my phone if I am using it hands-free?'), and features videos that discuss the issue of phone use by drivers in the UK.
Read next: A complete guide to speed camera fines
Want to protect yourself against any losses after an accident? Get legal expenses insurance for just £15 a year with RAC Legal Care Plus.
Mobile phone laws frequently asked questions
Is touching your phone while driving illegal?

Current law forbids holding a mobile phone while driving. Although this could mean you can tap your screen when your phone is fixed on a mount, the police can charge you for driving without due care and attention or careless driving.

Driving without due care and attention will result in a fixed-penalty notice (FPN). This usually means three points on your driving licence and a £100 fine, although some police forces may offer a driver education course as an alternative.

Can I answer my phone while driving?

Can cameras catch you using a phone while driving?

Cameras aren't currently able to catch drivers using a phone while driving in the UK. However alternative technology can detect if a phone is making calls, sending and receiving text messages or using the internet. Hampshire Constabulary and Thames Valley police rolled out the sensor system in early 2019. The system cannot tell who is using the phone within a car, but can tell if it's being used through the handset itself or a Bluetooth system.

Our Report on Motoring 2020 found that 79% of drivers want to see cameras introduced to catch drivers using a handheld phone illegally.

You are driving on a motorway and want to use your mobile phone – what should you do?

If you find yourself on the motorway and want to use your mobile phone to make a call, you should use a hands-free kit. If you do not have a hands-free kit or wish to use features that aren't voice-activated, you should wait until you've pulled over in a safe place and turned off your engine.

A service station is likely to be your best option, as the hard shoulder should only be used for emergencies.

What's the mobile phone driving offence code?

The endorsement code for using a mobile phone whilst driving is CU80. Being caught carries a penalty of six points and a £200 fine.

Can you have your phone on speaker while driving?

Using your phone's speaker in a call is completely legal. Using your hands to answer the call however, could see you land a CU80 charge or a 'breach of requirements as to control of the vehicle, such as using a mobile phone'.

Can you use a mobile phone whilst driving on private property?

Driving offences can only be enforced on those using a vehicle on public roads. The Road Traffic Regulations Act defines a road as "any length of highway or other road to which the public has access."

Is it illegal to have a phone on your dashboard?

It isn't illegal to have a phone on your dashboard, but you must ensure it doesn't block your view of the road and traffic ahead. A windscreen mount or dashboard holder/mat offers hands-free access to your phone and is recommended by the government.

Can you use your phone at a red light?

As you are still in control of your car at a red light, the only way you can legally use a phone is with a hands-free kit. The same applies when queuing in traffic and supervising a learner driver from the passenger seat.

How can I stay off my phone while driving?

You can stay off your phone while driving in one of three ways:

Switching it off: Turning your phone off cuts out any chance that you'll be distracted by calls or notifications.
Keeping it out of reach: Placing your phone in a bag or the glove compartment makes reaching for your phone impractical.
Using apps/software: Using driving mode or 'do not disturb' can block incoming calls and texts for the duration of a journey. A number of apps are also available and even offer incentives for reduced phone use.

There are lots more tips on the RAC's Be Phone Smart campaign website.

When did it become illegal to use a mobile phone whilst driving?

The first mobile phone driving laws were introduced in December 2003. From 2007 the penalty stood at three points on your licence and a £100 fine. In 2017 the penalty doubled, so now drivers will receive six points and have to pay a £200 fine.

Is driving with Bluetooth legal?

Driving with Bluetooth technology allows you to use your phone legally. It's important that you pair your mobile with your car or device before starting your journey or while safely parked.

Is it legal to use a hands-free mobile phone when driving?

A hands-free kit is the only way motorists should use their phones to communicate while driving. There have been calls from MPs to ban the technology in cars, but as of November 2019, the Government has no intention of prohibiting them.
---
1 https://www.gov.uk/using-mobile-phones-when-driving-the-law
2 https://www.gov.uk/government/news/life-sentences-for-killer-drivers
3 https://www.sentencingcouncil.org.uk/offences/crown-court/item/causing-death-by-dangerous-driving/