Why go there?
A popular beauty spot in Perthshire near Dunkeld, the Falls of Braan thunder through a woodland of massively tall Douglas fir trees known as the Hermitage.
In October and November, Atlantic salmon leap and power through waterfalls and rapids driven on by an indomitable urge to reach their spawning grounds, known as redds, further upstream.
A romantic folly called Ossian's Hall has been built on the site with a viewing platform over the Falls, so that you can watch the fish leaping up to three metres as they attempt to clear the obstacle. When a fish does finally make it to the top, you'll feel like cheering.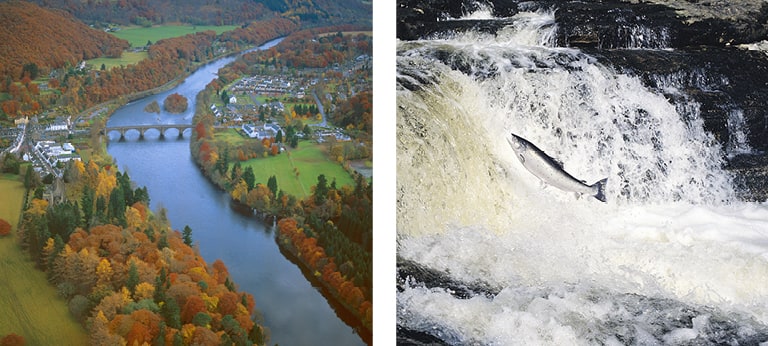 Where to stay
Smithy Cottage (Snaigow, Dunkeld, PH8 0RD) is a B&B set among woods and farmland just a few minutes from Dunkeld. It's an attractive cottage with a relaxing atmosphere and tasteful décor. For the lazy wildlife watcher, red squirrels often come to birdfeeders in the garden.
How to get there
Take the A90 from Edinburgh over the Forth Road Bridge and follow the M90 for about 30 miles, bypassing Perth and then turning onto the A9 north towards Inverness. After about 14 miles, you'll reach the attractive town of Dunkeld. The Hermitage is just two miles beyond.
Need insurance for your trip? Our temporary insurance option is perfect if you're looking for flexible cover between 1 hour and 30 days.