The perfect storm of a bank holiday and widely-anticipated warm weather looks set to produce the busiest May bank holiday weekend on UK roads in four years.
Data from RAC Traffic Watch suggests at least 18.4 million leisure journeys will be made by car – a million more than last year – as UK motorists take to the roads.
To help motorists on their travels we have compiled the following information to help your bank holiday trip run as smoothly as possible: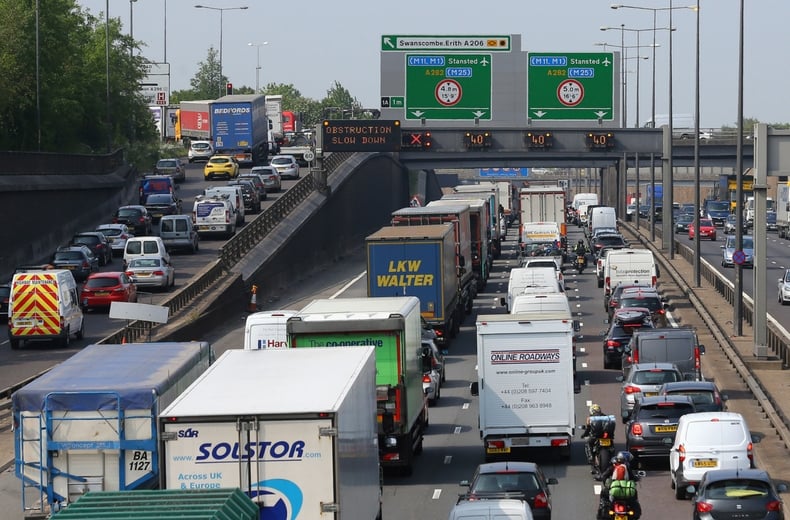 Roads set to be the busiest for a May bank holiday in four years
Our data tells us these roads are likely to be the busiest traffic hotspots this bank holiday:
M5 – particularly the Almondsbury Interchange, and from Bristol to Taunton
A303 – the route from Andover to Ilminster
A30 and A38 – between Exeter to Cornwall
M4 – between Cardiff and Swansea
M25 – between Gatwick and M1
A23/M23 – on the way to Brighton
A34 and M3 – south and south west to the coast
A47 – the route from Swaffham to Great Yarmouth
A11 – between Thetford and Norwich
M55 – the route between Preston and Blackpool
A14 – between the Midlands and the east coast
A590/A591 – between the M6 and the Lake District
A66 – particularly between the M6 and the coast
M53 – between Liverpool and Chester
If possible it would be worth searching for alternative routes on our Route Planner to try and avoid these hotspots, however, some drivers will find these roads unavoidable.
In that instance we recommend checking our predicted busiest times to travel (below) and trying to avoid them.
READ MORE: The RAC's ultimate fuel saving guide
| Day | Number of road users |
| --- | --- |
| Thursday 24th August | 2.5 million |
| Friday 24th August | 3.1 million |
| Saturday 25th August | 4.4 million |
| Sunday 26th August | 3.4 million |
| Monday 27th August | 5 million |
| Total | 18.4 million |
RAC traffic spokesman Rod Dennis said: "While summer appears to have taken a leave of absence for many of us, our figures suggest drivers are undeterred and are still keen to make the most of the long weekend to spend time with friends and family in the UK.
"We recommend motorists wanting to beat the queues travel outside peak times – so avoid Friday afternoon and evening if you can and try to get away in good time if you are planning a day trip on Monday, or face a long journey home at the end of a summer holiday."
"It only takes a single breakdown on a congested road to cause real disruption, so we also advise drivers to complete some quick, basic checks that can reduce the chances of their vehicle being the culprit.
"Make sure your tyres are in good condition and are properly inflated, and check your oil, coolant and screenwash are all at the right levels. Don't forget to fully charge a few mobile phones before you set out too so you can reach help should you need it.
"And remember your passengers – long car journeys can be testing for young children especially so take water and snacks for them, plan some in-car entertainment and schedule plenty of breaks."
The RAC Traffic Watch research is based on the travel plans of over 2,000 motorists and was conducted before the weather looked so promising, so the numbers could be up even on those predicted.
It is crucial to make these checks ahead of any long journeys this weekend. Quick and simple checks beforehand could avoid a breakdown and save you a great deal of time and hassle on your journey.
Here's a quick summary from the video:
Check oil and coolant levels following the instructions in the owner's handbook
Check the condition of the tyres, (including the spare, if you have one) for correct pressures and legal tread depth. The current minimum legal tread depth for cars and light commercial vehicles (up to 3500 kg gvw') is 1.6mm
Make sure the jack and wheel brace are in correct working order. If locking wheel nuts are fitted, ensure the locking key is stored safely in the vehicle. It may be useful to practice changing the spare wheel, following instructions from your owner's handbook
Have the cooling system checked. A puddle of clear water underneath when stopped is normal for vehicles with air conditioning, but a leaking cooling system or inoperative cooling fan could cause the vehicle to overheat and cause extensive damage to the engine
If you plan to take a caravan or trailer, check the tyre condition and make sure the lights are working - read our complete guide on towing first
Check all the exterior lights and dashboard warning lights are working correctly, including on a trailer or caravan
Never overload your vehicle or caravan beyond their designed carrying capacity
Have your car serviced regularly. Although this sounds obvious, many people don't and it really does help to prevent future car problems. Especially before long journeys, or journeys where you're likely to get stuck in traffic. This is important and can help avoid a breakdown
Check all wiper blades for wear or splitting, check the windscreen washer fluid level and check that the washer jets are adjusted correctly
MORE ADVICE: Five most common summer breakdowns (and how to avoid them)
There are a number of things you should take with you, firstly for your and your passengers' road safety, but also in case you find yourself stuck in traffic and are in need of provisions.
A fully charged mobile phone
Warm clothes or rain macs - if you breakdown by the side of the road and it begins pouring down with rain, you'll be grateful
Plenty of drinking water
Food and snacks and even a flask of tea
A spare set of keys with you in case you accidently lock yourself out or lose them
A first aid kit
A high quality torch, preferably with long life and spare batteries
A warning triangle
A high visibility vest/jacket
A fire extinguisher
A spare, empty fuel can
A light bulb kit
Additional engine oil and water (for topping up)
An up to date road map or sat navigation system