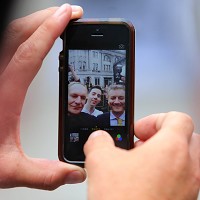 Up to a third of young drivers in the UK are putting their lives at risk by taking "selfies" at the wheel, a survey has found.
Strikingly, British motorists aged 18-24 seem to be the worst for this kind of behaviour when compared with their European counterparts, according to research carried out for the Ford Motor Company.
A total of 33% of UK drivers in this age bracket admitted taking selfies during their journey - compared to 28% in Germany and France; 26% in Italy and 17% in Belgium.
The survey of 7,000 smartphone users in this age group also revealed that a quarter have been active on social media sites while driving, with male drivers the worst offenders.
A driver can be distracted for as long as 14 seconds while snapping a selfie, with another six seconds on top of that if he or she is checking social media.
If they're travelling at 60mph, this means they could be distracted while they travel the length of five football pitches.
Jim Graham, the chief of Ford's Driving Skills for Life programme, says selfies are becoming a part of everyday life for people, but they quite simply should not be doing this while driving.
He said it is a major worry that so many young people have admitted to doing so, given the incredible risks involved.
Copyright Press Association 2014