Dangerous driving offences include the most serious motoring charges on UK roads.
Here we help you understand what dangerous driving involves, its punishments and how you can report other motorists for endangering others.
Dangerous driving
Dangerous driving is committed when a motorist's driving falls far below the standard expected of a competent and careful driver and it would be obvious to a competent and careful driver that driving in that way would be dangerous1.
Dangerous driving examples
A range of situations are covered by dangerous driving, from the seemingly obvious, like speeding – to lighting a cigarette in your car.
Other examples include driving under the influence of drink and drugs, just as one driver did in March while reporting another motorist for drink-driving.
Ignoring road signs could also lead to a high-risk situation and a dangerous driving charge.
Examples of dangerous driving can include:
Speeding, racing or driving aggressively
Ignoring road signs and traffic lights
Drink or drug-driving, including prescription drugs

This is a type of dangerous driving but there are separate offences/codes for drink and drug offences which are different to the five categories listed in the table below – these offences stay on record for longer than 4 years

Driving with an injury or while being unable to see clearly
Knowingly driving with an unsafe load or dangerous fault
The driver being avoidably and dangerously distracted, for example by:

using a mobile phone or other equipment
reading, or looking at a map
talking to and looking at a passenger
lighting a cigarette, changing a CD or tape, or tuning the radio.
The penalties for dangerous driving
Dangerous driving is split into five different offences. The penalties awarded to a driver will depend on the offence they're charged with and the severity and circumstances of an incident.
The table below shows the points drivers face for different charges, these stay on record for four years from the date of the offence2.
| Code | Offence | Points |
| --- | --- | --- |
| DD10 | Causing serious injury by dangerous driving | 3 to 11 |
| DD40 | Dangerous driving | 3 to 11 |
| DD60 | Manslaughter or culpable homicide while driving a vehicle | 3 to 11 |
| DD80 | Causing death by dangerous driving | 3 to 11 |
| DD90 | Furious driving | 3 to 9 |
A DD80 and DD40 endorsement come with an obligatory driving ban, the more serious charge of causing death by dangerous driving carries an obligatory 2-year ban.
Any driver acquiring more than 12 points on their licence within 3 years will also face a ban.
Dangerous driving charges carry an unlimited fine, while prison terms can reach 10 years for causing death by dangerous driving (DD80), maximum sentence 14 years' custody.
Can you go to jail for dangerous driving?
Whether somebody ends up in jail, and the length of their sentence, depends on the severity and circumstances of an incident.
A dangerous driving charge doesn't necessarily carry a prison sentence as a recent case in Durham proves, however, the maximum jail term for causing death by dangerous driving (DD80) is 14 years.
Legal Care Plus is the RAC's motor legal expenses insurance policy that is there to provide the cover you'll need if you're involved in a car accident that wasn't your fault.
Careless driving
Careless driving, or driving without due care and attention, is a less serious offence than dangerous driving.
It's defined by law as "allowing the standard of driving to fall below that of a competent and careful driver".
Where dangerous driving focuses on driving standards dropping 'far below' the standard expected, careful driving relates to any drop in standards, no matter how small.
Examples of careless driving could include:
Tailgating
Lane-hogging
Allowing yourself to be distracted by eating or drinking
Allowing yourself to be distracted by passengers
Missing traffic lights, road signs or signals
Driving without due care and attention can result in receiving a fixed-penalty notice – with a £100 fine and three points on your licence, although some police forces may offer a driver education course. This can be prosecuted in Magistrates Court with maximum penalties of unlimited fine and/or 9 penalty points and disqualification for the most serious cases.
Find out more about driving without due care and attention in our guide to staying safe.
Did you know that there are traffic light cameras as well?
Someone using a phone while driving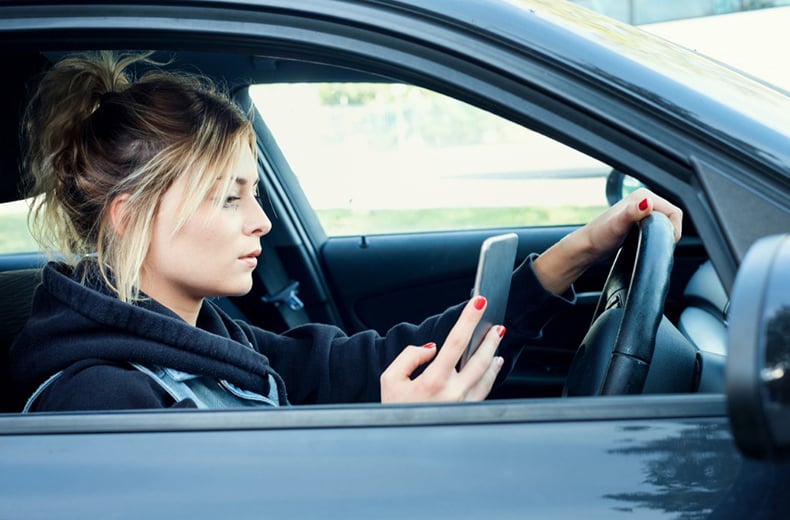 Driving while using a mobile phone is a controversial and dangerous issue. The RAC even runs its own campaign called Be Phone Smart - partnering with police and road safety groups to educate and offer advice about in-car mobile phone use.
It's important to remember that using a phone with hands-free technology or as a sat-nav also has legal implications. As a simple rule, remember that you shouldn't be distracted by your phone at any time while driving, even when stationary.
The Road Vehicle (Contruction and Use) (Amendment) (No.2) Regulations 2022 – changed the scope of using mobile phone whilst driving. It is now illegal to use any device "capable of transmitting and receiving data, whether or not those capabilities are enabled" whilst behind a vehicle with the engine running. This includes when the car is stationary at traffic lights or in heavy traffic. Your mobile phone needs to be entirely hands-free.
The CU80 charge or 'breach of requirements as to control of the vehicle, such as using a mobile phone', could see a driver awarded six points and a £200 fine.
You can also get a further 3 points on your licence if you do not have full view of the road ahead or proper control of the vehicle – for example, due to the placement of the hands-free device on your windscreen.
You can report offenders by calling the police's non-emergency number 101.
Alternatively, many police forces now accept online reports of using a mobile phone while driving, you may need to be willing to attend court to give evidence and the following information:
The driver's number plate
Video evidence to upload
Independent witnesses or evidence
To learn more about mobile phone driving laws, watch our video guide:
Drink-driving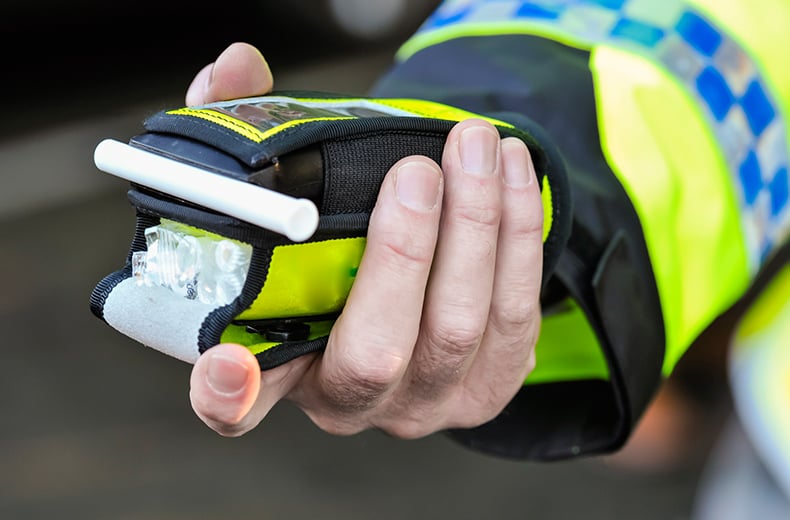 Drink driving limits vary across the UK. In England, Wales & Northern Ireland the limit for drivers is 80 milligrams of alcohol per 100 millilitres of blood. In Scotland, the limit is 50 milligrams of alcohol per 100 millilitres of blood.
Converting these limits into units is often inaccurate, as body mass, metabolism and other variables affect your blood-alcohol level. Department for Transport statistics show that there were between 230 and 270 fatalities in 2017 where at least one of the drivers was over the limit, the highest number since 2009.
A DR10 charge is issued when a driver is above the legal limit and has attempted to drive. A DR20 can be given if you are deemed unfit to drive through drink, this can apply while you are not strictly above the legal limit.
A DR20 is still an 'attempt' offence – defined as driving or attempting to drive while unfit through drink.
Drivers can expect punishments of up to six months imprisonment, an unlimited fine and a year-long driving ban for either. For a more detailed explanation see our 'Drink-drive limits: Everything you need to know' guide.
Always prevent drink-driving where possible. If you're familiar with someone who may be about to drink-drive, offer them a lift as a designated driver, or convince them to use a taxi.
Think twice before approaching a stranger about drink-driving. If someone is trying to operate a vehicle while drunk, you should call 999 with details of the car and driver.
If you wish to report someone after the incident has taken place you can call 101 to talk to the police.
Report dangerous driving
Reporting dangerous or careless driving relies on evidence. If you see a driver putting others at risk make sure you note their registration number, the make, model and colour of their car, the time and location of the incident and any other useful information.
If it's safe for you to record the incident, this will also help, as some police forces provide portals for reporting crime that allow video uploads. If you have a passenger with you, ask them to film footage of the incident using a mobile phone – never attempt to use a phone while driving yourself.
You can also contact the police on their non-emergency number 101.
Things to remember when reporting illegal driving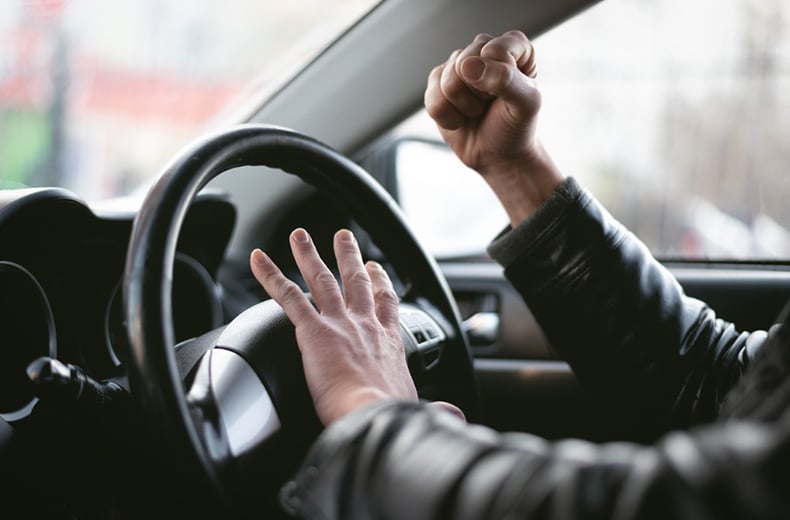 Doing our bit to make the roads safer can seem like a daunting task. However, there are a few things to remember.
Firstly, you have the right to remain anonymous when sharing information.
Secondly, capturing evidence can be a difficult and an illegal act. A dash-cam could help you record these incidents without compromising your attention on the road. Visit the RAC Shop to find a dash cam that works for you.
And lastly, although witnessing illegal behaviour on the road can make you angry, even to the point of wanting to get their attention, but don't become part of the problem! No matter how much you want to honk or holler out of your window, please stay calm and concentrate on your own driving.
Your passenger can take details for you, or you can pull over and jot down some notes when it's safe to do so.
What's the worst case of illegal driving you've ever been unlucky enough to see on the road? Let us know in the comments below.
---
RAC Comprehensive Car Insurance Plus has been given a 5 Star Rating by Defaqto. Get a quote online today.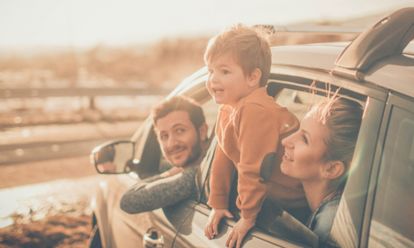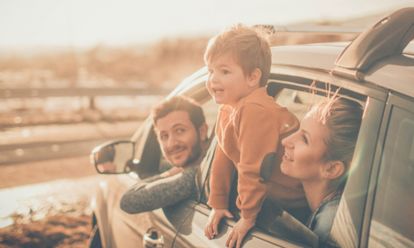 Dangerous driving FAQs
What is a dangerous driving offence?

A dangerous driving occurs when a driver falls far below the minimum standard expected when on the roads. This can include behaviour that could potentially endanger yourself or other road users.

Dangerous driving includes speeding, racing, driving aggressively, ignoring traffic lights, ignoring road signs, overtaking dangerously, driving under the influence of drink or drugs, or knowing your vehicle isn't road safe.

It can also relate to drivers who use a hand-held phone or are distracted from driving.

Can you report someone anonymously to DVLA?

You can anonymously report someone if their vehicle is untaxed through the Government's website here. If you are looking to do this, make sure the vehicle is untaxed on the same website.

You can also anonymously report people if they have committed a driving offence, abandoned a vehicle or are driving without an MOT.

Make notes of all relevant details on the vehicle.

What sentence do you get for dangerous driving?

Should you be found guilty of dangerous driving, you will get a minimum of a 12-month driving ban and 3 points on your licence. This can be increased to a permanent ban in the most serious cases.

How do you report someone to DVLA who should not be driving?

You can anonymously report someone for driving offences through the official Government website here.