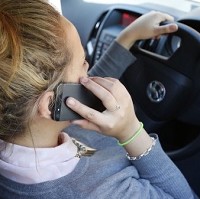 More and more motorists may be getting away with using their mobile phone behind the wheel, new figures from the RAC suggest.
The number of people prosecuted in England and Wales for phone use while driving has plummeted by 47% to 17,414 in 2014 from 32,571 five years earlier. This is according to the motoring organisation's study of statistics from the Ministry of Justice (MoJ).
Separate Department for Transport (DfT) research shows that the trend for such anti-social driving behaviour is up.
The RAC suggests that one reason behind the trend could be the sharp fall in traffic officers.
The DfT's report shows that more than 500,000 drivers were seen using their mobile last year. This represents 1.6% of England's motoring population - compared with 1.4% five years previously.
The DfT says that mobile phone use increasingly features as a cause of road accidents in Britain. There has been a jump of 29% between the 492 accidents in 2014 and the 349 five years earlier.
Yet the RAC says that more than one in three (34%) motorists rank using a mobile while driving among their top road worries.
The Institute of Advanced Motorists (IAM) revealed last summer that selfies and video calls are becoming common among motorists on Britain's roads. It found that 9% of drivers had taken a selfie when motoring during the last month.
But new technology launched last month could help to reduce the practice. Sussex is trialling pioneering detection devices which show if vehicle occupants are using their mobiles.
Motorists currently face £100 fines and three points on their licence if they fall foul of driving laws launched 12 years ago which regulate the use of mobiles.
Paul Williams, RAC head of external affairs, says: "There is still an enormous gulf between what the law states - that handheld mobile phones should not be used behind the wheel - and what motorists see happening on our roads.
"Drivers are routinely using their phones at red traffic lights, or even while on the move."
He says that a substantial drop in the amount of full-time road traffic officers has made detection much more difficult.
Mr Williams says: "On average across the country there was a 23% cut between 2010 and 2014 - meaning there are 1,279 fewer officers patrolling our roads.
"Sadly, therefore, there are now far fewer police to enforce a law that is designed to protect all road users and pedestrians."
Copyright Press Association 2015