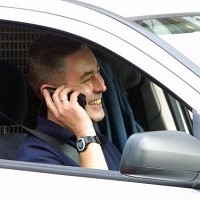 Millions of motorists still think it is okay to text from behind the wheel of a stationary car when the engine is running, the results of a new study suggest.
The RAC research shows that nearly two-thirds (61%) of those polled do not know the practice is illegal despite it having been illegal for motorists to use hand-held mobiles for more than a decade.
The findings also suggest that nearly one in eight (12%) does not know that texting while driving is illegal while one in five (21%) doesn't realise that checking Twitter or Facebook while on the move is against the law.
Nearly a third (29%) of the drivers polled say they see other motorists texting while they're in stationary traffic during most of the journeys they take, while 75% say they often see others talking on a hand-held mobile while behind the wheel.
Meanwhile, less than one in 10 admits to using a hand-held mobile while driving (8%) or to texting in stationary vehicles on the road (7%).
David Bizley, the RAC's technical director, said: "There is a huge discrepancy between what motorists report they are seeing when they drive and what they admit to doing themselves.
"This suggests some drivers are being economical with the truth and they simply do not consider themselves as being 'one of them'. Yet of those motorists who admit to having used a hand-held phone or having texted or checked out social media while driving, 90% know they are breaking the law.
"The distraction caused by hand-held mobile phones ranks alongside the cost of fuel and the state of the roads as a major worry for motorists. Over a third (34%) worry about other drivers being distracted by talking on mobile phones while at the wheel."
Copyright Press Association 2014