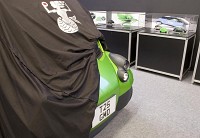 The Government is backing a Surrey firm's £9 million project to develop an affordable all-electric urban car.
Four prototypes of the T27 will be developed by Gordon Murray Design, based in Shalford, near Guildford, and Derbyshire-based Zytek Automotive Technology by February 2011.
The Government-backed Technology Strategy Board is pooling in £4.5 million to support the project.
As a sustainable vehicle, the T27 will minimise the use of materials and keep the embedded carbon of the vehicle as low as possible. It is designed so the impact of materials and energy on the environment is as low as possible.
The car is the brainchild of Gordon Murray Design, which is behind the project.
Gordon Murray, the firm's boss, said: "The manufacturing process behind the T25 (the petrol version of the car) and T27 is all about sustainable, low-energy process by design.
"The T27 programme is a great opportunity for us and our partners to create what will be the world's most efficient electric vehicle."
Lord Drayson, Science and Innovation Minister, said: "The T27 is a great example of smart engineering and sustainable design. It's timely too, as the UK must demonstrate its readiness to exploit the emerging low-carbon vehicles market."
Copyright © Press Association 2009