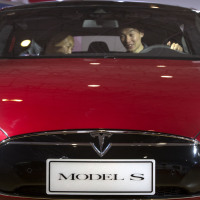 Dyson could be poised to clean up in the electric car market, a leading expert on the motoring industry has claimed.
The world-famous manufacturer, known for its vacuum cleaners, may now be planning to develop its own electric car, according to Warwick University's Professor David Greenwood.
This could potentially see them rival current brand-leaders, Tesla, which has recently announced it will be ramping up production of its electric car fleet.
The project is said to centre around ground-breaking solid-state batteries, which could greatly extend an electric motor's range and boost safety.
Dyson has already filed patents suggesting it may fit cars with this technology.
Files released two months ago revealed the Government was helping to finance Dyson's development of battery-powered electric cars.
Dyson refused to comment then, but only last year it admitted it would be pouring £1 billion into new battery technology.
Its $90 million (£62 million) acquisition of Sakti3, a solid-state battery firm, quickly followed.
Sir James Dyson, the company's founder, said Sakti3 had developed ground-breaking battery technology.
Professor Greenwood says Dyson's excellent marketing and product engineering makes it likely to emulate Tesla in the electric vehicle sector.
US-based Tesla has recently made sales breakthroughs with its Model 3, which has attracted more than 325,000 advance orders.
Professor Greenwood says high "energy density", low cost and increased safety are the main factors in an electric vehicle's battery.
One Sakti3 patent says that its new solid-state batteries are rechargeable and can provide a battery-powered propulsion system for cars.
Experts believe that such batteries could give drivers 10 times the mileage of current models before they have to recharge their vehicle.
Copyright Press Association 2016. Motoring News articles do not reflect the RAC's views unless clearly stated.