The number of people killed in collisions involving drink-drivers has rocketed to the highest level since 2009, new stats have revealed.
According to Department for Transport (DfT) figures, in 2017 there were between 230 and 270 fatalities where at least one of the drivers was over the limit.
RAC head of roads policy Nicholas Lyes said the latest figures showed how little progress there had been in the last decade – and called on the Government to respond by changing the law.
The DfT's central estimate of 250 deaths in 2017 represents a year-on-year increase of 20 fatalities, a figure called "not statistically significant" by a spokesperson for the department.
Fatalities in reported drink-drive accidents: GB 2007-2017; error bars show 95% confidence intervals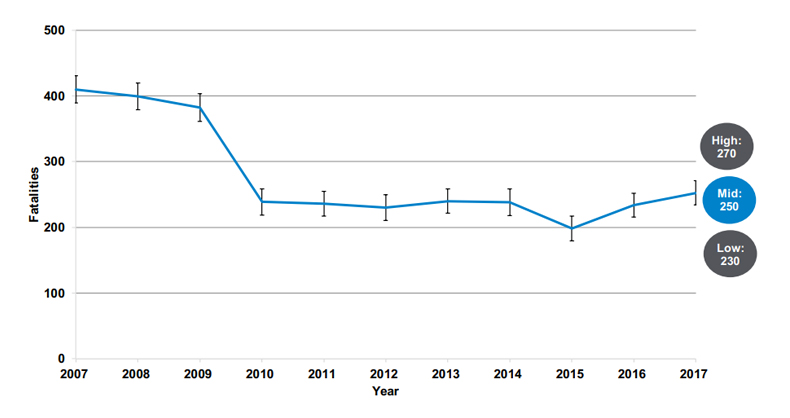 Source: Department for Transport,
Reported road casualties in Great Britain: final estimates involving illegal alcohol levels: 2017
In total, the number of people injured or killed in collisions involving drunk drivers was 8,600 in 2017, down from 2016's figure of 9,040.
Mr Lyes urged the Government to look closely at all of its options to try and reduce this number, including a review of the laws on drink-driving:
"These figures are disappointing and show that much more needs to be done to eradicate the scourge of drink-driving. The data shows that no discernible progress has been made for nine years in reducing the number of people killed in road traffic collisions where at least one driver was over the legal drink-drive limit.
"The Government should be looking closely at all its options, even reviewing the drink-drive limit. But ultimately, it is absolutely vital that we have police enforcing laws and increasing roadside breathalyser testing so that law breakers know they will be caught."
The current drink-drive limit in England, Northern Ireland and Wales is 80mg of alcohol per 100ml of blood – one of the most lenient in Europe.
Following a change of law in 2014, the drink-drive limit in Scotland is lower at 50mg per 100ml, in-line with many other European countries.
The figures come after a recent study by road safety charity Brake found that a shocking 5,000 motorists have been caught over the limit on two or more occasions in the past four years alone.
Joshua Harris, director of campaigns at the charity, echoed Mr Lyes sentiments, calling the latest numbers on drink-drive related deaths "incredibly concerning."
"The current drink-driving limit gives a false impression that it is safe to drink and drive. This is a dangerous message and one that couldn't be further from the truth."
He added: "How much longer must this continue before the Government acts?"
Copyright Press Association 2019. Motoring News articles do not reflect the RAC's views unless clearly stated.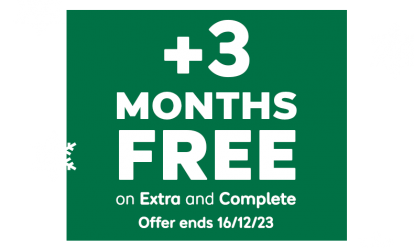 With 12 months of cover, new customers get an extra 3 months for free*.
*Added after 12 months, excludes Basic cover. New customers only. Ends 16/12/23, 7am