Checking your blind spot is a vital part of driving; doing it properly could even save a life.
Find out where blind spot monitoring is important for both experienced and learner drivers, and why you could face legal action if you aren't aware of your surroundings when behind the wheel.
What is a blind spot?
When driving, the windows, wing mirrors and rear-view mirrors give sight of the space around the vehicle.
However, in every vehicle there are places that mirrors struggle to reach. Sometimes it's down to seat position, mirror size, mirror shape, or window size. That means you'll need to physically turn your head to look where no mirror is able to see – your blind spot.
The size of a blind spot can vary depending on the type of vehicle and driving position – but the majority have one in the area behind the driver's right shoulder. If you solely rely on mirrors and driving aids (like cameras or detectors), rather than your own sight and understanding of the traffic around the vehicle, you could cause an accident.
How to check your blind spot
No matter the scenario – the action is the same.
Check your mirrors
Indicate
Check your mirrors again
Check the blind spot by turning your head and looking out of the window over your right or left shoulder (checking around any door frames or pillars)
Confirm that it's clear and safe
Make your move with respect to those around you
When to check your blind spot
Most modern cars come with technology that can help with this, like a blind spot detection system that flashes a warning in your wing mirror – but don't rely solely on them, as it's your responsibility to be safe and aware of your surroundings at all times.
Moving off
If you're moving off from a stationary position, check your mirrors and check your blind spot by looking over your right shoulder. If you're still uncertain, wind down your window and double check.
This is especially important when parallel parked on a road. Obviously if you're parked up on the right-hand side of the road, you'll need to check your blind spot over your left shoulder instead.
Junctions and roundabouts
This also applies for pulling away at junctions and roundabouts, where traffic and other road users can come from multiple directions. Bear in mind that motorbikes, cyclists and pedestrians may be passing on either side of your vehicle. Checking your left blind spot as you exit a roundabout can be helpful when making sure the route is clear.
Motorways
If you're currently moving at speed, there are several scenarios to be aware of.
Check your blind spot before you merge onto a motorway, dual carriageway, or major road from a slip road. Some smaller vehicles might be matching your speed in the blind spot between your wing mirror's coverage and your eye's peripheral vision of the window.
Check your blind spot before changing lanes once you're on the motorway as well. Check your mirrors, put your indicator on, check your mirrors again, check your blind spot, then merge only once you're confident that the way is clear.
It's important to also bear in mind that you might be in another road user's blind spot.
With this in mind, you should be especially careful around HGVs and other large vehicles, because their blind spots are larger. They'll often have a sign on the rear of the vehicle explaining that they will be unable to see anyone or anything in their blind spot. Usually something to the effect of "If you can't see my mirrors, I can't see you!"
Keep a safe distance and be aware of their indicators or any movement they make towards you. A swift honk and awareness of whether you can retreat back or merge away safely could get you out of a dangerous position one day.
A-pillar blind spots
Although the main blind spot is over the driver's right shoulder – an a-pillar blind spot is an area that is blocked by the design of the vehicle out of the front and/or side windows.
Specifically, an a-pillar blind spot is in the places where the windscreen meets side windows diagonally ahead and to the left and right of your view.
These are smaller blind spots – but all drivers should be conscious of what smaller vehicles could be missing from their view.
Blind spot mirrors and monitors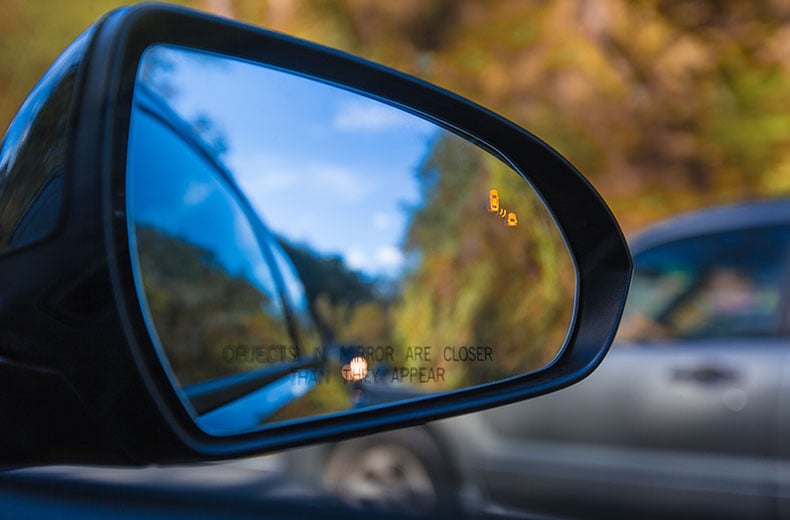 Although you should always be aware of your surroundings – there are tools and tech that can help avoid an incident.
These can include blind spot mirrors, sensors, and cameras that give you an extended view, or an alert when there's a vehicle approaching.
Blind spot monitoring systems (BSMs) fitted to most modern vehicles can help when you need to momentarily take your eyes off the road ahead to check your blind spot at speed.
These are sensors located on the car which notify the driver via an audible or visual signal (normally a light on the wing mirror) when a vehicle is in their blind spot. Should the driver indicate to move into the lane where there is another vehicle in the blind spot the cue will become more pronounced.
Changes to the Highway Code
If you're a learner and want to understand more about the rules of the road, we've got a wide range of advice and guides for drivers that can help.
However, there have also been some recent changes to the Highway Code that all drivers – new and experienced – need to familiarise themselves with.
It's important to recognise that the 'hierarchy of road users' has now changed – and this has impacted right of way for those who could be in your blind spot.
New priority for UK road users:
Pedestrians
Cyclists
Horse riders
Motorcyclists
Cars and taxis
Vans and minibuses
HGVs
RAC head of roads policy Nicholas Lyes said: "These changes to the Highway Code are substantial, so it's vitally important they are communicated clearly. In theory, they should make our roads safer for cyclists and pedestrians, but unless everyone is aware of them, there's a risk of angry clashes and, worse still, unnecessary collisions.
"Nobody wants to be on the right side of the Highway Code changes but in the back of an ambulance because of confusion on the part of a driver or any other road user."
The revised rules came into effect from 29 January 2022, following calls to protect vulnerable road users and here are several other key changes to the Highway Code that UK drivers need to be aware of.
Consequences of ignoring your blind spot
Checking your blind spot could be the difference between you having a safe journey – or one that could cause an accident and be on the receiving end of a driving penalty.
All drivers are subject to being penalised for dangerous driving. Should you either ignore or not consider your blind spot – which then leads to an accident – you can expect to get a hefty punishment.
Being found guilty of careless and inconsiderate driving comes with an unlimited fine, a potential disqualification from driving, and a penalty from 3 to 9 points.
Dangerous driving can also include up to 2 years in prison and up to 11 points if the guilty party is not already disqualified.
In the most serious offence – death by dangerous driving – a guilty person can receive up to 14 years imprisonment, an unlimited fine, mandatory disqualification for a minimum of 2 years, and up to 11 points on your license (if not already disqualified).
Any driver guilty of dangerous driving could receive a court summons for not paying attention to their blind spot. These incidents (if not spotted by police or cameras) can be reported by any other road users or pedestrians.
Other tips for learner drivers
Hopefully this guide has demonstrated the importance of checking your blind spots and being aware of other road users.
To brush up on more rules of the road and driving advice, check out our guides on learning to drive.
How to practice for your driving theory test
There are a number of different ways to practice for your driving theory test. You can get ready for the written exam by downloading the driving test theory app.
You can also brush up on your road signs knowledge on our very own road signs quiz page.
As for apps, Driving Theory Test UK is a great place to start, with all necessary learning materials, hazard perception clips and Highway Code info included. You can download it here:
Breakdown cover from just £7.95 a month*. Plus up to £150 of driving savings!