If you are a learner or newly qualified driver, it is important to notify other motorists so you can get the space and time you need to adapt to the road. L plates and P plates allow you to do this and provide a reminder to other motorists that you may travel slower or require more patience than other road users. But what are the UK rules and laws for L and P plates?
Whether you are looking to start learning or are about to take your test, L and P plates are of vital importance, and not having them can land you in a lot of trouble.
This guide examines the legal requirements of L and P plates, their meanings, where you should put them on your vehicle, and where to buy them.
What are L plates?
L plates, also known as learner plates, are magnetic signs or adhesive stickers that new drivers are required by law to display on their vehicles to indicate that they are in the process of learning to drive.
These plates are typically white with a red letter 'L' displayed on them, and they must be placed on both the front and rear of the vehicle in order for the learner driver to legally be behind the wheel. At all times, they must be clear to all road userrs.
The plates are used by learner drivers who are in the process of obtaining their full UK driving licence.
Correct L plates need to be specific size and follow the prescribed design, set out by the Government. This means that the letter 'L' must be at least 79mm tall, with a width of at least 14mm.
Whether they are taking driving lessons or are going to take their practical driving test, the L plates should be on the vehicle else at all times.
Should they pass both the practical and driving theory test, then they can remove the L plates.
If you are teaching someone to drive, then you must be a qualified and licenced driver who is at least 21 years old and has held a full driving licence for at least three years. The supervisor is responsible for ensuring the learner driver follows the rules of the road and keeps the L plates on at all times.
It is also important to consider learner car insurance, before getting into the vehicle.
What are P plates?
Probationary plates, or 'P plates', are used by newly qualified drivers who have recently passed their driving test.
Unlike L plates for learner drivers, P plates are optional and not a legal requirement.
These plates are used to show other road users that the driver is inexperienced and has recently become a fully licenced driver.
It is hoped that this will give the new driver more time and space to carry out manoeuvres – and to not make them feel any unnecessary pressure.
P plates typically have a red or green letter 'P' displayed on a white background. Like the L plates, the letter 'P' should be at least 79mm tall, with a width of at least 14mm – however, this isn't a legal requirement.
If they are being used, then they should be displayed prominently on the front and rear of their vehicle, so they are clearly visible to other road users.
Newly qualified drivers have stricter rules compared to experienced ones. This usually means that for the first two to three years of driving, some drivers may keep the plates on the vehicle for some time.
Why are L plates and P plates important?
Both L and P plates are a crucial necessity for UK roads for several reasons.
Firstly, they are there to increase safety for all road users. They serve as a clear indicator that the driver is a learner – or recently passed their test – and has limited experience behind the wheel. This helps other drivers and pedestrians exercise caution and patience when they are nearby.
By identifying themselves as learners, other drivers are more likely to receive considerate of their situation and be less aggressive and impatient towards them.
It also helps them be more alert of potential hazards for both themselves and the learner driver. This leads to slower and safer driving.
Also – L plates are a legal requirement for these reasons. P plates are optional for the driver.
However, everyone who drives has gone through the experience of learning and passing a test – so leaving the P plate on will mean they are more likely to empathise with what they are going through.
For learners themselves, displaying L plates can be a source of growing their confidence when driving and helps them develop safe driving habits.
Risk of not having an L plate
If you are a learner driver and you do not have an L plate clearly displayed on the front and rear of the vehicle then you will get in trouble with the police.
According to the law, 'you can get up to six penalty points if you do not display an L plate or if it's not the right size'.
Make sure you know the rules for learner drivers before getting behind the wheel.
To prepare for the theory test, an app like Driving Theory Test UK is a great place to start, with all necessary learning materials, hazard perception clips and Highway Code info included. You can download it here:
Do you have any more questions regarding learning to drive? Visit the RAC Forum.

Where do you put L plates?
For all learner drivers, L plates must be clearly visible to all road users and be in a prominent position on both the front and rear of the vehicle.
This can be on the bonnet and boot of the vehicle. They connect magnetically to the body of the vehile or use adhesive that sticks to the vehicle and can be peeled off when no longer required.
It is the responsibility of the driver to ensure that the plates are securely attached and that they don't fall off while driving.
They also need to be clean and not obstructed by dirt or other objects. All plates mustn't be placed over any lights.
Where to buy L plates?
If you are planning to learn to drive, then you will need L plates.
RAC Shop has a twin pack of L plates available here.
These L Plates are perfect for anyone who is learning to drive, they leave no mess and stand out perfectly. The magnetic fixing strips, these L Plates are super easy to fit and remove.
Where to buy P plates?
Driving with L plates when you're not a learner
After passing your test, and have gained a full UK driving licence you should remove your L plates – or replace them with P plates for a short while after.
The Highway Code states that plates should be removed or covered when not being driven by a learner driver.
However, it is not illegal to drive with L plates after you pass your test.
You will likely be asked by police to remove them, should they pull you over.
How long can you keep P plates on your car?
P plates are important for building confidence for newly qualified drivers, however, there are no specific rules regarding how long drivers should use them.
Some individuals may use them for a few months, while others may choose to use them for a longer period until they feel more confident on the road.
Do you have any advice for learner drivers? Leave your comments below.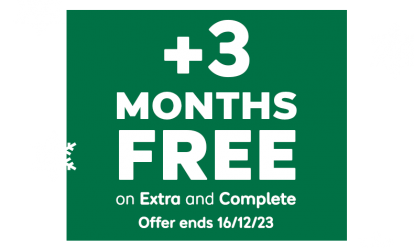 With 12 months of cover, new customers get an extra 3 months for free*.
*Added after 12 months, excludes Basic cover. New customers only. Ends 16/12/23, 7am