Paris, the city of lights. Paris, the city of love. Regularly voted one of the most popular cities in the world, it is adored by couples, families and students alike.
In celebration of this great Capital, RAC European Breakdown Cover has put together a comprehensive 'Things to do in Paris' guide, detailing some of the best attractions, museums and restaurants the city has to offer.
So whether you're planning a romantic getaway, a city break or just a weekend away in Paris, our travel guide will ensure you don't miss a thing.
Paris history
The history of Paris began with the settlement of a Gallic tribe, the Parisii, on Ile de la Cité in 300 BC. The area was later taken by Julius Caesar's troops in 52 BC and was named Lutetia, only to be re-baptised 'Paris' by Julian the Apostate in the year 360.
During the Merovingian period, King Clovis made Paris the capital of his kingdom in the year 508 CE. Over the next eight hundred years, the city saw the beginning of the construction of some of its most famous landmarks, from the Notre Dame Cathedral in 1163, the Louvre in 1190 and the Bastille in 1357.
Under the reign of Francis I, Paris embraced the Renaissance as the Louvre, the Hôtel de Ville and the creation of the Collège de France all became focal points for researchers and artists.
The city swiftly became a melting pot for creativity and political thought. The 1700s saw the Age of Enlightenment in Paris, with great philosophers such as Montesquieu, Voltaire, Rousseau, Diderot coming to the fore. On July 14th 1789 this political fever culminated in the taking of the Bastille, marking the start of the French Revolution, the fall of the monarchy and the transformation of France into a Republic.
From the completion of the Louvre in 1793, the crowning of Napoleon in 1804 and the completion of the Arch of Triumph in 1836, the 1900s saw the city transform further still. Surviving the great flood in 1910 and two World Wars, Paris has grown from a small settlement to the remarkable city it is today, famous for its art, architecture and history.
Top 10 Paris attractions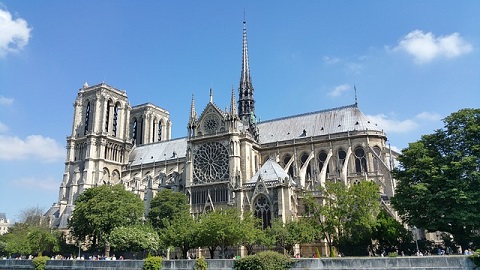 In 2014 there were 77.1 million visitors to the museums and monuments of Paris, an increase of 4.7% on the previous year. The RAC has compiled a list of ten of the most popular attractions below.

| | |
| --- | --- |
| 1. Notre Dame | 14,300,000 |
| 2. The Basilica of the Sacred Heart of Paris | 11,000,000 |
| 3. The Louvre | 9,134,612 |
| 4. Eiffel Tower | 7,097,302 |
| 5. Muséum national d'Histoire naturelle | 3,618,936 |
| 6. Musee d'Orsay | 3,480,609 |
| 7. Centre Pompidou | 3,450,000 |
| 8. Universcience | 2,327,450 |
| 9. Chapelle Notre-Dame de la Medaille Miraculeuse | 2,000,000 |
| 10. Grand Palais | 1,855,346 |
What to do in Paris?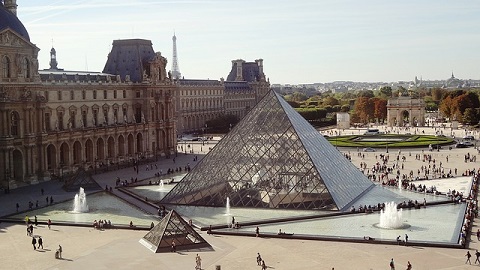 It's no wonder Paris is one of the world's best tourist destinations. Parisians are warm, welcoming and can't do enough to make your stay a memorable one – not to mention the service being second to none.
If you speak a little French, be sure to give it a try. If you don't, at least extend the French people you meet the courtesy of apologising for not speaking their language. This small gesture will go a long way in securing friendly relations.
Bearing that in mind, the RAC has provided some basic tourist information below for five of Paris's best tourist attractions.
1. Notre Dame de Paris
Over 800 years old, this gothic cathedral was first commissioned in 1160 by Maurice de Sully, with its construction encouraged by King Louis VII. Construction began in 1163, and Notre Dame would be completed some 100 years later, in 1272.
Notre Dame de Paris opening hours:
Open every day of the year from 8:00 am to 6:45 pm (7:15 pm on Saturdays and Sundays)
Entrance is free of charge during the opening hours
2. Basilica of the Sacred Heart of Paris
Built in honour of Saint Denis, first Bishop and Martyr of Paris, in the 5th century the original chapel fell into ruin in the 9th century. It was subsequently rebuilt, on the hill of Montmartre, surviving fire and war, and has been a popular destination for pilgrims ever since.
Basilica of the Sacred Heart of Paris opening hours:
Open every day from 6:00 am to 10:30 pm
Entrance is free
3. Louvre
Construction on the Louvre was started shortly after 1190 by King Philippe Auguste, originally as a defensive fortress. By the 14th century the Palais du Louvre was occasionally used as a royal residence, until Francis I chose to turn it into a Renaissance "palace". In 1793, the Louvre became a museum, and is famous for housing such works as the Mona Lisa and the Venus de Milo.
Louvre opening hours:
Open every Monday, Thursday, Saturday and Sunday from 9:00 am to 6:00 pm
Open every Wednesday and Friday from 9:00 am to 9:45 pm
Closed on Tuesdays
4. Eiffel Tower
In 1889, to mark the 100th anniversary of the French Revolution, the Journal Officiel announced an extraordinary competition, to "study the possibility of erecting an iron tower on the Champ-de-Mars with a square base, 125 metres across and 300 metres tall".
It was the breath-taking proposal of Gustave Eiffel, an entrepreneur; Maurice Koechlin and Emile Nouguier, both engineers; and Stephen Sauvestre, who won. Work began on 28th January 1887 and was completed in record time on 31st March 1889, and was hailed as a veritable technical marvel.
Eiffel Tower opening hours:
Open every day of the year
From 9:00 am to midnight from mid-June to early September
From 9:30 am to 11:00 pm during the rest of the year
At Easter weekend and during the spring holidays: extended opening hours to midnight
5. Centre Pompidou
First conceived by President Georges Pompidou in 1969 and completed in 1978 by the architects Renzo Piano and Richard Rogers, the Centre Pompidou is a visually impressive arts centre located in the Beaubourg district of Paris.
Its unmistakable design consists of a huge "exo-skeleton" and caused a considerable amount of controversy as critics said it stood in violent contrast to the surrounding houses in the old section of Paris.
Centre Pompidou opening hours:
Open every day from 11:00 am to 10:00 pm (exhibition areas close at 9 p.m.)
Thursdays until 11 p.m. (only exhibitions on level 6)
Closes Tuesdays and 1st of May
Paris restaurants
Looking for the best restaurants in Paris? For decades, 1st February has been the most anticipated day of the year for chefs and culinary elite across France. With the latest edition of Michelin Guide now out, the RAC has shortlisted three of the best restaurants in the city.
1. Alain Ducasse au Plaza Athénée
Guide MICHELIN 2016 – 3 Stars
Address: 25 av. Montaigne 75008 Paris 08
"Respect for ingredients is total, and technical virtuosity seems to give way to the search for flavours. One way to deliver the epitome of haute cuisine; a cook's grail, an infinite quest ..."
MICHELIN Guide Inspector
2. Arpège
Guide MICHELIN 2016 – 3 Stars
Address: 84 r. de Varenne 75007 Paris 07
"Very attentive to the seasons, it (Alain Passard's Arpège) even has three gardens in the west of France. Illustration, if needed, of the authenticity of this man."
MICHELIN Guide Inspector
3. Pierre Gagnaire
Guide MICHELIN 2016 – 3 Stars
Address: 6 Rue Balzac 75008 Paris 08
"I try to purify, to avoid false good ideas," Pierre Gagnaire says. He never writes recipes of dishes, but includes a map that looks like a poem, putting in motion the imagination and taste buds even before the start of the meal. Get ready for a festival of flavours!"
MICHELIN Guide Inspector
Shopping in Paris
Not only famous for its fine cuisine and classic art, Paris is also known as one of the world's fashion capitals. With Paris Fashion Week a constant in the Parisian calendar, RAC has compiled a list of some of the best shopping hotspots in the City of Fashion.
1. Avenue des Champs Elysées
Located between the Arc de Triomphe and the Place de La Concorde is the world-famous Champs Elysées. Stunning at night, the impressive avenue has a mixture of "chic" retailers and familiar high street stores. With a host of cinemas, cafés and restaurants along the avenue, it's a must for shoppers.
2. Avenue Montaigne
Looking for the most elite brands in Paris? Avenue Montaigne is home to some of the world's most sought-after designer outlets, including Yves Saint Laurent and Gucci. Located near the Seine in Paris's exclusive 8th district, there is nothing cheap about Avenue Montaigne.
3. Boulevard Haussmann
Located in the 9th district, behind the Paris Opera, Boulevard Haussmann is home to the famous department stores Printemps and Galeries Lafayettes. Housing numerous cosmetic, fashion and home accessory outlets, shoppers will also find high street favourites such as C&A, H&M, Zara, Benetton and Uniqlo.
Romantic things to do in Paris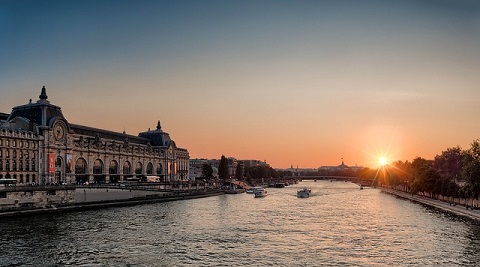 Thanks to its beautiful architecture and history of romanticism, is it any wonder that Paris is known as the City of Love? If you're a couple looking for romantic destinations, but wish to go beyond the usual locales, the RAC has put together an alternative list of some the most romantic hotspots in Paris.
1. Tango on the Seine
What better way for couples to forge those romantic memories than by performing the dance of passion in the City of Love? From the beginning of June until the end of August, hundreds of dancers gather at the Jardin Tino Rossi, on the banks of Port Saint-Bernard, and dance the salsa, tango and many more.
Plus it's free!
2. Moulin Rouge
Continuing with the dancing theme, what better place to enjoy a romantic evening that at Paris' world-famous Moulin Rouge? Immortalized by the artist Toulouse-Lautrec, is has dazzled audiences since it first opened in 1889, and has been a draw for some of the world's top performers - from Edith Piaf and Liza Minnelli to Frank Sinatra and Elton John - ever since.
The Moulin Rouge is not only a wonderful place to see shows, it's also a wonderful place to stimulate your taste buds. In rooms magnificently decorated in belle époque style and red velvet, visitors can enjoy gourmet French food by the Maison Dalloyau, served with champagne - the official drink of the cabaret.
3. Parc des Buttes-Chaumont
Located in the north-east of Paris, Parc des Buttes-Chaumont is one of the biggest and most beautiful green spaces in the capital. Visitors to the park will be able to enjoy stunning views of the city, especially the Montmartre district, and the park's caves, waterfalls, wildlife and lake offer a unique charm not to be found anywhere else.
Things to do in Paris with your kids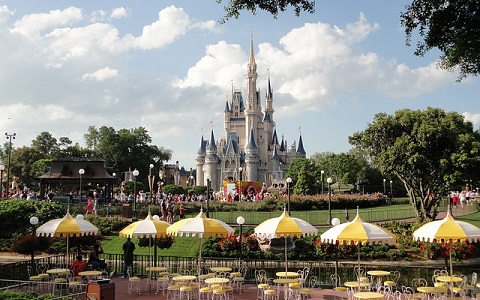 If you're afraid all the history, culture and classical art is not enough to keep your children entertained, the RAC has put together a number of attractions that should help keep your family amused.
1. Muséum National d'Histoire Naturelle
The Natural History Museum in Paris offers an abundance of educational distractions for youngsters. Different buildings house different life sciences with an impressive collection of collection of modern and prehistoric animal skeletons, including a gigantic skeleton of a blue whale.
Muséum National d'Histoire Naturelle opening hours:
Open every day from 10:00 am to 6:00 pm
Special openings: Easter, Easter Monday, 8 May, Whit Sunday, Whit Monday, 14 July, 15 August, 1 November, 11 November, 24 December and 31 December
Closed on Tuesdays, 1 May, 25 December and 1 January
2. Disneyland Paris
First opened in 1992, Disneyland Paris is a magical destination for children and adults alike. From the Disneyland Park, with its rides, restaurants and shows, to the Walt Disney Studios Park where you can discover the secrets behind the most magical scenes of Disney film, this is one of the best family destinations in France.
Disneyland Paris opening hours:
Disneyland Park 10:00 am to 7:00 pm /10:00 pm

08:00 am to 10:00 pm – Extra Magic Hours

Walt Disney Studios Park 10:00 to 18:00
3. Cité des Sciences et de l'Industrie
The Cité des Sciences et de l'Industrie is Europe's biggest science museum. Located in Parc de la Villette, the museum has the Cite des Enfants, which is designed especially for kids. Set out in two sections, 2-7 year olds and 5-12 year olds, the museum is packed with games, experiments and discoveries that will educate and entertain in equal measure.
Cité des Sciences et de l'Industrie opening hours:
Open Tuesday to Sunday
Cité des enfants sessions are 1hr 30 mins long
A 20 min demonstration is scheduled every session
From the most romantic places for couples, the most popular tourist attractions for families to the best shopping locales and restaurants in city, we have explored some of the greatest attractions.
We hope you have enjoyed our comprehensive 'Things to do in Paris' guide and that it will inspire you to visit one of the finest cities in the world.
Find information here on European breakdown cover.