It's important to store your mobile home somewhere safe after each trip, especially when it comes to leaving it over winter.
Sitting in colder temperatures can play havoc with some caravans, campers and motorhomes, so make sure you check the five areas below to keep your pride and joy in tip-top condition.
1. Storage and security
When it comes to storage most campers owners have two choices – leave your vehicle on your property (either outdoors or in a garage) or keep it in a remote storage compound. For help finding a site near you, you can apply for a storage pitch through The Camping and Caravanning Club.
Wherever you leave your unit, you should make sure it's secure. Check if there are CCTV systems or high fences to deter would-be thieves and vandals and fit wheel clamps and hitchlocks too. Remember, if you're going to park your caravan outside, try to avoid leaving it under a tree; leaves, branches and bird droppings could cause damage over time.
2. Exterior
If you're serious about keeping your caravan or motorhome in the best possible condition, you should protect it with a coat of wax and a protective cover. Before you do, it's important to clean your vehicle, ideally without a pressure washer. Ensure you remove any signs of green or black mould and resist the urge to stand on the roof as you scrub your unit clean.
You should consider turning your wheels every six to eight weeks to reduce the chances of damage. Keep the rubber out of direct sunlight too. Apply grease to any moving mechanical parts, like corner steadies' rotating screws and the spare wheel carrier, and wipe petroleum jelly or WD-40 (after checking it will not affect the plastic) over the electrical contacts on your car-to-caravan connector.
3. Interior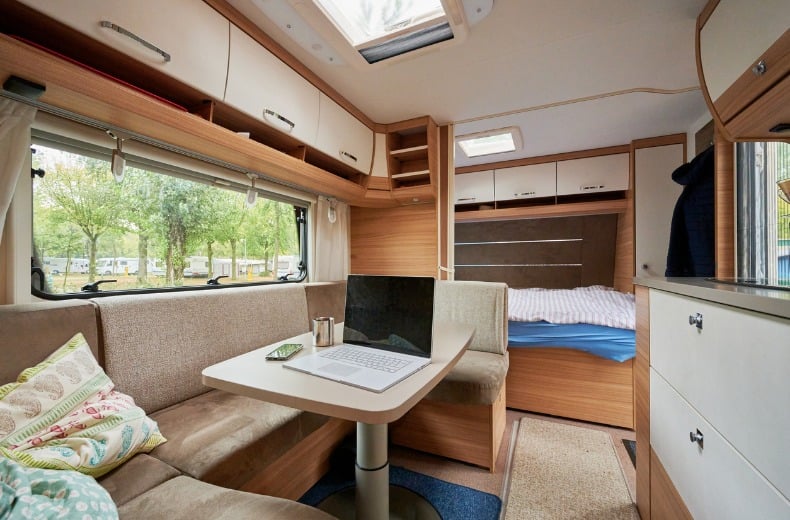 It's time to get the vacuum cleaner out. Remove any crumbs from your interior to reduce the risk of mould developing and pay special attention to the kitchen. Wipe surfaces down with anti-bacterial sprays and use WD-40 on hinges to protect against rust.
Once you're happy that everything's clean, your next priority is keeping the unit well ventilated. Keep your fridge door ajar – there may be a special catch for this purpose – and stand cushions in an upright position to improve circulation. You might want to cover upholstery with breathable materials, like old cotton sheets, to keep dust off too.
4. Water systems
The best way to protect your water system from damage is to drain it thoroughly. Open all taps, drain valves and remove any drainage plugs, including the external plug for older water heaters.
You should remove any filters and keep them somewhere safe to reuse on your next trip. Finally, don't forget your toilet system. Emptying and cleaning your waste tank before storing will be a lot less painful than doing it in the spring.
5. Electricity and gas
Ideally, store your caravan somewhere with access to an electricity supply. This will let you power up systems from time to time and keep the battery charged. If this isn't possible, try disconnecting the battery to charge at home periodically. Remember, if you disconnect a battery it will discharge over time and eventually lose storage capacity.
Before you make any decisions about what to do with gas cylinders you should check the rules at your storage site. Some venues will not allow you to store cylinders with your unit and you may have to keep them in the open air (not in a shed or garage) and in a secure place. The cylinders should be kept away from heat ignitable materials and two metres away from open drains and openings into cellars or buildings.
RAC Caravan, Motorhome and Campervan Breakdown Cover gives you peace of mind should you break down whilst touring, no matter the time of year. It includes everything that you'd expect from the RAC together with specialist benefits designed for caravans, motorhomes and campervans.
Want to go touring during the winter months instead of storing your unit away? We've got you covered, check out our full guide on how to make the most of a winter camping trip in your camper or caravan.
Get specialist personal based cover for caravans, motorhomes and campervans from just £11 per month.^