Get ready for an Italian escape on the open road.
Cruise dramatic coastlines, winding mountain passes or tranquil country roads – the choice is yours.
The Amalfi Coast and Pompeii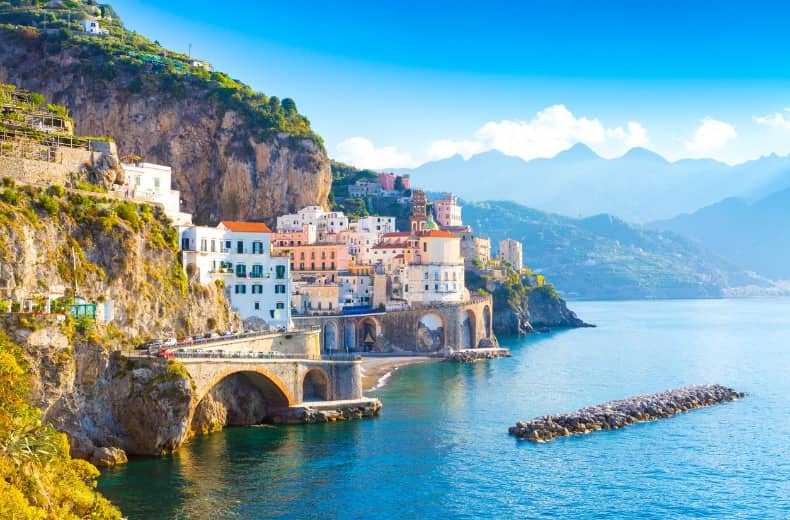 The Amalfi Coast is famed for its winding coastal road, lined with colourful villages and head-turning views over turquoise waters. The SS163 hugs the cliffs and coves along the Tyrrhenian Sea between Sorrento and Salerno, promising architecture from the Middle Ages and natural beauty by the bucketload.
Be sure to schedule a pit stop at Positano for a view of pastel painted homes perched by the sea, and don't forget Praiano too. The quiet fishing village oozes old-world charm and is often overlooked on motorists' trips through the peninsula.
If you fancy a change of scenery from the UNESCO listed region, you can always make a diversion towards the ancient city of Pompeii. Take the SP1 north for a chance to see the ruins perfectly preserved by volcanic ash more than 2000 years ago.
Florence and Tuscany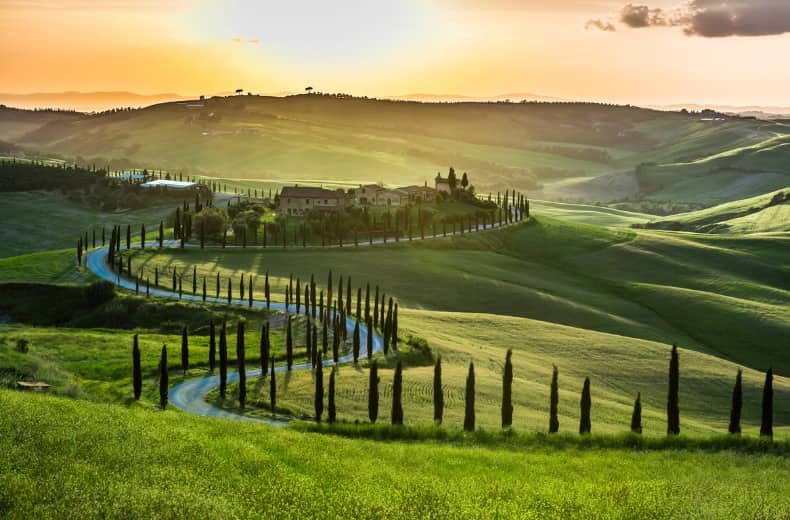 Tuscany is synonymous with rolling green hills and endless vineyards. However, the best route around one of Italy's finest wine regions starts away from the countryside, in the city of Florence.
Once you've explored the renaissance architecture on foot, the 200-mile journey begins on the Strada Regionale 70. Head west towards the walled city of San Gimignano, making sure to stop at the pretty town of Poppi along the way.
From here, make your way north towards dramatic landscapes at the Apuan Alps. Add stops at the medieval fortress of Coreglia Antelminelli and the fortified village of Catiglione di Garfagna to sample the best of the rest of the region.
Lake Como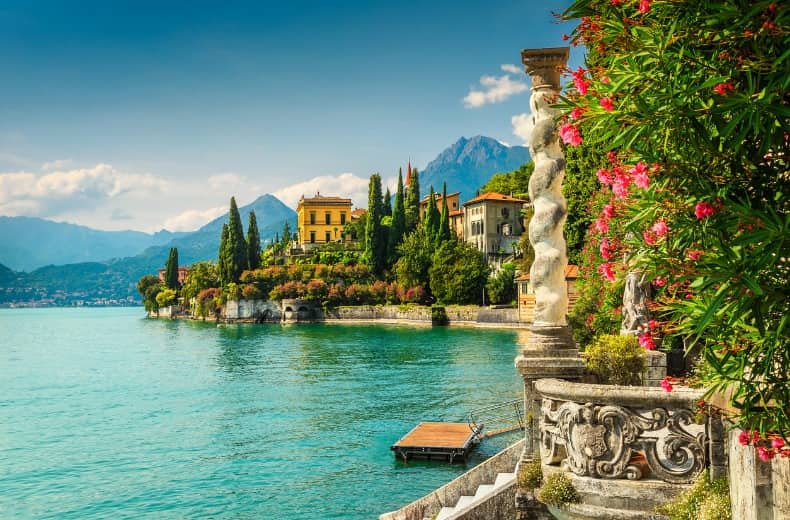 The picturesque Lake Como can be easily explored on a 100-mile circuit lasting four hours. But if you really want to experience one of the most scenic landscapes in Italy, you might want to take a couple of days.
You can start the round trip from any point near the water, as you'll eventually see every alpine peak and lakeside village along the way.
For a chance to cruise through quaint villages and lunch like a local, take the SP11 and SP10 heading west. Across the water, Bellagio, or the Pearl of Lake Como, is often considered the prettiest pit stop on the route.
For a limited time, get FREE car health check with European breakdown cover.
Italian Riviera and Portofino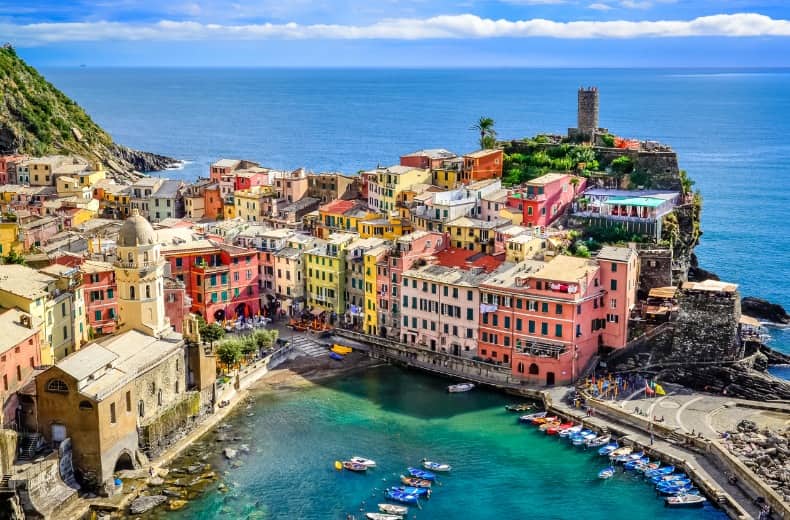 Join the SS1 in Ventimiglia, near the French border, for a chance to cruise one of Italy's most pristine coastlines. Highlights along the way include Portofino, a charming fishing village with a picturesque harbour and the historic city of Genoa.
Follow the shore of the Lingurian Sea past golden beaches and swaying palm trees before heading to Cinque Terre. The national park is famous for its five coastal villages filled with a wide range of activities to fill up your itinerary.
To really make the most of the region, try parking up your car and hiking the trails overlooking the sea. You can even catch a ferry from Portovenere for a chance to explore the beautiful islands Palmaria, Tino and Tinetto.
Stelvio Pass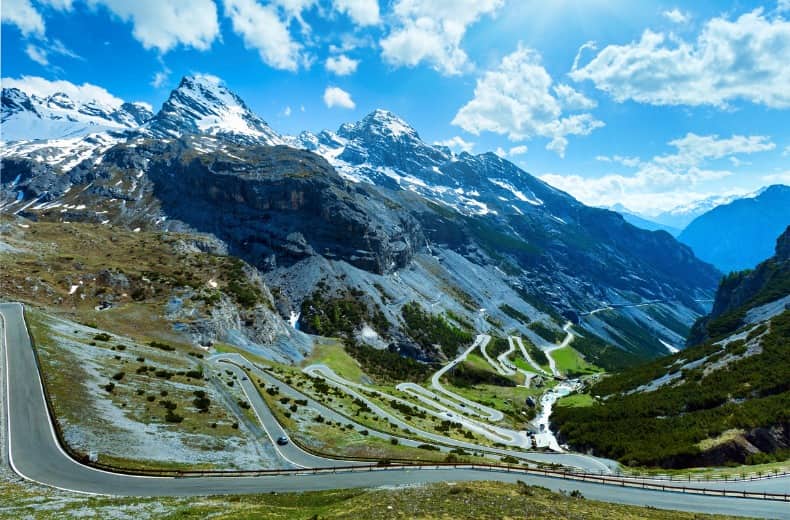 Stelvio Pass is a road trip unlike any other. The monumental mountain pass is one of the highest in Europe at 2,759 metres high and includes 46 hairpin bends - a true test of your driving abilities.
There's no shortage of drama along the way, with dramatic scenery at every turn and steep roads throughout the route. Head to the SS38 in Bormio anytime between May and October to steer your way past snow-capped mountains, lush green forests, and breath-taking lakes.
It's no wonder that Jeremy Clarkson dubbed the route "the greatest driving road in the world."
What rules do I need to know before driving in Italy?
It may sound obvious but when you're driving in Italy you'll need to use the right hand lane.
You have to carry a few essential documents too:
Full, valid UK driving licence
Proof of ID (passport)
Motor insurance certificate
V5 registration document
It's also compulsory to carry a warning triangle and if your car breaks down, you'll need to wear a hi-vis jacket when walking on the road or hard shoulder.
Italy has many low emission zones and there are restrictions on where you can drive in Bologna, Florence, Milan, Rome, Turin and other cities. Milan also has its own congestion charge. You can look out for roadside signs, or if you're staying at a hotel, call or email ahead for more information.
If you're driving to Italy from the UK, you'll pass through France and, depending on your route, Switzerland, Germany, and Austria too. It's important that you follow the local rules in these countries while using their roads.
What do I need to remember before I start my Italian road trip?
Before setting off on a long road trip, it's best to make some basic maintenance checks. The acronym FORCES should help you prepare your car for the trip ahead:
Fuel
Oil
Rubber
Coolant
Electrics
Screen wash
If you're unclear about how to check any of the above, our tips for avoiding a breakdown offer more information.
Do I need European breakdown cover to drive in Italy?
Although it's not a legal requirement to have breakdown cover, knowing that you have 24 hour roadside assistance on call can give you peace of mind.
Our European breakdown cover will get you back on the road no matter where your car grinds to a halt in Italy. Our 24/7 English-speaking helpline is available on our annual or single trip cover, so you can hit the Mediterranean's most scenic driving routes without a care in the world.
What happens if I break down in Italy?
That depends on the level of your European breakdown cover. We can pay towards garage labour costs, onward travel expenses and accommodation fees. We can even pay to get your vehicle back to the UK if it can't be fixed.
See our page for more details on breakdown cover in Italy to weigh up your options.
For a limited time, get FREE car health check with European breakdown cover.