Convoy holiday tours are an excellent way for family, friends and fellow car enthusiasts to holiday through Europe. These tours offer you the freedom to explore numerous beautiful locations, while travelling in the comfort of your own car – and there are so many tours to choose from! There are memorable routes across mainland Europe for joint family trips, movie based tours for film buffs and classic car tours for motoring enthusiasts.
So pack your bags, check your route planner and get ready to share those holiday memories with friends and family alike, all with information provided by our European Breakdown Cover.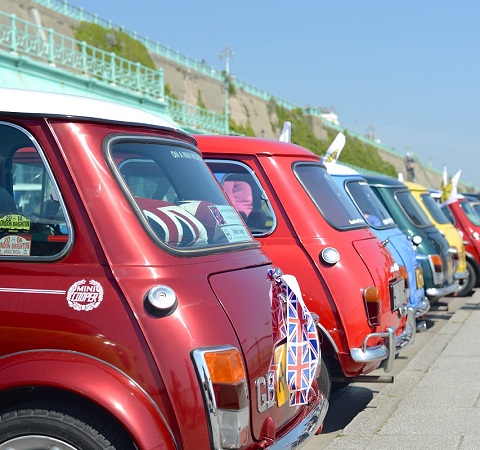 The European Route
If you're looking to enjoy a holiday that's about the journey rather than the destination, then a tour of mainland Europe is the holiday for you. The European Route comprises of some of the most stunning lakes, mountains and alpine passes in Germany, Austria, Italy and France. The 10-day route also has some of the most important travel necessities along the way: bed & breakfasts and hotels.
Stage 1. France to Germany
After leaving Callais the journey starts from Bad Durkheim and its Palatinate forest, travels via Germany's autobahn and then into Austria's Otztal valley. A few days into the journey and you'll come to the Stelvio Pass, a superb alpine road that leads to Riva del Garda that offers a lakeside respite.
Stage 2. Italy to Switzerland
Nearly halfway through the tour, the day starting from Lake Garda (Italy's largest lake), you can drive to Venice and visit the prehistoric rock carvings at Val Camonica before driving onto Brescia and settling in for the evening at the shores of Lake Como. Following on from Lake Como, the route continues to the north of Lake Maggiore and onwards to Switzerland.
Stage 3. Switzerland to France
Coming towards the end of the journey now, enjoy some of the finest alpine roads in Europe by taking the San Gotthard and Susten passes. After a breath-taking drive through the Vosges mountain in France, the journey comes full circle, passing Verdun en route back to Calais.
Italian Job Mini Car Rally
Do you love movies as much as you love cars? The organisers of the Italian Job Mini Car Rally had a great idea, just like Charlie Croker in the 1969 classic British film of the same name. Every year the organisers put on an Italian Job-inspired rally in Italy. First launched in 1990, the Italian Job Mini car rally is a fun-packed driving holiday that also raises money for charity.
Unlike some convoy holidays, the whole event is put together by the organisers. This means all the drivers have to worry about is turning up to enjoy making new friends, exploring new places, going off the beaten track, sampling Italy's famously good food and wine and even improving your driving and navigational skills.
Participating couldn't be easier and is open to anyone over 21 years old who drives a Mini or a classic car from the Michael Caine film, The Italian Job.
And it's all in aid of a good cause. All money raised by the rally is used to help sick, disabled and disadvantaged children to reach their full potential. All fund-raising will be used by the nominated charity – Variety the Children's Charity – to purchase Sunshine coaches proudly displaying the Italian Job logo.
It is recommended that you register early if you'd like to join the 2016 Italian Job Mini Car Rally.
Classic Car Tours
If you dream of driving through classical antiquity in your beloved classic car, there are numerous driving tours for classic car enthusiasts. The most prominent of these is run by Classic Car Tours International. Founded in 2001, and with over 30 years of European driving experience, classic and sports car aficionados are able to enjoy general touring holidays as well as motor racing events.
Tour Dates:
| | |
| --- | --- |
| Provence | March 23rd- April 3rd |
| Tuscany | April 9th - 22nd |
| Monaco Historic Grand Prix | May 7th - 16th |
| Mille Miglia/Italian Lakes | May 16th - 23rd |
| Ireland | June 1st - 12th |
| Spanish Pyrenees | June 19th - 29th |
| Le Mans Classic | July 6th - 11th |
| Italian Lakes/Stelvio Pass | July 15th - 28th |
| Loire Valley | August 1st - 8th |
| Dordogne Summer | August 14th - 23rd |
| Angouleme Circuit - Des Remparts | September 14th - 19th |
| Corsica Autumn | September 26th - October 10th |

Tour features:
You bring and drive your own modern sports car or classic car
Ferries with cabin accommodation on overnight routes
You drive at your own speed, individually or in small groups
A comprehensive road book is provided with detailed route notes, highlighted maps and a list of towns/villages to drive through
Lunch stops and morning/afternoon coffee stops are included in the plan
Daily itinerary including: pretty villages, beautiful gardens, historic chateaux and villas, fascinating museums, wine caves etc
Stylish 3- and 4-star hotels await you each evening, often in stunning locations with charming décor and ambiance, great food and friendly service
A Tour Director accompanies each tour to ensure your holiday is trouble- free and enjoyable and that everybody is made welcome
Rally plates and commemorative plaques
Find information here on European breakdown cover.