Many of us look beyond the English Channel for a European road trip without considering a holiday in the other direction across the Irish Sea.
The emerald isle is home to one of the longest coastal roads in the world and beautiful scenery too. Here, we run through all the essential information you need to plan the ultimate self-driving holiday in Ireland.
Can I drive to Ireland?
Although you can rent a car once you arrive in Ireland, you might prefer to take your own vehicle over the Irish Sea, or across the border from Northern Ireland, to start your self-driving holiday.
You can board a ferry with your car at seven ports from the UK to Ireland (and Northern Ireland).1 Routes include:
| | Crossings per day | Crossing duration (hours) | Operated by |
| --- | --- | --- | --- |
| Liverpool to Dublin | 7 | 8-9 | Seatruck and P&O Ferries |
| Liverpool Birkenhead to Belfast | 3 | 8 | Stena Line |
| Heysham to Dublin, Warrenpoint and Belfast | 4 | 8-9 | Seatruck and P&O Ferries |
| Cairnryan to Belfast and Larne | 13 | 2 | Stena Line and P&O Ferries |
| Holyhead to Dublin | 10 | 3 | Stena Line and Irish Ferries |
| Fishguard to Rosslare | 2 | 3 | Stena Line |
| Pembroke to Rosslare | 2 | 4 | Irish Ferries |
Remember, you should drive using the left hand lane and speed limits are given in km/h.
Read our guide for more information on driving in Ireland.
Do I need a passport to travel to Ireland?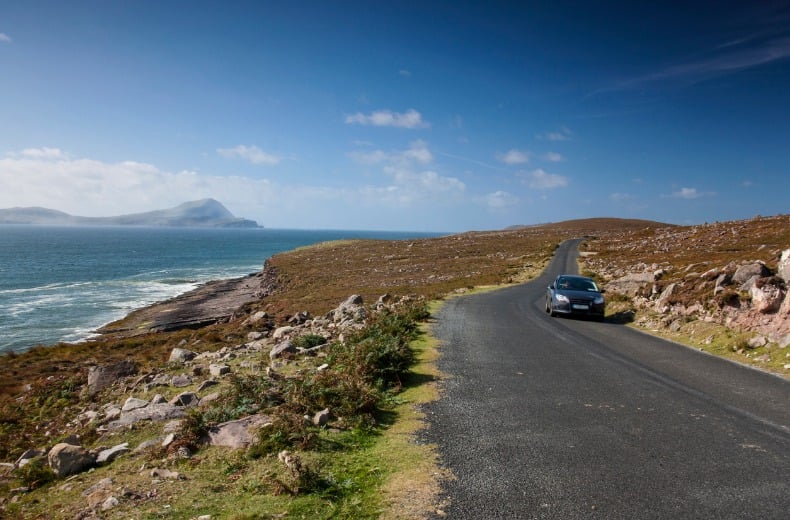 British nationals do not need a passport to travel from the UK to Ireland. However, Irish immigration officers may ask for proof of nationality and your ferry service will probably need to see photo ID.
In most cases it's best to pack your passport with you.
For a limited time, get FREE car health check with European breakdown cover.
Speed limits
It's important to pay close attention to road signs in Ireland as speed limits are given in km/h. It's illegal to use camera detectors on navigation systems.
| In built-up areas | 50km/h (30km/h near schools and in some residential areas where signposted) |
| --- | --- |
| Outside built-up areas | 60km/h - 100 km/h |
| Motorways | 120 km/h |
What to look out for on Irish roads
Irish language road signs
It won't take long before you notice that road signs use both English and Irish. The bilingual signs are usually used for place names but can also feature elsewhere.
For example, 'YIELD', an instruction to give way, sometimes appears as 'GÉILL SLÍ'. You might even come across 'Téigh', the Irish for 'Go' when travelling near roadworks. 2
Unusual road signs
Most of the road signs in Ireland are almost identical to our own in the UK. However, there are a few exceptions.
If you think this sign looks like a lollipop lady holding a small flag, you wouldn't be far off the mark. The flagman ahead sign is used to warn drivers that traffic will be controlled by a human rather than traffic lights and usually appears near roadworks.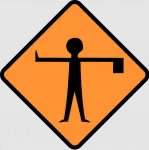 It might look like an instruction to park on the pavement but the orange, diamond-shaped sign showing a car tilted to one side indicates an uneven surface.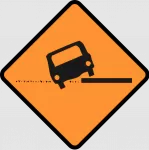 The M50 toll
There are eleven toll roads in Ireland and only one of them doesn't require you to stop at a barrier. Cameras between junction 6 and junction 7 on the M50 use vehicle recognition technology to record number plates and charge drivers using this section of the Dublin motorway.3
You might want to consider setting up a tag account to pay the toll automatically and to avoid paying any late or non-payment fees. The etoll.ie website will help you to get started.
Cash is king
Toll plazas at the M8 Limerick Tunnel and East Link Bridge will only accept cash, so it's important to keep some loose change handy to pay your way.4

What to take with you
You do not need to have a GB sticker on a UK-registered car or an International Driving Permit (IDP) to drive in Ireland. However, you will need to carry your UK or Northern Ireland driving licence.5
You'll need a 'green card' from your insurance provider but it's not mandatory to take your passport. The ID can be very useful though, when boarding ferries or at immigration control.
You'll need to have:
Your driving licence
A 'green card' from your insurance provider
A V5 registration document
A car insurance certificate
You don't need to have:
A GB sticker on the window
An International Driving Permit
Finally, it's important that you have European Breakdown Cover to help get you back on the road if your car grinds to a halt. Choose from single-trip or annual cover and rest assured that help is at hand if you need it. You might need to arrange temporary car insurance to let a second driver share the driving. And don't forget to consider travel insurance.
Before you leave you should also make some simple maintenance checks to make sure your car is ready for a longer trip.
Must-sees on your self-driving holiday
The Wild Atlantic Way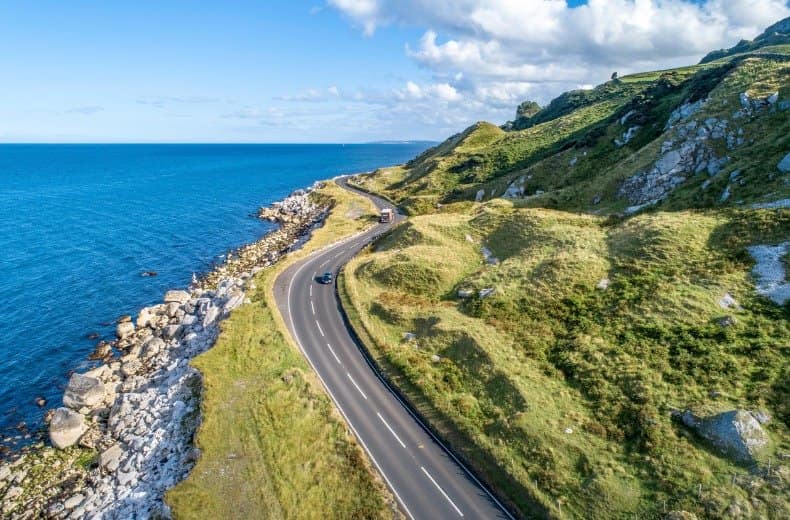 Believed to be the longest defined and uninterrupted coastal route in the world, The Wild Atlantic Way straddles the west coast for over 1,600 miles from Derry in Northern Ireland to the picturesque town of Kinsale in County Cork.
No driving holiday in Ireland is complete without navigating the winding road perched on top of seaside cliffs and meandering through traditional villages. Essential pit stops along the way include Downpatrick Head, a uniquely formed sea stack named after the country's patron saint, with panoramic views across County Mayo.
Newgrange, County Meath
A short drive north of Dublin via the M1, brings you to an archaeological site older than Stonehenge and Egyptian pyramids. The 5,200-year-old tomb is surrounded by 97 large stones adorned with ancient art and lies just north of the scenic River Boyne.
For your chance to explore the Stone Age chambers and surrounding mounds by foot it's essential to book in advance. Visit the Brú na Bóinne Visitor Centre website for more details.
Valley Loop, County Kilkenny
If you're looking for something different to rugged coastline, the Valley Loop in the south-east of Ireland offers a picture-perfect drive through valleys around Kilkenny.
Take the M3 from Dublin before joining the R154 for a chance to cruise past Trim Castle, a filming location that you might recognise from Mel Gibson's Braveheart.
Yeats Country and Lough Gill, County Sligo and County Leitrim
A car is one of the best ways to catch a glimpse of all the breath-taking scenery in County Sligo and County Leitrim. W.B. Yeats' favourite part of Ireland includes the 50-foot-high Glencar Waterfall and the tabletop-like Benbulben Mountain that dominates the landscape for miles around.
Take the N15 south of the dramatic peak for a chance to visit the poet's final resting place in Drumcliff or head north to the fishing village of Mullaghmore, for a seafood lunch overlooking the Atlantic.
For a limited time, get FREE car health check with European breakdown cover.
---
1. https://www.freightlink.co.uk/knowledge/articles/irish-sea-crossings-7-ports-uk
2. https://ladybirddrivingschool.ie/road-signs-ireland/
3. https://etoll.ie/driving-on-toll-roads/information-for-visitors/ and https://www.eflow.ie/help-guidance/faqs/the-m50-toll-road/
4. https://etoll.ie/driving-on-toll-roads/information-for-visitors/
5. https://www.nidirect.gov.uk/articles/travel-and-transport-eu-exit-information