Drivers should be extra vigilant in detecting a new scam that poses as the Driver and Vehicle Licensing Agency (DVLA) to request personal details, consumer watchdog Which? warns.
The fraud text message falsely tells motorists their vehicle tax has expired and claims the DVLA has been trying to contact them.
Which? has issued an urgent "scam alert" for the new text to deter recipients from acting on its demand for immediate action.
The scam includes a hyperlink prompting drivers to renew their service online with 'gov.uk' in the address – a trick used to make people believe the message is real and click on the link.
The scam message reads: "DVLA Final Notice: We have been trying to contact you.
"Your vehicle tax has expired. Renew your service online via: gov.uk-taxinfo.org or register SORN."
In response, Which? has since posted advice online reading: "SCAM ALERT. Watch out for this scam claiming to be from DVLA. Avoid clicking links in texts or emails, especially if it's from an organisation contacting you out of the blue."
The DVLA has confirmed the message is a scam and encouraged people to report any suspicious websites or messages.
It said: "DVLA will never ask you to reply or give personal/bank details or ask you to log into an account.
"To report websites you think may be suspicious visit GOV.UK."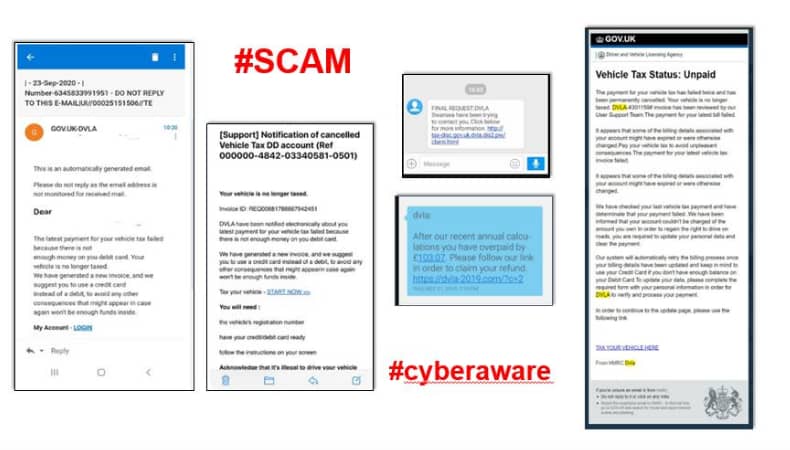 Drivers have banded together on social media to express their outrage at the "out of control" fake messages.
One motorist said she received the fraud message twice last year and reported it. She did admit though: "it was a very convincing email and I'd imagine quite intimidating for some who are not as aware.
"Remember you can check your MOT & insurance expiry on the DVLA website by just inputting your car reg," she added.
Another lady decided to share her own way of dealing with the fraud messages. She said: "In view of the number of scams being perpetrated on the internet, I now have a policy that any requests for money that arrive by electronic means is automatically deleted."
Last year, the DVLA confirmed the only place to access its official information is via the GOV.UK website.
It urged drivers never to share bank details or personal details online and to avoid websites that offer to connect to DVLA's contact centre. It also warned drivers never to share images of their driving licence or vehicle documents online.
Breakdown cover from just £7.95 a month*. Plus up to £150 of driving savings!