The road to electric is an increasingly well-travelled one.
In fact, the RAC estimate that as of April 2021, there are around 239,000 zero-emission Battery Electric Vehicles registered in the UK, with more than 100,000 registered in 2020 alone.
With the ban on the sale of new petrol and diesel cars looming we bring you our list of the best performing and best value electric vehicles (EVs) available in 2021.
Volkswagen ID.3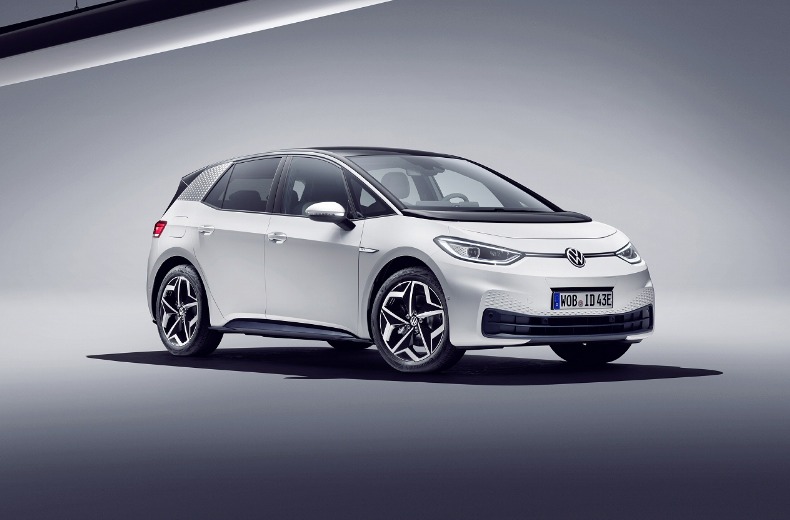 The ID.3 will change the way you think about Volkswagen. And, the brand hopes, it'll change the way you think about affordable electric cars.
This contender is priced, shaped and designed right for the heart of the family segment of the growing EV sector and, unlike previous battery-powered Volkswagens, it's completely new from the ground up.
The ID.3 is loaded with smart technology lik it's unique ID.Light that greets you as you make your approach. It also prompts you for upcoming navigation commands, indicates when you have a phone call coming in, and flashes red as a braking prompt when it senses an obstruction ahead.
For all of its tech and neat packaging, the most exciting selling point could be the price. The German manufacturers have delivered a family-sized all-electric vehicle that's just as affordable as conventional internal combustion engine (ICE) options.
Price: From £28,370 inc. £2,500 Plug in Car Grant (PiCG)
Range: Up to 263 miles
Read our in-depth Volkswagen ID.3 review.
Tesla Model 3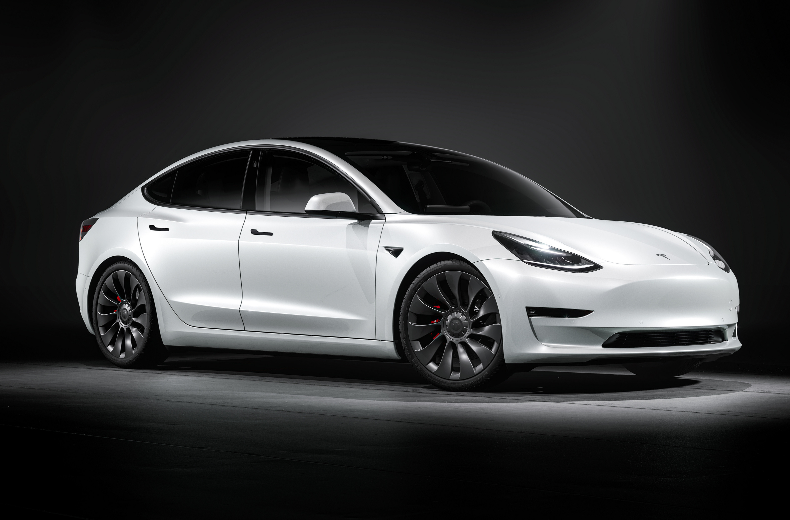 Before the Model 3, Tesla earned a reputation for building new cars in a high price bracket, but their latest model is designed to shift more units to the masses.
Expect a sleek interior, similar to the Model X, and an enviable infotainment system that even boasts video gaming capability (while parked up of course), all at a more wallet-friendly price.
The dual motor vehicle offers all-wheel drive and boasts a super-strength body too. The panoramic all-glass roof not only looks great but resists four times its own weight – the equivalent of two fully-grown African elephants!
Price: From £40,990
Range: Up to 360 miles
Read our in-depth Tesla Model 3 review.
Nissan LEAF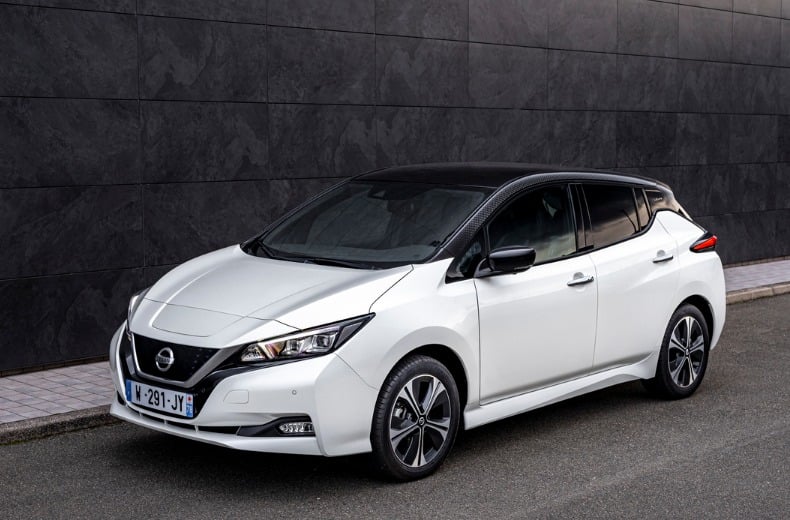 You're probably already aware of this - but it bears repeating: the Nissan LEAF is the world's best selling electric vehicle.
Since its release in 2011, Nissan have continued to tweak charging times and driving range on the LEAF to offer a family car that's both practical and cheap to run.
After a decade on the road, the vehicle comes with a few smart extras too. The Acenta trim includes a smart e-Pedal that allows drivers to start, accelerate, decelerate and stop using only the accelerator pedal.
The N-Connecta version adds an intelligent Around View Monitor providing a 360º picture of your surroundings with added Moving Object Detection.
Price: From £25,995 inc. £2,500 PiCG
Range: Up to 239 miles
Read our in-depth Nissan LEAF review.
Mercedes-Benz EQA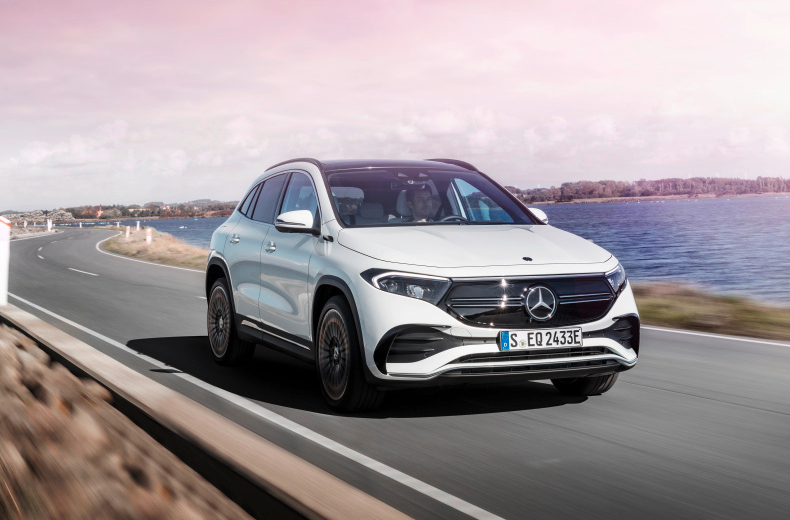 Mercedes' first fully electric compact SUV packs all the elegance we've come to expect from the German manufacturers into a new distinctive silhouette.
The suave vehicle will even charge from 10% to 80% in half an hour when using a 100kW rapid charger.
If you prefer your luxury SUVs on the larger side, there's always the option to pick up the keys to an EQC. The electric 4x4 offers a competitive driving range, smart driver assistance features and all-important added leg room.
Price: From £44,495
Range: Up to 263 miles
Read our in-depth Mercedes-Benz EQA review
Hyundai IONIQ Electric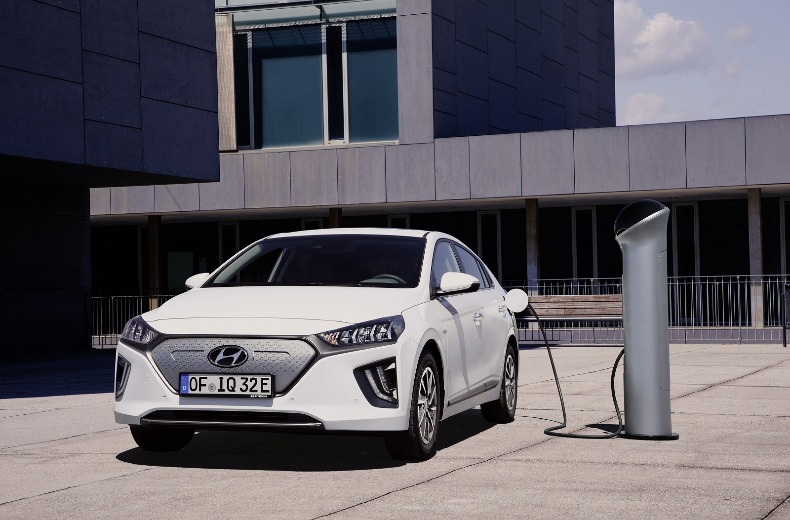 Hyundai believes that the market-leading Nissan LEAF has had its own way for far too long in the affordable part of the slowly growing full-electric car segment.
They've aimed this full-Electric IONIQ model directly at that car, as well as at other more recently introduced key segment models like the Volkswagen ID.3. On paper, this car certainly seems to offer a package that eco-minded buyers in this class will want to consider.
The IONIQ is instantly recognisable thanks to its distinctive dummy grille – a fascia in place of the usual metal radiator.
Inside, the South Korean EV offers all the mod cons you might expect, including a touch screen entertainment system and smart assisted driving technology.
New models are sold with a five-year unlimited mileage warranty and five annual vehicle health checks, making this affordable family car practical too.
Price: From £30,550 inc. £2,500 PiCG
Range: Up to 193 miles
Read our in-depth Hyundai IONIQ Electric review
MG ZS EV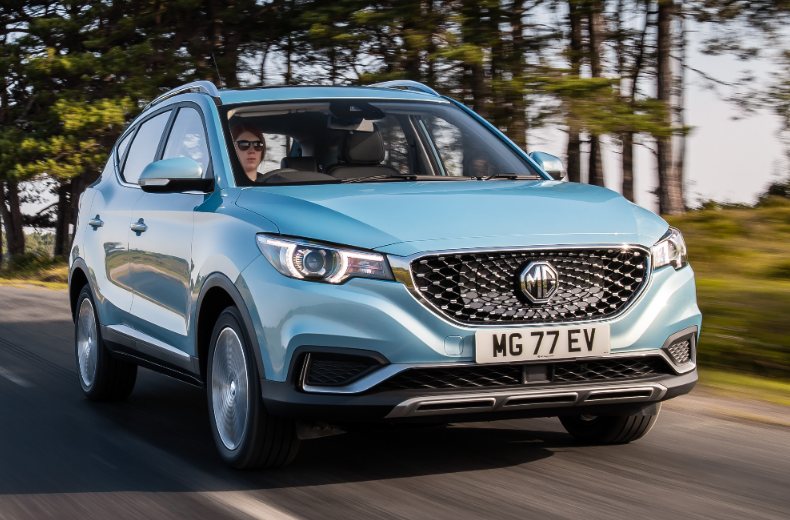 Looking for a compact family-sized full-electric model with zero emissions and the rapid responses characteristic of today's EVs? Here's the most affordable option you could consider, the MG ZS EV.
It's an SUV, it's sensibly priced and it's well equipped. If ultimate driving range capacity isn't a top priority and you're buying on a budget, you might rather like it.
The car includes a spacious interior and a panoramic sunroof on the Exclusive trim for a pleasant and comfortable ride. There's even a generous 470-litre boot.
An impressive seven-year warranty makes the ZS EV a tempting option for the money-conscious buyer.
Price: From £26,095 inc. £2,500 PiCG
Range: Up to 163 miles
Read our in-depth MG ZS EV review
MINI Electric
If you've always wanted to own the iconic Mini but thought your next car should be electric, you can do both.
The cult classic takes 36 minutes to charge from 0% to 80% and looks almost identical to the conventional ICE-powered vehicle.
There are four trims available, with the full spec Collection offering wireless phone charging and automated parking. Most impressive of all could be the eight-year or 100,000-mile warranty.
Price: From £26,000
Range: Up to 145 miles
Read our in-depth MINI Electric review
Peugeot e-208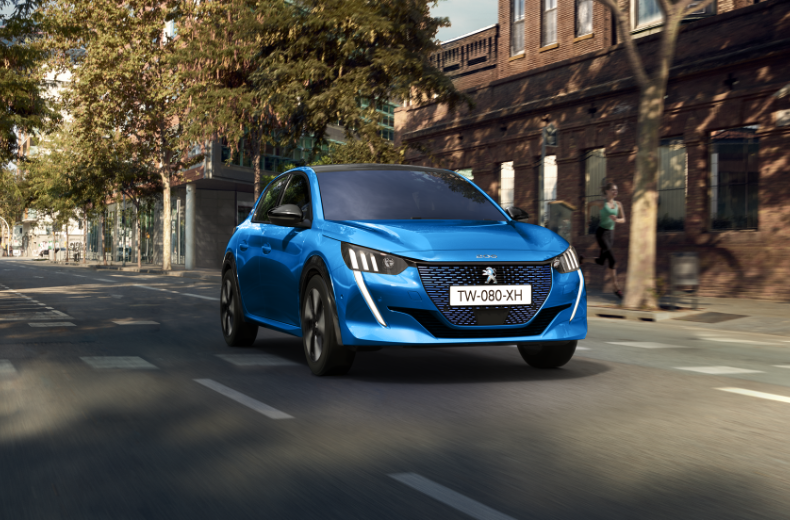 Peugeot's all-electric supermini looks snappy and covers a competitive 217 miles between charges. On-board technology includes a 3D instrument panel and a wireless charging cubbyhole for your phone.
If you're a fan of the e-208's slick exterior but crave a little more room, the e-2008 could be the car for you.
It has a similar range, interior, and good looks but drivers sit higher in Peugeot's SUV counterpart and the boot is almost 50% larger – the ideal family car.
Price: From £27,225 (inc. PiCG)
Range: Up to 217 miles
Read our in-depth Peugeot e-208 review
Honda e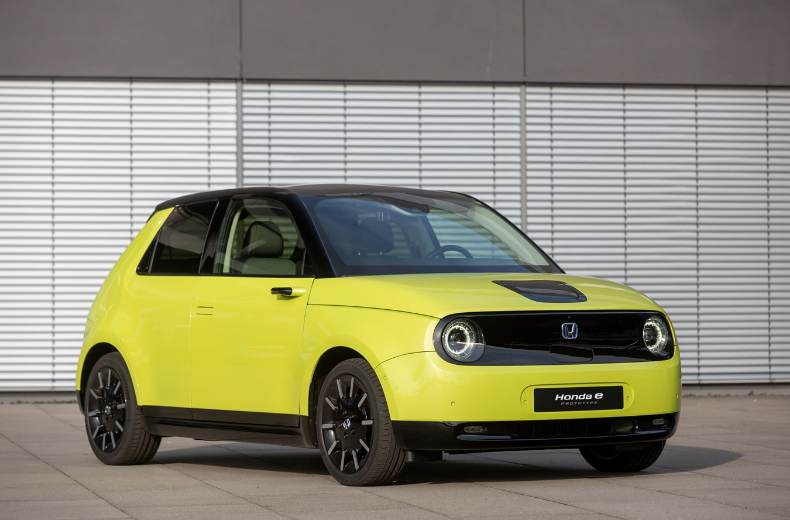 If you want an electric car that feels different from a conventional ICE-powered vehicle, look no further than the e.
Honda's supermini is designed to be a city run-around and is filled with charismatic touches that set it apart from the competition.
These include digital wing mirrors inside the cab and the distinctive dash where drivers and passengers can swap controls of the infotainment system with two 12-inch displays.
Overall, a charming and boldly designed car that will appeal to early adopters.
Price: From £28,215 (inc. PiCG)
Range: Up to 137 miles
Read our in-depth Honda e review
Polestar 2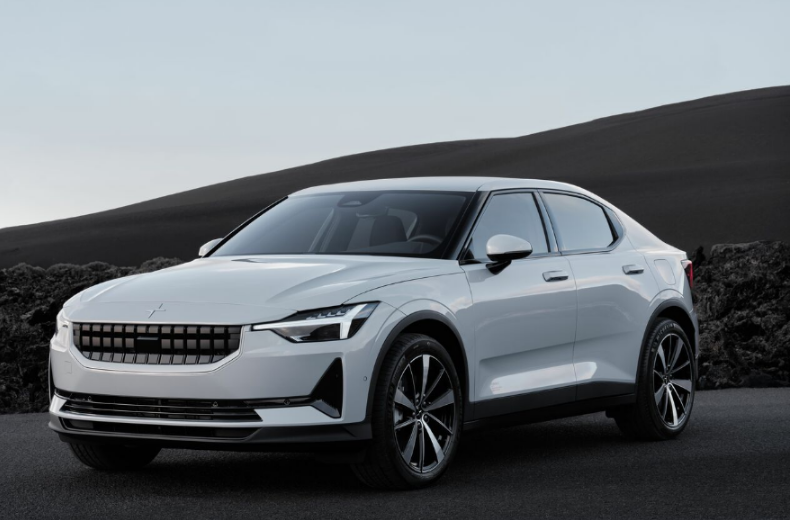 You might not have heard of Polestar, the brand for uniquely designed electric cars is actually owned by Volvo's parent company. Their five-door hatch is built for the premium EV buyer and has already earned a reputation for its good looks and impressive safety rating – Euro NCAP's highest in 2021.
The impressive 335-mile range is only available on the long-range single motor model but does sound very tempting for frequent road trippers. With 360º cameras, Park Assist and unique frameless wing mirrors there are plenty of interesting extras too.
Price: From £39,900
Range: Up to 335 miles
The easy way to go electric. Get all the benefits of a brand new car, without the hassle of owning it. Find your brand new electric car today!