The UK Government has launched a campaign designed to encourage us to travel safely this summer as the country emerges from many of the lockdown restrictions imposed in March.
But what does this mean for drivers? We take a look at ways you can keep yourself and others safe if you're looking at taking a holiday in the UK or simply heading out for a daytrip.
Before your trip
---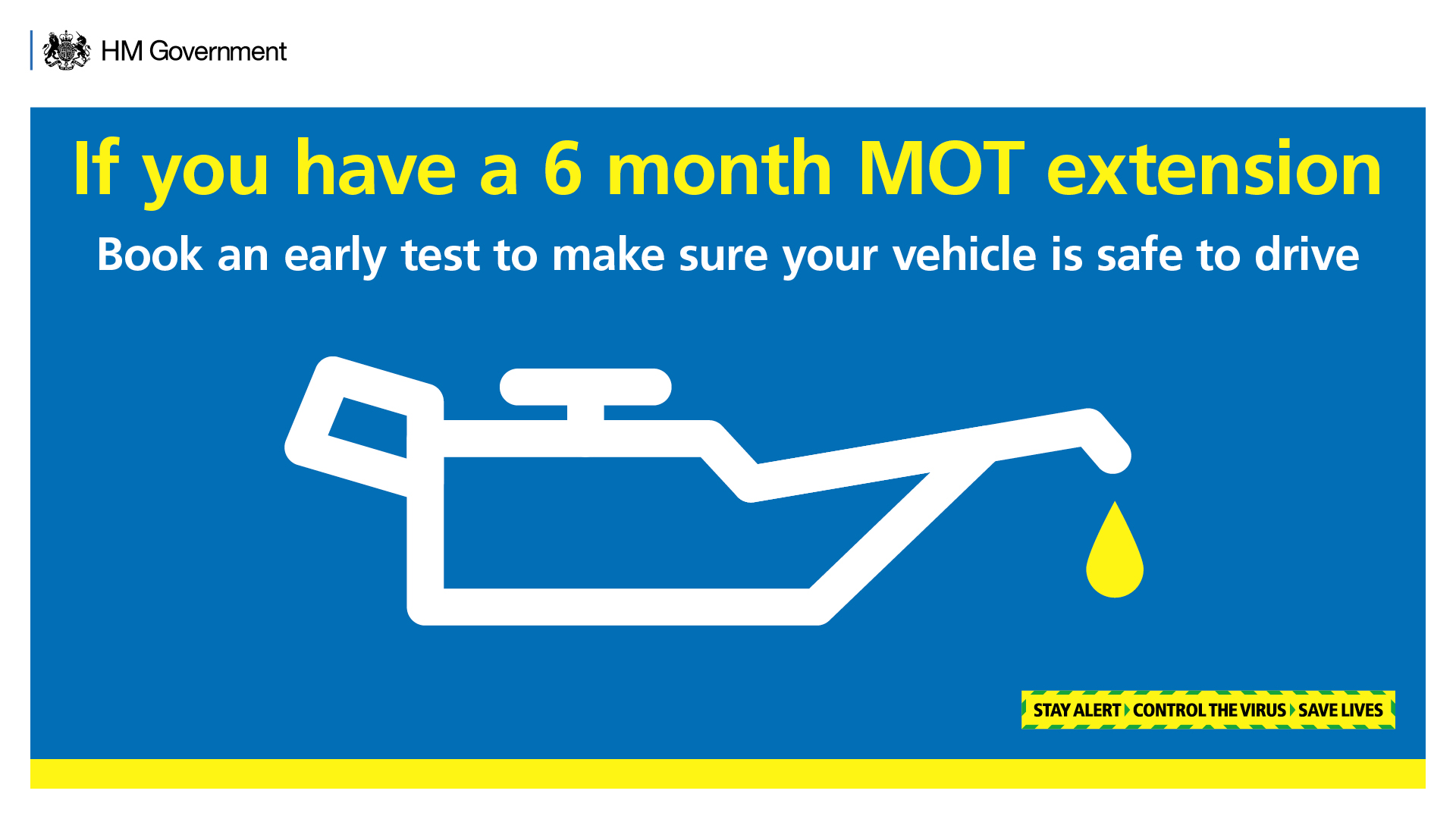 Plan ahead before you get to your destination
As restrictions are being eased different around the UK, we strongly urge drivers to check the following before setting off to their destination:
Devolved Governments may have different rules: Different governments across the UK are opening up at different stages so if you are travelling to a different country within the UK, make sure you check what you can and cannot do and what is and isn't open.
Local lockdowns: Always keep abreast of where local lockdowns and restrictions might apply. You may wish to avoid travelling via these areas as shops or facilities could to be closed depending on measures put in place locally. Government guidance states only to travel into, out of and within areas under local lockdown if your travel is essential.
Overnight stays: Check with your accommodation provider to understand what measures they might have in place when you arrive. Certain facilities may not be in use, and if you're self-catering or camping you may find check-in and check-out times later or earlier than you might be used to.
Avoid the crowds: Plan ahead to try to avoid locations where large numbers of people are expected and where social distancing is much harder. Make 2020 the year you discover a hidden gem, far from the usual summer crowds
Parking: It's worthwhile ensuring that if you are heading to a tourist spot that there are parking facilities available when you get there (check toilet facilities are open too). Some tourist areas including the Lake District are updating their webpages with a 'live' view of how busy car parks are. Be aware that you may have to pay for some parking by a different method (such as by card, via phone or on an App) as the use of coin-operated machines is being avoided.
Check your breakdown cover: Ensure you have a good level of breakdown cover in place that you can call on if you need it. Remember, if you're away from home on holiday being towed to a local garage may not be ideal so look for providers that are much more likely to fix your car at the roadside – we fix four out of five breakdowns on the spot. Our European Breakdown Cover can keep your trip on track once you get on the continent.
Think about the journey you will be taking
It is recommended that you take a break from driving at least every two hours, so plan where you're going to stop.
Some businesses and facilities may not yet have fully reopened so it's important that if you're going on a long journey that you check where you are able to stop and which facilities will be open.
As of July 2020, Motorway Service Areas are open but social distancing rules apply and some services may not be available. You may wish to check with individual operators when you plan your journey.
When refuelling, take precautions at fuel pumps by using the gloves provided. We would also encourage you to 'pay at pump' if that option is available.
Check your vehicle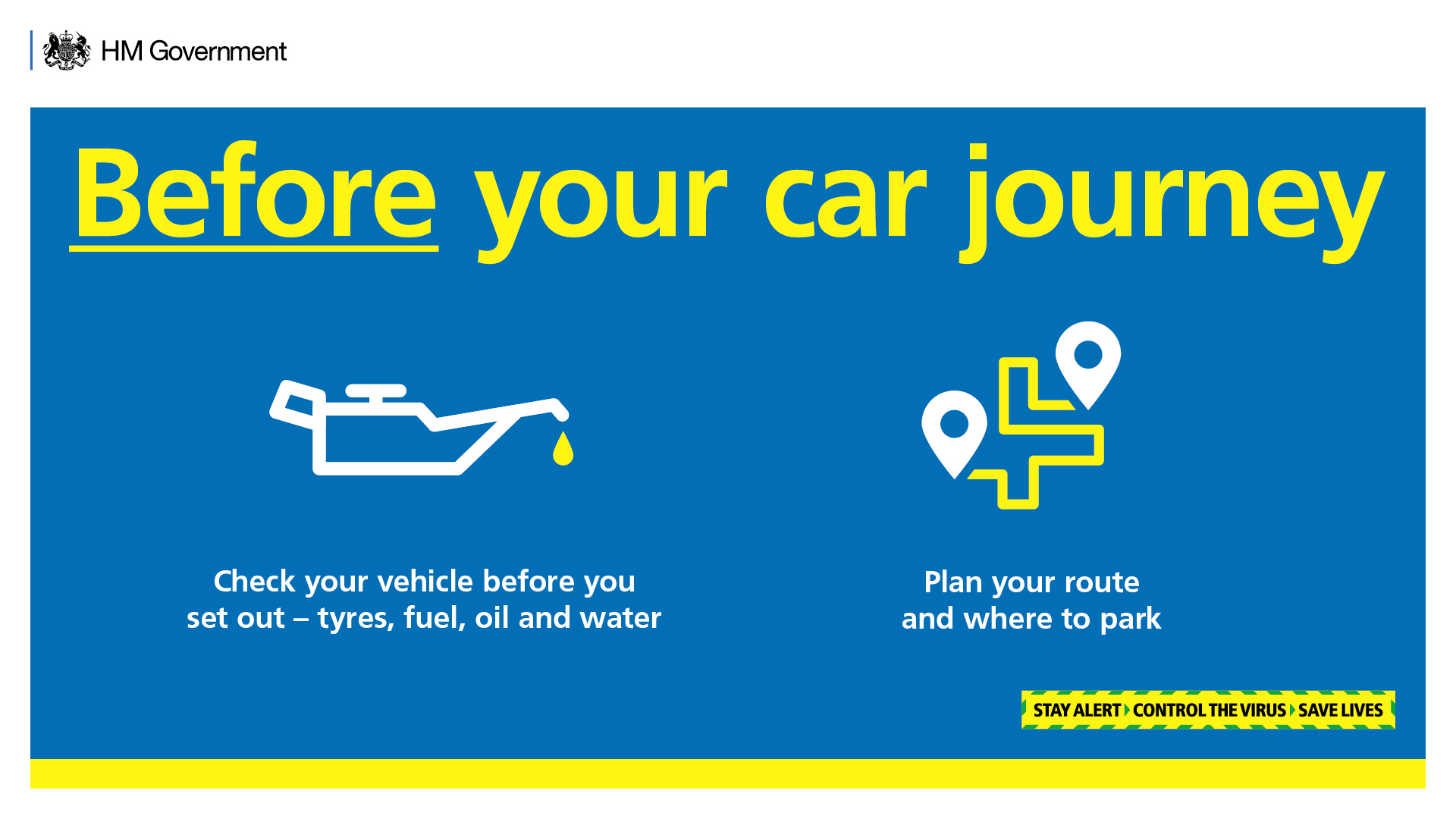 It's essential before you go on any long journey that you do the necessary basic vehicle checks to reduce the chances of a breakdown.
The RAC provides detailed advice on avoiding a summer breakdown, however we always encourage drivers to remember FORCES when carrying out pre-journey vehicle checks:
F is for FUEL
Ensure you have enough fuel for your journey. Cars use more fuel in heavy traffic and start/stop conditions which can be regular occurrences, especially in warm weather.
O is for OIL
To avoid engine damage and a potential breakdown, remember to check your oil level and top up when necessary to reduce the chances of overheating in traffic.
R is for RUBBER
Your tyres can tell you a lot about how your car is performing. If they aren't wearing evenly, then tyre pressures may be wrong or there could be a fault with the steering.
Check that all four tyres have plenty of tread and are inflated to the correct pressure - this is vital to maintaining good grip in wet conditions. For everything you need to know about how to check your tyres you can read our guide on how to check your tyres advice, complete with a short video.
Also take a look at your wiper blades to ensure they're clearing the screen effectively and that the rubber has not perished.
C is for COOLANT
This does a vital job in ensuring the engine runs at the right temperature. If it's not between the 'min' and 'max' levels, this could be the sign of a problem so contact a good garage without delay.
E is for ELECTRICS
Your wipers will help keep your windscreen clear of bugs and you'll need your lights on during any heavy downpours. The electrics also control your indicators and windows so check there are no problems.
S is for SCREENWASH
Top up your windscreen washer fluid by using a good quality screenwash, nobody wants to have to drive with bugs and seagull muck all over their windscreen after a trip to the beach.
Take your essentials
We would encourage drivers to take food and water in their vehicles. This may help prevent you from having to stop in crowded locations when you want to take a break – although in line with our advice you should be stopping to take a break at least every two hours.
Drivers should also ensure they take a face covering with them on journeys for visiting shops and busy areas and for use in the event of needing breakdown assistance and having to travel in another vehicle.
The UK Government gives advice on using face coverings safely. Other things you should consider taking are:
A first aid kit
A warning triangle
A high visibility vest/jacket
A fire extinguisher
Additional engine oil and water (for topping up)
A light bulb kit
An up-to-date road map or sat-nav
A fully charged mobile phone and ideally an in-car mobile phone charger
Take sun cream in case you breakdown, or a brolly as the 'Great British Summer' often goes the other way
If you have children, take some games you can play in the car during the journey
Take extra supplies of medication, you may not be able to get them if you're abroad
You can purchase a number of these items at the RAC Shop.
On your journey
---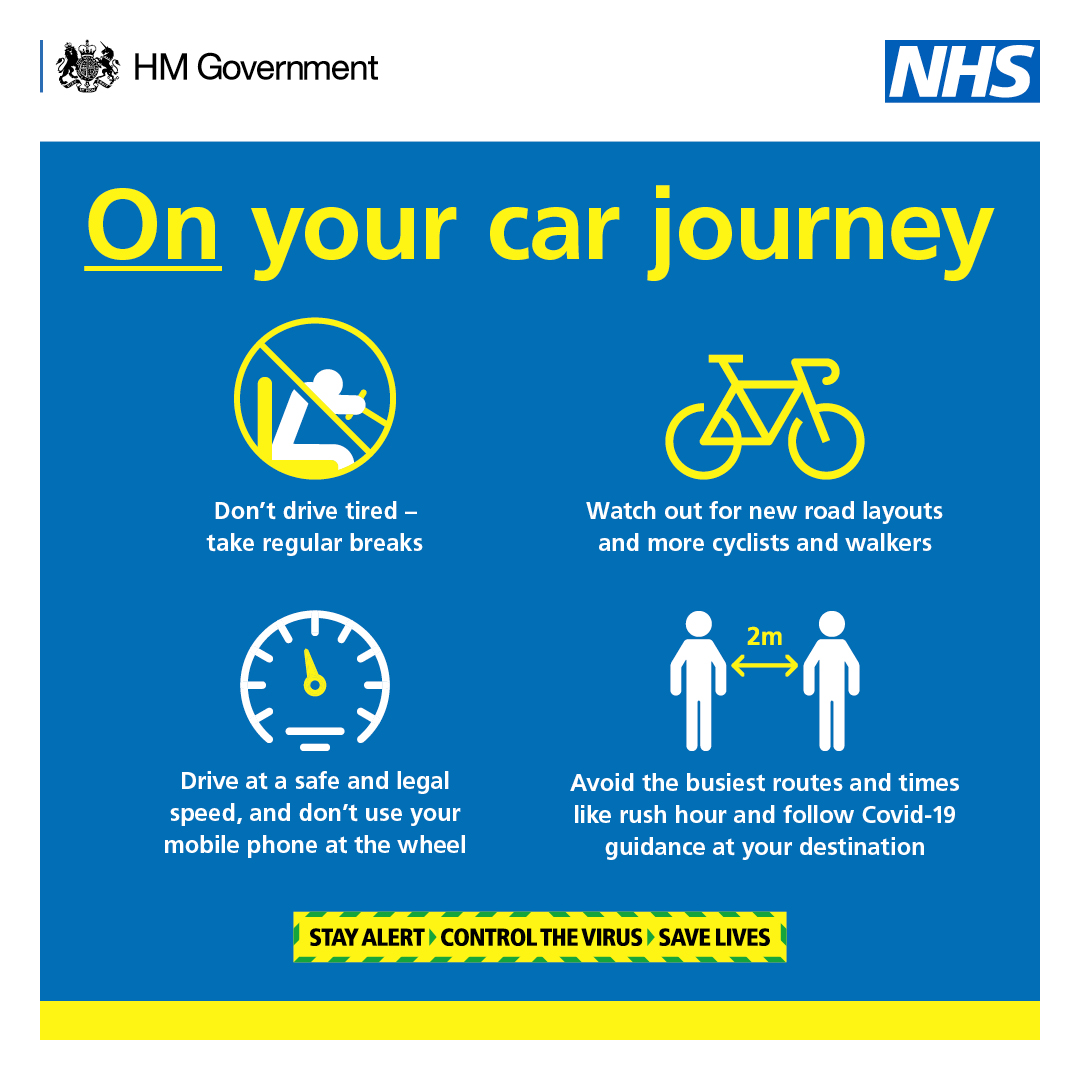 Travel separately
If you're heading on holiday within the UK with another household, you should travel in separate vehicles and avoid mixing households within the confined space of a vehicle.
As of July 2020, UK Government guidelines state that only people from a household or support bubble can travel together in a vehicle. Where there's no other option but to travel in the same vehicle, the Government outlines guidance on minimising risk.
When you arrive at your destination, ensure that you follow rules that may be in place in relation to different households being together.
Respect the locals
Understandably, local residents in tourist areas may be worried about the coronavirus spreading but at the same time want to welcome tourists to help the local economy. We recommend these steps for a respectful staycation:
Always wear a face covering in shops and wash your hands frequently and thoroughly; use sanitiser and maintain social distance in public areas
Avoid crowded areas and any mass gatherings
Always take your rubbish away with you
Be respectful where you park your vehicle
With more people out on their bicycles, take extra care and leave plenty of space if you're overtaking them.
Whilst the outbreak may have seriously impacted your travel plans, as long as you follow government advice and respect the rules for each coutry you visit, you should still be able to enjoy a European holiday this summer.
Have you already been on a trip this year? Please share your experiences in the comments below.
Get specialist personal based cover for caravans, motorhomes and campervans from just £11 per month.^