Millions of Brits enjoy heading south for the summer every year, to the sunny shores of Spain. However, are they prepared for getting behind the wheel in the country?
Our driving in Spain guide is a helpful place to start when preparing for your next journey to the country, but there are many different things to consider for any Brit thinking of driving over there.
This article looks at the rules of Spanish motorways and what you can expect to see when you pass through one of the country's toll roads.
Like many countries across the continent, Spain has a number of tolls, so knowing how to navigate across the nation will be important for any visitor.
Spanish roads and motorways
Driving in Spain comes with its own unique rules and challenges for drivers who haven't got behind the wheel in the country before.
The country has over 17,000km of motorway, with about 30% of them having toll roads. Autopistas are the types of motorways that often have the tolls. Autovias are always untolled.
British motorists in the country are required by law to carry the following items when driving to avoid hefty on-the-spot fines from the police.
In your car, you will need reflective jackets for yourself and all passengers. However, these might not be mandatory in some places, but you will be fined for walking on the road or hard shoulder if not wearing one if your car does breakdown.
You will also need a warning triangle and headlamp beam deflectors with you on your journey.
In Spain, motorists drive on the right and overtake on the left.
Vehicles exceeding 10 metres in length and exceeding 3.5 tonnes must keep a distance of at least 50m with the vehicle in front.
The exception to the rule is in built-up areas, on roads where overtaking is prohibited and when there are several lanes in the same direction, or when the traffic is so heavy that it is not possible to overtake another vehicle.
GPS navigation is allowed, but it is illegal to use ones with knowledge of where fixed speed cameras are located. You will be fined and have your car towed if you are found to be using one.
You must be 18 years of age to be driving in Spain, and you will need to have some important documents on you at all times.
All drivers will need a full, valid UK driving licence, a passport, car insurance certificate and V5 registration document. The last two are only needed if you have driven from the UK to Spain in your own vehicle.
If you have done this, you need to make sure you have a 'UK' sticker on the rear of the vehicle rather than a 'GB' one. This still applies if you have a number plate with the EU logo and GB on it.
The RAC offers European Breakdown Cover, which provides a wide range of benefits should you breakdown in Spain to ensure you stay safe. We also offer travel insurance. Cover will include medical expenses, baggage, personal money, and belongings, among many other benefits.
Finally, it is important to be aware of the speed limits in Spain – as well as the punishments for breaking the law.
For more Spanish motoring rules, visit our guide to driving in Spain.
Spanish tolls – where are they?
Now that you have a better understanding regarding what to expect you are behind the wheel and travelling across the country – it is time to learn about Spanish toll roads.
The map below was created by Via-T and highlights the main toll roads in Spain and where to find them.
However, there are several other tolls spread out across the country.
The main toll roads can be found below, and it is advisable to check to see if you will be using them on your next trip to Spain before you get into the country.
AP
AP-1 Burgos to Armiñón
AP-2 Alfajarín to Barcelona
AP-4 Dos Hermanas to Cádiz
AP-6 Collado Villalba to Adanero
AP-7 France A9 to Barcelona to Valencia to Guadiaro
AP-8 France A63 to Trapagaran
AP-9 Ferrol to Santiago de Compostela to Portugal A3
AP-15 Tudela to Pamplona to Irurzun
AP-36 Ocaña to La Roda
AP-41 Madrid to Toledo
AP-46 Alto de las Pedrizas to Málaga
AP-51 Villacastín to Ávila
AP-53 Santiago de Compostela to Ourense
AP-61 San Rafael to Segovia
AP-66 Campomanes to La Virgen del Camino
AP-68 Bilbao to Zaragoza
AP-71 León to Astorga
AG
AG-55 A Coruña to Carballo
AG-57 Puxeiros to Baiona
C
C-16 Sant Cugat to Manresa
C-32 Castelldefels to El Vendrell
C-32 Montgat to Palafolls
C-33 Barcelona to Montmeló
M
R
R-2 Madrid / M-50 to Guadalajara
R-3 Madrid / M-40 to Arganda
R-4 Madrid / M-50 to Ocana
R-5 Madrid / M-40 to Navalcarnero
For a limited time, get FREE car health check with European breakdown cover.
A guide to toll roads in Spain
For any nervous drivers who are unsure about Spanish toll roads – we can ease your tensions as the country's toll roads are clearly signposted, efficient, and easy to use. They are also known for being extremely well maintained and clean.
Most will have a blue motorway sign with 'AP' on them or 'PEAJE' with the distance. Nearer to the toll itself there will be a sign with the costs associated with the type of vehicle you are driving.
There are three types of vehicle classification.
Ligeros (Light Vehicles). Motorbikes, cars, cars with trailers, vans, and microbuses.
Pesados 1 (Heavy vehicles 1). Two-axle busses, with a maximum of four wheels.
Pesados 2 (Heavy vehicles 2). This includes large trucks, both with or without trailers.
If you are travelling in a family car, you can expect to pay between €5 and €30 for each toll. This can vary on the region and where you are travelling after you pass through the toll. All toll roads can only be paid for in Euros.
In Spain, most of these tolls have manned booths that you can speak to an employee and get some information and pay for the toll.
Some have machines where you can make the payment. These come with a touchscreen where you can have the options presented in English (and several other languages). These will be signposted by a credit/debit card on a blue sign above the individual toll.
However, most motorways now also have an electronic system of payment known as Telepeaje or Via T, which allows you to travel without stopping at toll booths.
These electric payments are easy to use. Simply subscribe to an 'electric toll payment' supplier ahead of your journey. Then, when you notice one of these toll booths, approach at moderate speed, giving more than 10m of distance between you and the car in front. Stop at the barrier. You will hear a beep, a light will go green, and you can pass through.
If this is part of a European road trip, then many of these subscriptions can be used in Spain, France, Portugal and Italy – meaning you have peace of mind on your journey and don't have to queue.
Spanish road signs
Now that you are ready for the toll roads in Spain, it is important to know what to look for.
This guide to Spanish road signs can help you drive across the country and make sure you get to your destination safe and efficiently.
However, a sign with a red circle with a black horizontal line is used by customs officers, the police and before toll booths.
Sometimes you'll see the words 'PEAJE', 'PEAXE' or 'PEATGE' on the sign meaning tolls, 'ADUANA' meaning customs and 'POLICIA', unsurprisingly for police.
The sign will often appear before a barrier where you'll need to stop your car and wait for further instructions.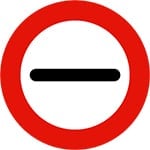 There are also several other signs to look out for. The image below shows a standard toll near Barcelona and the toll signs to look out for.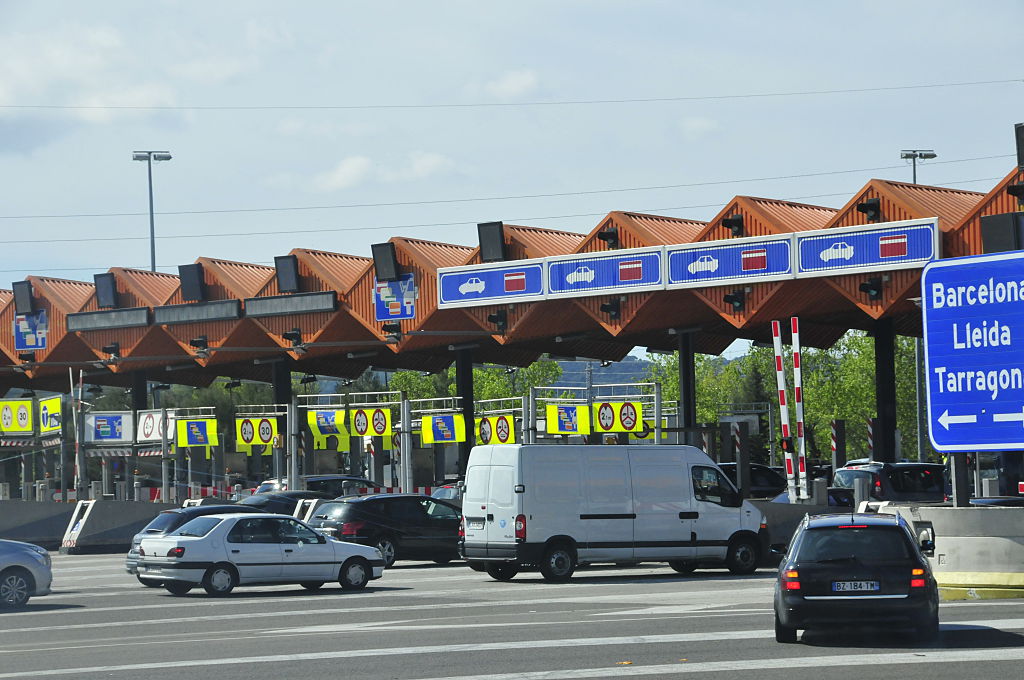 Following the introduction of the electric toll payments – known as the Via-T system – there is another sign to keep an eye out for. It is a blue sign with a white 'T' with a vertical line through the middle.
Spanish phrases to help you on your next road trip
Although many of the toll booths in Spain are now automatic, several still have employees monitoring the cars and take payment. Below are some useful phrases for any British person looking at driving in Spain.
Hello! Do you speak English? - ¡Hola! ¿Habla usted Inglés?
How much does this toll cost? - ¿Cuánto cuesta este peaje?
How far until the next toll road? - ¿Cuánto falta para la próxima carretera de peaje?
Where is the nearest petrol station? - ¿Dónde está la gasolinera más cercana?
Where is the nearest hotel? - ¿Dónde está el hotel más cercano?
How do I get to *location*? - ¿Cómo llego a *location*?
Can you avoid Spanish toll roads?
In short, yes you can. However, they only cover around 30% of the motorways in Spain and driving around them would mean you are spending more time, fuel, and money on avoiding them.
If you are trying to get to your final destination as soon as possible, it is advisable to use the roll roads.
However, Spain is an amazing country with many incredible places to visit!
Taking smaller roads could lead you to see more of the country – and there are also some stunning Spanish road trips that are a joy to drive on.
Now that you are ready to enjoy all that Spain has to offer – enjoy your holiday!
Have you driven in Spain before? Know of any hidden gems that other travellers might enjoy? Leave your comments below.
For a limited time, get FREE car health check with European breakdown cover.