Driving advice for every country in Europe
Find up-to-date driving laws and advice for any country in Europe before you visit, including any accessories you may need to purchase. Don't forget the RAC provides European breakdown cover while you're driving in Europe.
Driving in Spain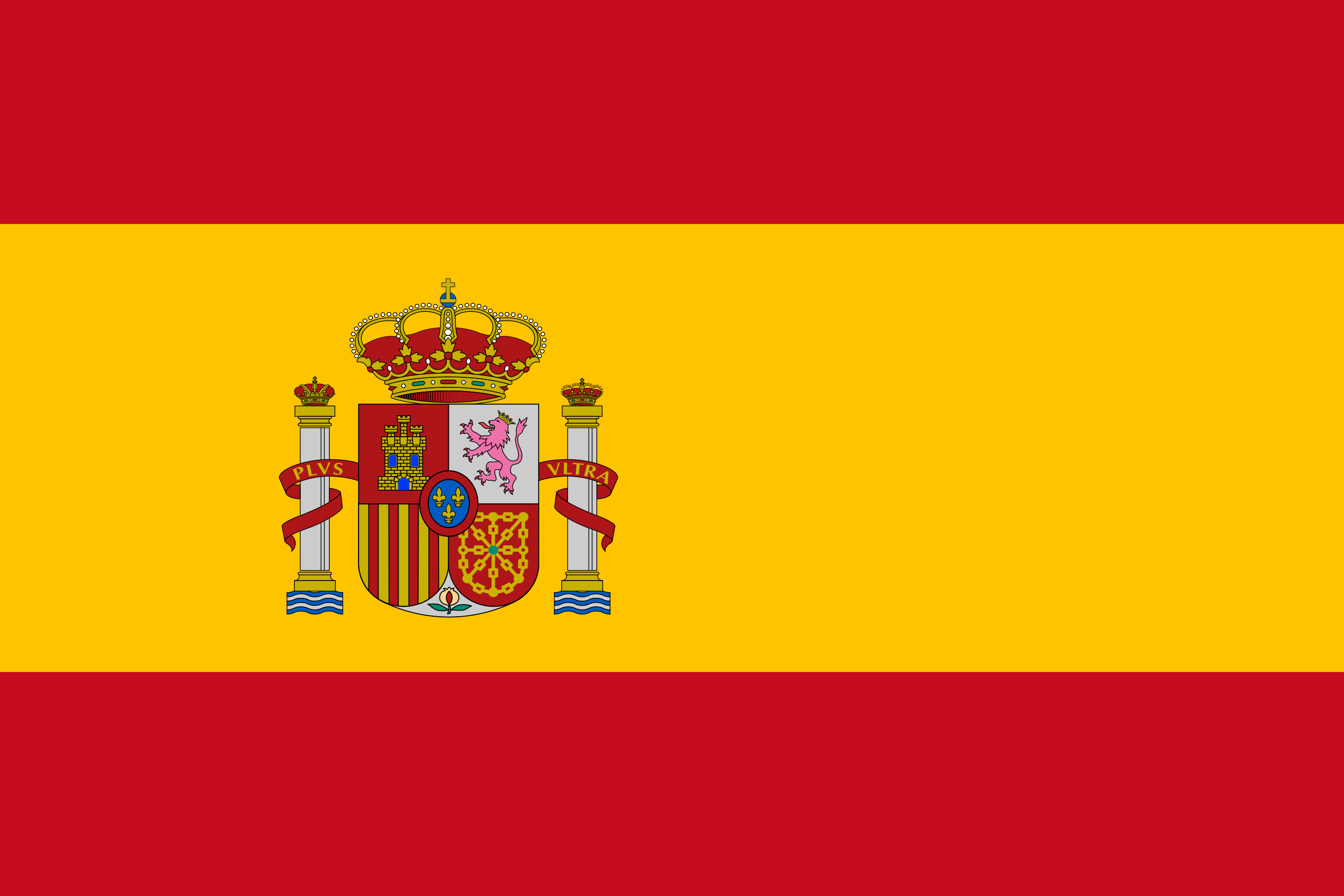 Population: 46m
Area: 506,030 sq. km
Currency: EUR
Essentials
Driving licence:
Visitors riding or driving in Spain must have reached the minimum ages laid down for residents of Spain even if they are qualified to drive at a lower age in their country of residence.
A foreign driving licence does not entitle the holder to drive a motor vehicle in Spain until the age of 18 years old.
Driving licences issued in EU and EEA countries are accepted.
International driving permits are recognised but not required.
Going away? Remember to take RAC Travel Insurance with you.
Need breakdown cover while you're in Spain? Check out what the RAC can offer to you on our dedicated spanish breakdown cover page.
Important documents:
Vehicles from the UK may be imported into Spain for up to 6 months in any period of 12 months. When driving in Spain the following documents should be carried:
Full, valid driving licence*
Proof of insurance (third party or above)
Proof of ID (passport)
Proof of ownership (V5C certificate)
The RAC offers the BEST European breakdown cover on the market*.
*International Driving Permits are recognised but not compulsory.
While driving in Spain, you are required by law to carry the following items. Hefty on-the-spot fines can be issued for failing to have them:
Reflective jackets (although not mandatory to carry, you could be fined for walking on the road or hard shoulder if not wearing one)
Warning triangle (compulsory in every vehicle with four wheels or more) (Residents must carry 2)
Headlamp beam deflectors (Depending on your car, you will either need deflector stickers or have to adjust the beam manually)
Motorcyclists: Crash helmets are compulsory for riders of mopeds, motorcycles, trikes and quads, unless these are equipped with seat belts. Motorcycles on the road must have their lights on at all times
GB Sticker or Euro plates
Lights (it is no longer compulsory for vehicles to carry a set of spare bulbs and the tools to fit them).
Rules of the road and regulations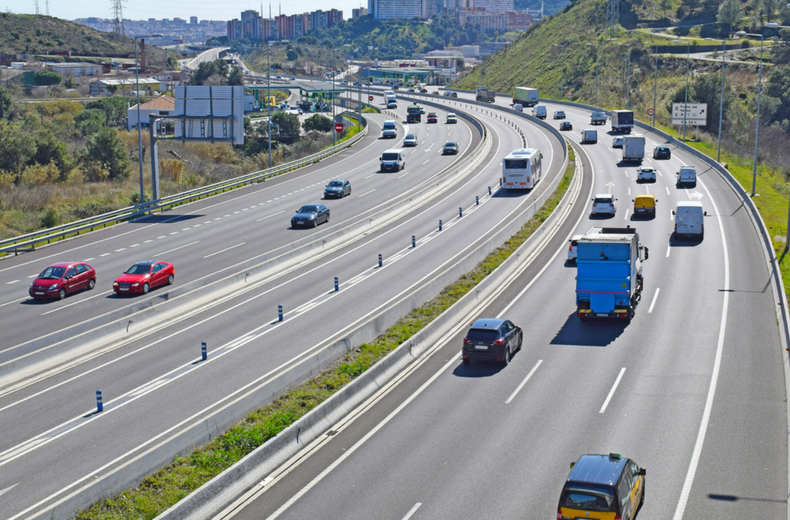 Rules of the road:
Overtaking and passing
Vehicles and combinations of vehicles exceeding 10m in length and vehicles exceeding 3.5 tonnes must keep a distance of at least 50m with the vehicle in front except in built-up areas, on roads where overtaking is prohibited and when there are several lanes in the same direction or when the traffic is so heavy that it is not possible to overtake another vehicle.
As an RAC member you get an exclusive discount off P&O Ferries standard fares and FREE Priority Boarding on either your outbound or return journey
Priority
As a general rule, drivers approaching an intersection must give way to all vehicles coming from the right.
At a roundabout, drivers already engaged in the roundabout have priority over drivers approaching the roundabout.
Drivers on secondary roads must give way to vehicles coming from either direction when entering a main road.
Vehicles on rails and emergency vehicles have priority over other road users.
Warning of approach
Unnecessary use of audible warning devices (horns) is prohibited.
Warning signals must be brief in built-up areas, and local authorities may prohibit the use of such signals completely.
Signs indicate this prohibition. In urban areas it is prohibited to sound the horn at any time, except in an emergency. In places where audible warning is prohibited, drivers must flash their lights.
Towing:
In the case of a camper van exceeding 12 m in length, and a car + caravan/trailer combination exceeding 12 m, there must be one or two reflectors*, yellow with red borders, at the rear of the camper van or caravan/trailer.
These can be obtained from car accessories shops. This applies to vehicles/caravans registered in Spain and abroad.
*either one long reflector, size about 130 x 25 cm, or two shorter 50 x 25 cm reflectors
Seat belts:
The wearing of seat belts is compulsory on the front and rear seats of all private vehicles where fitted. Vehicles manufactured after 15th June 1992 must be equipped with seat belts on all seats.
Travelling with children:
Children up to the age of 12 and measuring less than 135cm travelling on the front seat of a car must be seated in a child restraint system adapted to their size and weight. Children measuring more than 135cm may use an adult seat belt.
Children measuring less than 135cm travelling on the rear seat must also be placed in a child restraint system adapted to their size and weight, except when travelling in a taxi in an urban area.
In vehicles with more than nine seats, and in school buses, the driver, and passengers over three years old (except those measuring less than 135 cm), must use seat belts if they are installed on all seats. At present, the law does not require that this type of vehicle be fitted with belts on all seats.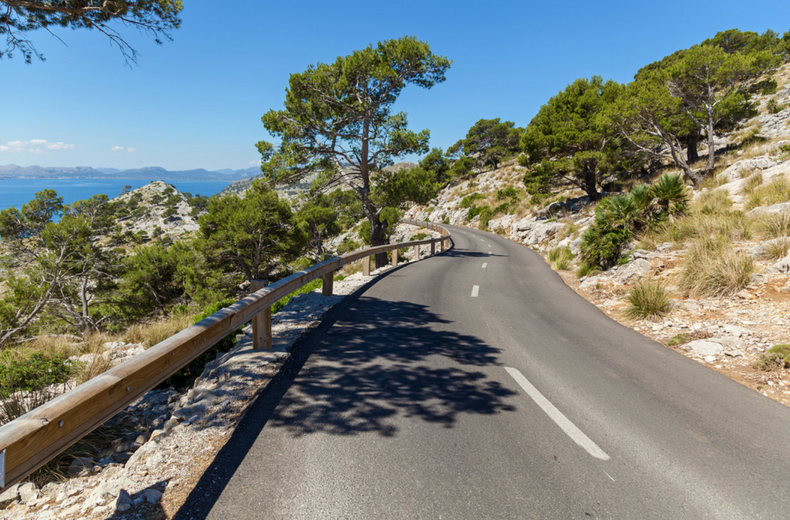 Speed limits:
In built-up areas, speed is limited to 50 km/h, except when signs indicate a lower limit. Vehicles carrying dangerous goods are limited to 40 km/h. On motorways and dual-carriageways in built-up areas, speed is limited to 80 km/h except where indicated by signs.
In residential zones, which are indicated as such, the maximum speed limit is 20 km/h.
Outside built-up areas, the following limits (in km/h) apply, except when signs indicate a lower limit:
| | Motorways and Dual Carriageways | Roads with more than one lane in each direction | Ordinary roads |
| --- | --- | --- | --- |
| Motorcycle and car | 120 km/h | 100 km/h | 90 km/h |
| Vehicle derived from a car, mixed vehicle, bus, coach | 100 km/h | 90 km/h | 80 km/h |
| Car towing trailer up to 750 kg | 90 km/h | 80 km/h | 70 km/h |
| Vehicle towing trailer over 750 kg | 80 km/h | 80 km/h | 70 km/h |
| Motorhome up to 3,500 kg | 100 km/h | 90 km/h | 80 km/h |
| Motorhome over 3,500 kg | 90 km/h | 80 km/h | 80 km/h |
| Lorry, semi-trailer, road train | 90 km/h | 80 km/h | 70 km/h |
| Trikes and quads | 70 km/h | 70 km/h | 70 km/h |
Drivers of cars and motorcycles may exceed the limits shown by 20km/h in order to overtake a slower vehicle outside built-up areas, on roads with one lane in each direction.
The use of radar indicators and detectors is still allowed in Spain, but the ownership, transport or use of a radar jammer is strictly prohibited.
Motorways and dual carriageways may not be used by vehicles which cannot reach a minimum speed of 60km/h.
Penalties:
On-the-spot fines
Police can impose fines on the spot. Fines may be reduced by 50% if the motorist pays within 20 days (not applicable for major offences). A fine can be contested within 15 days.
Visiting motorists must pay their fines immediately (with this reduction) unless they give the name of a person or corporation in Spain willing to guarantee payment of the fine. Otherwise the vehicle will be confiscated until the fine is paid. They can then contest the fine through the legal system.
Criminal offences
Some motoring offences are considered criminal offences and lead to much higher fines, as well as vehicle confiscation and possible prison sentences.
Immobilisation of vehicles
A vehicle can be immobilised because of mechanical defects, excess noise or pollution, lack of insurance or because the driver refuses to pay a fine, or is under the influence of alcohol.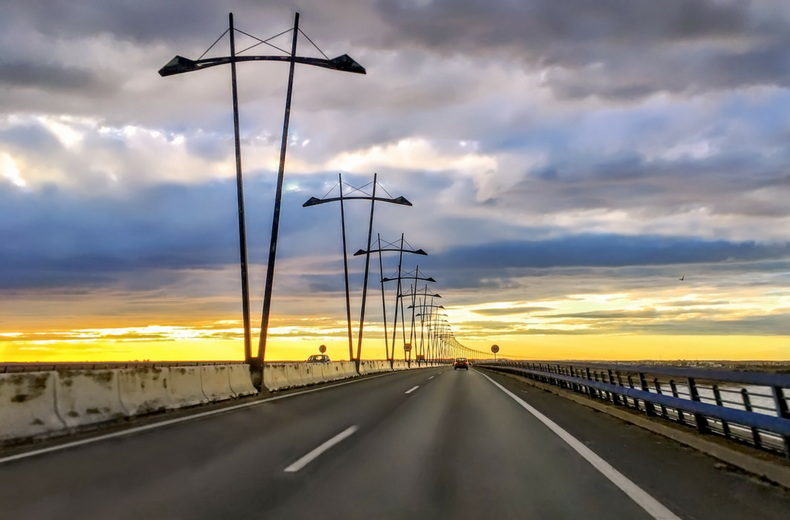 Parking
Parking regulations
Parking is prohibited within five metres of a bend or intersection.
The blue parking zone ("zona azul" ou "zona O.R.A.") is indicated by signs. The maximum parking period is usually two hours during the day; there is no parking limit between 20:00 and 08:00 hours, depending on local dispositions.
Vehicles parked during the night on inadequately lit streets must have their side lights illuminated.
Vehicles must be parked on the right-hand side of the carriageway except in one-way streets where parking may be allowed on both sides.
Paid parking
Road signs indicate the areas where parking is restricted and must be paid for, either at parking meters or automatic machines which issue tickets indicating the length of parking time which has been paid for.
In Madrid, there is a regulated parking zone, the "SER" where parking spaces are shown by blue or green lines. In these areas, parking is limited to 1 or 2 hours for visitors and can be paid by means of parking ticket machines or by mobile phone. In some large towns, e.g. Barcelona, payment of a parking fee is possible by inserting a credit card in a machine.
Enforcement of parking regulations
Illegally parked vehicles may be towed away. This applies to temporarily imported vehicles as well as to those registered in Spain.
A driver whose vehicle has been taken away must go to the nearest police station. In order to get his car back, he must pay the fine for the parking offence, plus the costs of towing together with a parking fee for the time during which the vehicle was impounded.
The wheel clamp ("cepo") is used in some towns when an illegally parked vehicle is not causing an obstruction.
Disabled parking access
Each municipality issues permits for disabled drivers in their zone. These are valid for one year and can be renewed annually.
The permit, which must be displayed on the inside of the windscreen, allows the vehicle to be parked, with no time limit in zones which are for loading and unloading, and with a time limit in pedestrian zones, and at some places where parking is usually prohibited by signs, if permission has been granted by a traffic warden.
Traffic lights:
The international 3-colour traffic light system is used.
Green, amber and red arrows are used at some intersections
Road signs
Road signs conform in general with those laid down by the Protocol on Road Signs and Signals (Geneva, 1949) and the Convention on Road Signs and Signals (Vienna, 1968).
Some signs which are different are the following:
a blue square with a curved white arrow and a distance in metres indicates where a U-turn is permitted
a blue square with a white figure indicates the maximum speed advisable
a blue rectangle with the symbol of a camera indicates the viewpoint for a beauty spot
The stop sign is a red octagon bearing the word STOP in white (model B,2a of the 1968 Convention).
Road markings
Lines and markings are white except:
yellow zigzag = parking prohibition
yellow line along the kerb = parking prohibition or restriction
yellow criss-cross pattern at an intersection = do not enter unless the exit is clear
blue lines = limited parking
BUS-VAO lanes
When driving into Barcelona (on the C-58) or Madrid (on the A-6), and particularly during the rush hour, drivers may find that some lanes are marked with pannels reading "BUS-VAO".
VAO stands for "Vehículos de Alta Ocupación" ("High Occupancy Vehicles").
This means that those lanes are reserved for buses, for motorcycles and for cars with at least two persons on board - three in the case of the C-58 in Barcelona.
Drink/drug driving:
Legal blood alcohol content limit
The general limit for drivers of private vehicles and cyclists is 0.05%
For drivers of vehicles mentioned below the limit is 0.03%
vehicles with more than 8 passenger seats
vehicles transporting dangerous goods
goods vehicles over 3.5 tonnes
vehicles used for schoolchildren or special transport
public and emergency services vehicles
drivers with less than two years' driving experience
After a traffic accident, all road users have to undergo a breath test.
Alcohol
A driver (or cyclist) suspected of being under the influence of alcohol or drugs, or who has committed a traffic offence must undergo a breath test for alcohol or a saliva test for drugs.
If he/she refuses, the vehicle may be immobilised by the police, a one- to four-year suspension of the driving permit may be imposed, and he/she may receive a prison sentence of six months to one year.
Tolls
Cash and credit cards may be used for the payment of tolls.
Most motorways have an electronic system of payment known as the Sanef Toll Tag, which allows you to travel on French, Spanish and Portugal motorways without stopping for tolls. The RAC offers a fee free application for a Sanef Toll Tag to it's members, you can apply for one here.
Service areas:
There are many services areas along the Spanish motorways.
Fuel
Unleaded petrol, diesel and LPG are available in spain.
In Spanish, unleaded petrol is gasolina sin plomo, diesel is gasóleo A, and LPG is Autogas.
The fuel SP95-E10, which contains up to 10% of ethanol and 90% of unleaded 95 petrol, is available. This fuel can be used in 60% of petrol-driven cars, especially in recent models.
Means of payment
Credit cards are generally accepted at petrol stations.
Automatic petrol pumps
Automatic petrol pumps are found in some large towns.
Import of fuel
Up to 10 litres of fuel may be imported into Spain in spare cans.
Emergencies:
Emergency telephones linked to an SOS telephone network are installed at two km intervals along the motorways.
Useful numbers:
112 - Here's a really important bit of knowledge; you can dial 112 from anywhere in Europe and an operator will connect you to an emergency service in the country you're visiting. Operators can answer your call in their native language, English, and French.
Useful guides and maps
Michelin - National Map Spain & Portugal
Michelin Motoring Atlas: Europe
RAC Route Planner
UK Government travel advice
*Price for 1 day cover for up to 9 people travelling in a vehicle up to 1 year old in Zone 1.
RAC European Breakdown cover arranged and administered by RAC Financial Services Limited (Registered No 05171817) and provided by RAC Insurance Ltd (Registered No 2355834). Registered in England; Registered Offices: RAC House, Brockhurst Crescent, Walsall WS5 4AW. RAC Financial Services Limited is authorised and regulated by the Financial Conduct Authority in respect of insurance mediation activities. RAC Insurance Ltd is authorised by the Prudential Regulation Authority and regulated by the Financial Conduct Authority and the Prudential Regulation Authority.
Source: All information in this document is sourced from the AIT (Alliance Internationale de Tourisme) & the FIA (Federation Internationale de l'Automobile) and, to the best of the RAC's knowledge, is correct at the time of publication (May 2017).
British Embassy Madrid
Office: British Embassy Madrid
Street Address: Torre Espacio
Postal Address: Paseo de la Castellana 259D
ZIP Code: 28046
City: Madrid
Country: Spain
Telephone: +34 917 146 300
Fax: +34 917 146 301
Email: Info.consulate@fco.gov.uk
British Consulate Alicante
Office: British Consulate Alicante
Street Address: Edificio Espacio
Postal Address: Rambla Méndez Núñez 28-32
ZIP Code: 03002
City: Alicante
Country: Spain
Telephone: +34 913 342 194
Fax: +34 965 14 05 28
Email: Info.consulate@fco.gov.uk
British Consulate-General Barcelona
Office: British Consulate-General Barcelona
Street Address: Avda Diagonal 477 – 13
Postal Address:
ZIP Code: 08036
City: Barcelona
Country: Spain
Telephone: +34 913 342 194
Fax: +34 933 666 221
Email: Info.consulate@fco.gov.uk
British Consulate Ibiza
Office: British Consulate Ibiza
Street Address: Avenida Isidoro Macabich 45
Postal Address: 1º1ª (corner with Calle Canarias)
ZIP Code: 07800
City: Ibiza
Country: Spain
Telephone: +34 913 342 194
Fax: +34 971 301 972
Email: Info.consulate@fco.gov.uk
British Consulate Las Palmas de Gran Canaria
Office: British Consulate Las Palmas de Gran Canaria
Street Address: Calle Luis Morote 6-3º
Postal Address: E-35007 Las Palmas de Gran Canaria
ZIP Code:
City: de Gran Canaria
Country: Spain
Telephone: +34 913 342 194
Fax: +34 928 267 774
Email: Info.consulate@fco.gov.uk
British Consulate Malaga
Office: British Consulate Malaga
Street Address: Calle Mauricio Moro Pareto, 2
Postal Address: Edificio Eurocom
ZIP Code: 29006
City: Malaga
Country: Spain
Telephone: +34 913 342 194
Fax: +34 95 235 9211
Email: Info.consulate@fco.gov.uk
British Consulate Palma de Mallorca
Office: British Consulate Palma de Mallorca
Street Address: Carrer Convent dels Caputxins, 4
Postal Address: Edificio Orisba B 4ºD
ZIP Code: 07002
City: Palma de Mallorca
Country: Spain
Telephone: +34 913 342 194
Fax: +34 971 71 75 20
Email: Info.consulate@fco.gov.uk
British Consulate Santa Cruz de Tenerife
Office: British Consulate Santa Cruz de Tenerife
Street Address: Plaza Weyler, 8, 1º
Postal Address:
ZIP Code: 38003
City: Santa Cruz de Tenerife
Country: Spain
Telephone: +34 913 342 194
Fax: +34 922 289 903
Email: Info.consulate@fco.gov.uk