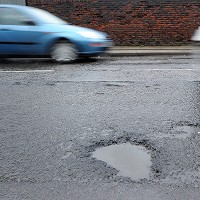 An English council is turning to new road building technology in the battle against potholes.
Surrey County Council has teamed up with engineers to overhaul more than 300 miles of road across the region.
A spokesman for the authority says it will go back to the "bare bones", by digging up the road and completely relaying foundations, as opposed to simply adding another coat of asphalt like other councils.
'Superflex' asphalt, which is highly water resistant and flexible, will be applied once the road has been rebuilt.
RAC head of external affairs Pete Williams said: "Surrey County Council's £125m 'Operation Horizon' is certainly a step in the right direction. It is absolutely right that the council is taking responsibility for road maintenance issues, and that motorists' needs are being addressed as a priority.
"The introduction of Superflex highlights that there is technology available today that allows local authorities to future-proof our roads, ending once and for all the 'patch and dash' approach used in so many parts of the country. As the motorists' champion, we want to see more authorities make the most practical use of funding available to them - taking action to improve the state of our local roads, and making sure they are stronger, safer and fit for purpose.
"We urge motorists to report any potholes they are aware of via the free RAC Report a Pothole app . Each report made is sent directly to the relevant highways authority for them to fix, and goes some way towards ensuring that a history of patched up roads does not repeat itself."
Earlier this year, the RAC Foundation revealed motorists in Surrey had received a total of nearly £250,000 in successful pothole compensation claims from the local authority - more than any other county.
Drivers made 4,000 claims for damage, with the council paying out on 842 occasions. Nearly 50,000 claims were made across the country, as the pothole problem damages hundreds of cars a week.
Driving over a single pothole can be enough to cause serious damage. Really unlucky motorists can break down immediately as a result, while others manage to make it home before taking their car to a garage.
Punctured tyres are among the most common problems, even ripping tyres to shreds in some cases.
Surrey County Council says it can no longer go on papering over the cracks with quick fixes. It has already lined up 177 of the worst roads in the region to be rebuilt this year.
Contractors carrying out the work for the authority are so confident of their new technique that the roads come with a 10-year no pothole guarantee. They also claim rebuilding the foundations will make the roads more resistant to vibrations and movement, meaning less damage as the years go by.
Copyright Press Association 2015