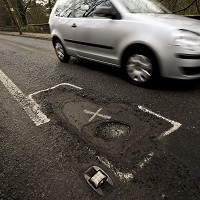 A new central fund to tackle the nation's pothole problem has been called "a drop in the ocean" by the RAC.
In his Autumn Statement, Chancellor George Osborne announced £250 million of funding over the next five years to repair potholes, which can cause serious damage to vehicles.
The cash injection is in addition to almost £5 billion of funding for general road maintenance.
The £15 billion road investment strategy, the biggest since the 1970s, has also been protected.
In response to the announcement, RAC chief engineer David Bizley said: "We are pleased the Chancellor has sought to protect the funds allocated to the road investment strategy as this demonstrates a firm commitment to protect and improve the country's crucial road transport infrastructure in the longer term.
"The Government's road investment strategy shows that for every £1 spent on the projects identified, the return for the Government is £4 in the long term, demonstrating the clear link between investing in the nation's roads and economic growth.
"The extra £250 million being allocated to the pothole fund over the next five years is good news but is, of course, no more than a drop in the ocean in terms of the scale of the problem across Britain's 245,000 miles of road.
"The Government's own estimated backlog for repairing local roads is up to £8.6 billion, which shows the scale of the funding shortage. We urge local authorities to use this money wisely by carrying out preventative maintenance rather than just short-term remedial repairs.
"Although the Government has a sound plan in place to finance improvements to major roads, we badly need similar thinking for local roads. We would like to see local authorities given the freedom to allocate funds to bring their roads up to a standard which, according to RAC research, is exactly what their council tax payers want."
The Chancellor said funding will be maintained for a number of major transport projects.
Although the Department for Transport's operational budget will be slashed by 37%, there will be a 50% increase in the sector's capital spending to £61 billion.
Copyright Press Association 2015. Motoring News articles do not reflect the RAC's views unless clearly stated.