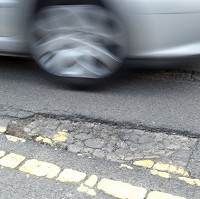 Motorists face a continuing bumpy ride, according to new figures revealing the true extent of England's road repair bills.
That's because some local authorities face expenditure amounting to huge eight-figure sums, according to a new report.
Leeds seemingly has the biggest backlog repair with £90-£100 million needed, a Press Association investigation found.
The Government announced at the end of last year a six-year, near-£6 billion kitty to combat potholes following the damaging effects of recent bad winters and floods.
But the RAC is warning ministers that this may not be sufficient.
David Bizley, chief engineer of the RAC, welcomed the Government's recent pothole funding announcement. But he said there is uncertainty as to whether this money is new.
Mr Bizley went on: "We also question whether this really goes far enough.
"Recent estimates by the Asphalt Industry Alliance suggest a one-off investment of £12 billion is needed in England to deal with the backlog in road maintenance, the majority of which is associated with those roads for which local authorities are responsible."
Gloucestershire, which faces a £86 million road repair bill before the winter's worst sets in, and London's Islington (£79 million) came behind Leeds, the study showed.
Oldham, with £60 million, Rochdale, with £58 million, and Swindon, with £40 million, also face vast backlog bills.
Northumberland (6,600), Plymouth (3,200) plus Derbyshire (1,550) were among the councils which said that the number of potholes they have to repair amounts to thousands. Several local authorities claimed they had no backlogs.
Transport and council unions described England's road investment performance as "shocking".
Copyright Press Association 2015