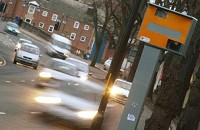 A new survey has revealed that more than four out of five drivers in Britain break speed limits.
In a poll for YouGov and insurance firm Admiral, 82% of motorists admitted to exceeding speed limits sometimes or frequently. The figure was 86% for male drivers and 78% for women motorists.
Of the 3,280 people questioned, 14% said they had been caught speeding in the last year.
Around seven in 10 drivers were in favour of raising the speed limit on motorways to 80mph or higher, while nearly a third backed 20mph on residential streets.
Admiral managing director Sue Longhorn said: "I'm surprised so many motorists admit to speeding. Our research suggests it's not just commonplace, but routine for the vast majority of drivers.
"What's not surprising is the percentage that get caught speeding with so many breaking the speed limit."
Just over a quarter of those polled believed speed cameras could improve road safety, while only one in five thought more of them should be installed.
The biggest supporters of speed cameras were people in Yorkshire, while those in north-east England disliked the cameras the most.
Ms Longhorn added: "Our research illustrates just how disliked speed cameras are and how suspicious motorists are about the motives of police forces who install them. It would seem that most people think enough is enough."
Copyright © Press Association 2009