A new survey has revealed that more than 90% of drivers who have switched to electric vehicles (EVs) would not consider going back to petrol or diesel cars.
The poll, conducted by Zap-Map, suggests a significant shift in attitude towards more environmentally-friendly motors, with 91% of all 2,000 respondents saying "no thanks" to turning back to fossil fuels.
A further 8% said they were unsure, with only 1% of switchers saying they missed their previous vehicle.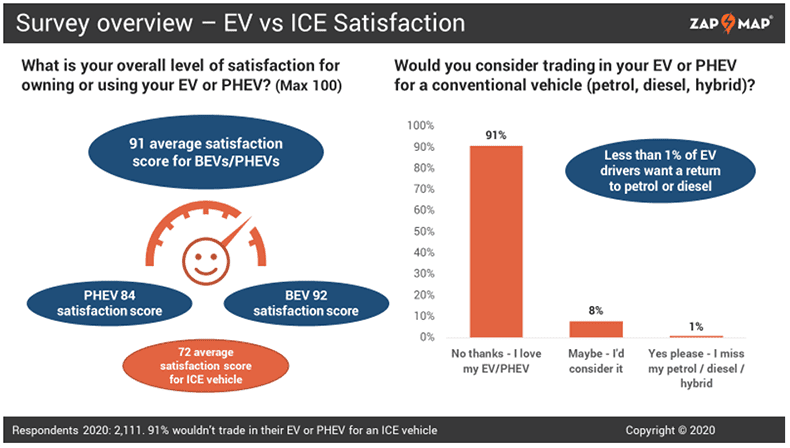 Image: Zap-Map
When it came to overall driver satisfaction, EVs took a clear lead, with both battery electric and plug-in vehicles scoring higher than their petrol or diesel counterparts.
EV drivers reported a satisfaction score of 91 out of 100, compared with only 72 for petrol or diesel vehicles who continue to experience a louder, less-efficient drive.
Most survey respondents were first-time EV drivers, with 73% saying this was their first electric vehicle, and 52% having made the switch in the last year.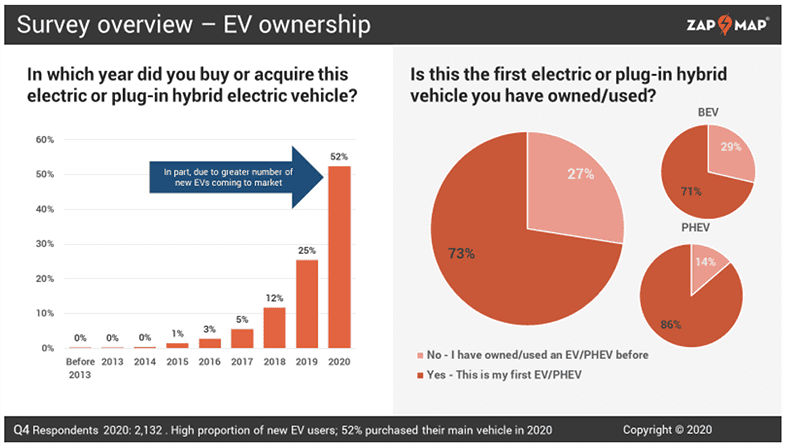 Image: Zap-Map
EV models with the highest satisfaction scores included the Volkswagen ID.3, Kia Niro Plug-in Hybrid, and BMW 3 Series saloon (all 100%); Tesla Model 3 (96%); Kia e-Niro (96%); and the Hyundai KONA electric (94%).
These survey results come at a time of record-breaking sales for the electric vehicle industry, as an increasing number of drivers commit to making the greener switch.
Along with the introduction of new clean air zones, this notable swing in consumer attitude has been further encouraged by Government plans to ban sales of petrol and diesel cars by 2030, in a bid to cut UK carbon emissions.
RAC spokesperson Rod Dennis commented on this positive new trend, saying the biggest challenge in EV uptake is convincing petrol and diesel owners to switch to an electric vehicle in the first place.
He said: "While would-be electric car drivers might worry about range anxiety, they should also be aware that the number public charge points is increasing rapidly and infrastructure continues to improve.
"They should also remember that the vast majority of their journeys are unlikely to be over several hundred miles, meaning that for day-to-day travel, operating an electric vehicle is a clean and cost-effective option."
According to data from the Department for Transport, the UK's EV charging network grew by a fifth in 2020, now providing around 19,500 charge points and more than 3,500 rapid charge points across the UK.
Mr Dennis pledged RAC's commitment to supporting the continued uptake of EV vehicles in 2021:
"We are doing our bit in giving drivers confidence they can make the switch, with 80 of our patrol vans now fitted with mobile emergency charging units, and half our fleet fitted with All-Wheels-Up recovery systems, removing the need for drivers to wait for a flatbed if they need a tow."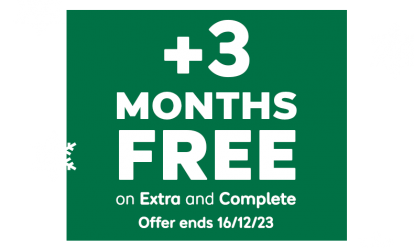 With 12 months of cover, new customers get an extra 3 months for free*.
*Added after 12 months, excludes Basic cover. New customers only. Ends 16/12/23, 7am